Eric Holder Takes Another "Historic Step" Toward Ending The Drug War, Advocates Say
A little-watched speech is a big deal in criminal justice circles.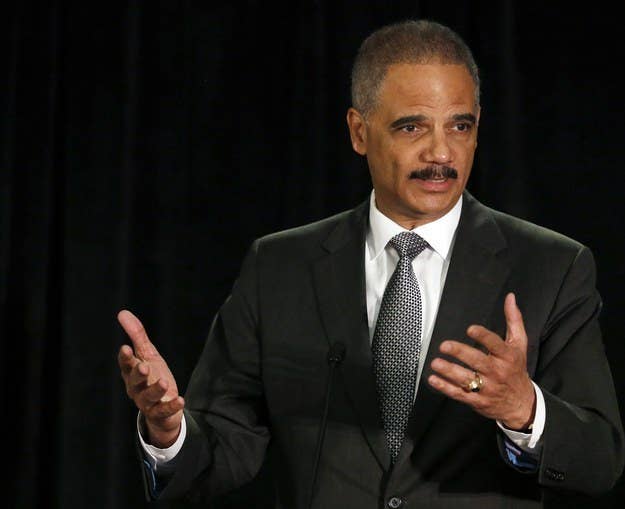 WASHINGTON — The Obama administration took a "historic" step in changing the drug war Friday, activists said, when Attorney General Eric Holder said the rationale prosecutors often use to defend mandatory-minimum sentences was worthless.
"Some have suggested that these modest changes might somehow undermine the ability of law enforcement and prosecutors to induce cooperation from defendants in federal drug cases," Holder said in remarks before the National Association of Criminal Defense Lawyers conference in Philadelphia, according to prepared remarks posted to the Justice Department website.
"But the reality is that nothing could be further from the truth," Holder went on, citing his own past as a federal prosecutor.
"Like anyone who served as a prosecutor in the days before sentencing guidelines existed and mandatory minimums took effect, I know from experience that defendant cooperation depends on the certainty of swift and fair punishment, not on the disproportionate length of a mandatory-minimum sentence," Holder said.
For the first time, advocates of ending mandatory sentences for drug criminals say, Holder was attacking a central tenet of those who fight to preserve the lengthy mandatory sentences. Supporters say mandatory-minimum sentences help induce drug offenders into cooperating with prosecutors and, the theory goes, lead to the nabbing more drug offenders.
The speech was a big deal, said Families Against Mandatory Minimums.
"His statements today reflect what researchers have known awhile now: The certainty of punishment, not the severity, is what matters," said Mary Price, general counsel at FAMM. "That's why defendants plead guilty to crimes that don't carry mandatory minimums at the same or even higher rates as people charged with crimes that do carry mandatory minimums."
Price's spokesperson, Mike Riggs, was more direct.
"It's pretty damn historic," he said.
Opposition to reducing mandatory-minimum drug sentences, often led by law enforcement and prosecutors' groups, often centers around the fear that ending the practice of mandatory minimums — or reducing them significantly — will make it harder to turn drug offenders against networks of other drug offenders.
"Our success in the pursuit of drug organizations relies upon mandatory minimum sentences to induce lower-level dealers and conspirators to testify against the higher-level dealers," Eric Evenson, a former assistant U.S. Attorney, told a House panel examining mandatory minimums in May. "Without them, many, if not most, of these lower-level defendants would simply refuse to cooperate and testify."
Some Republican veterans of the early drug war in Congress have stood in the way of bipartisan attempts to reduce mandatory drug minimums led by a younger bipartisan coalition, citing the fears of advocates like Evenson.
The Holder speech comes after the attorney general dropped the Justice Department's official opposition to retroactively extending reduced sentencing to those already serving time.
In the Philadelphia speech, Holder said the shift away from long sentences to other means for fighting drug crime would continue.
"I want to be very clear: We will never stop being vigilant in our pursuit of justice and our determination to ensure that those who break the law are held rigorously to account," he said. "But years of intensive study — and decades of professional experience — have shown that we will never be able to prosecute and incarcerate our way to becoming a safer nation."