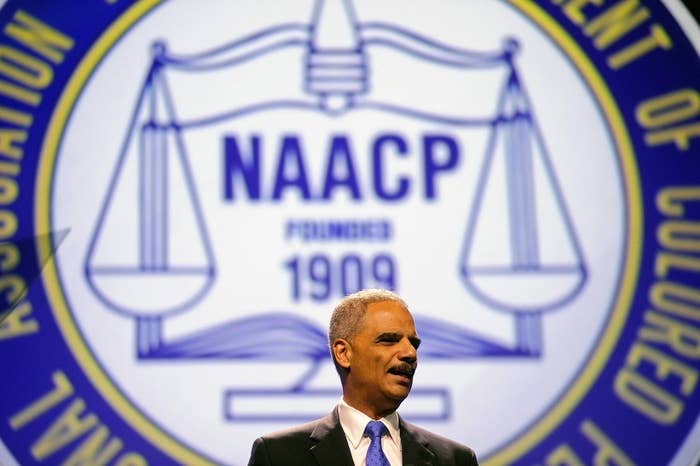 WASHINGTON — Attorney General Eric Holder Tuesday called for an end of so-called "Stand Your Ground" laws, warning they can encourage violent situations like the deadly altercation between George Zimmerman and Trayvon Martin and represent a threat to public safety.
"It's time to question laws that senselessly expand the concept of self-defense and sow dangerous conflict in our neighborhoods," Holder was expected to tell the NAACP convention in Orlando Tuesday, according to a copy of his prepared remarks obtained by Buzzfeed. "These laws try to fix something that was never broken."
Holder said his comments about Stand Your Ground and other laws that expand the definition of the self-defense protection are "separate and apart" from the Martin case, but the doctrine has become a focus for critics outraged by the initial handling of Martin's death by authorities.
Holder said Stand Your Ground and laws like it are a solution to a problem that doesn't exist.
"There has always been a legal defense for using deadly force if — and the 'if' is important — no safe retreat is available," Holder said. "But we must examine laws that take this further by eliminating the common-sense and age-old requirement that people who feel threatened have a duty to retreat, outside their home, if they can do so safely."
The new self-defense doctrine has made neighborhoods more dangerous, not less, Holder said.
"By allowing — and perhaps encouraging — violent situations to escalate in public, such laws undermine public safety," Holder said. "The list of resulting tragedies is long and, unfortunately, has victimized too many who are innocent."
After the Zimmerman verdict, the NAACP and other organizations have called on Holder to prosecute Zimmerman at the federal level. Legal scholars think that's not likely to happen, though the Justice Department is continuing its investigation of Martin's death. Holder called the shooting of Martin "unnecessary" Monday, and reiterated his intention to investigate.
In Orlando Tuesday, Holder called for a reexamination of self-defense laws after Martin's death. A Justice Department official said it was the first time Holder has publicly weighed in on Stand Your Ground.
"We must 'stand our ground' to ensure that our laws reduce violence, and take a hard look at laws that contribute to more violence than they prevent," he said.
Holder also announced Tuesday that he's shifting resources to the Justice Department's Civil Rights division to focus on protecting provisions of the Voting Rights Act not affected by a recent controversial Supreme Court ruling.
He ended his address criticizing the Court's striking down of the act's provision that had been used to prevent discriminatory state voting policies, calling the decision "deeply disappointing and flawed" and pledging to stop any jurisdiction that tries to take advantage of it.
He said he will prioritize the "fundamental right to vote for all Americans ... so long as I have the privilege of serving as Attorney General of the United States."