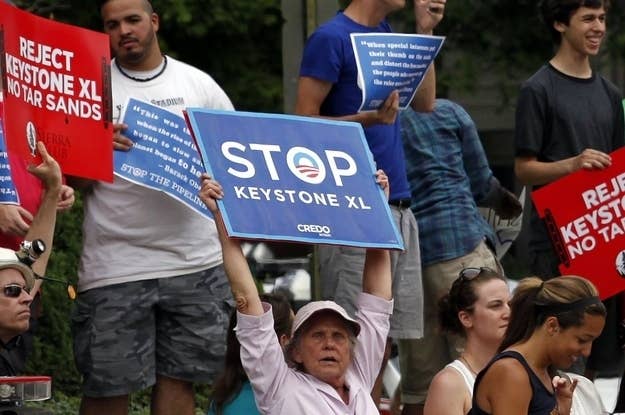 WASHINGTON — Environmental activists are preparing a massive new anti-Keystone protest movement in the wake of a State Department environmental impact study on the pipeline project released Friday that the environmentalists argue is flawed.
At a press conference Friday, a coalition of environmental and progressive groups including Sierra Club, the Rainforest Action Network and CREDO Action will announce their plans for both a large-scale rally near the site of the State Department's upcoming future public hearing on the Keystone Environmental Impact Study as well as a series of "grassroots" protests across the country, a Sierra Club official said.
"Next period of time is going to be really focused for us on showing the intensity of opposition among the american people," said Sierra Club spokesperson Kate Colarulli.
CREDO, a San Francisco-based progressive organizing group, has repeatedly promised to unleash an army of tens of thousands of activists to commit acts of civil disobedience across the country if Keystone goes ahead. Becky Bond, CREDO executive director, said the group is not ready to pull that trigger quite yet, but will be an active participant in the upcoming protests.
"Over 76,000 people have pledged to get arrested if necessary to stop the president from approving this pipeline. And over 100 events have already been planned and are ready to go should they be necessary," she said. "We think these numbers will double -- both of people taking the pledge and of events, if [Secretary of State John] Kerry advises the president to approve this pipeline."
"But this won't happen today," she said. "That is a couple of months down the line."
Colarulli said Friday's Environmental Impact Study — which environmentalists have charged is the result of a State Department process hobbled by conflicts of interest, a charge State vehemently denies — is essentially a game reset on a fight environmental activists have been waging against the oil industry and its allies for years.
"We're in the third quarter," she said. "And we're essentially in a tie."
"The fourth quarter is going to be all about discussion of national interests," she added. "That's where we have a home-court advantage."