DREAMers Put Obama On Notice: New Immigration Push Better Not Be A Play For 2014 Votes
The most influential group of immigration advocates do not want to be a political pawn.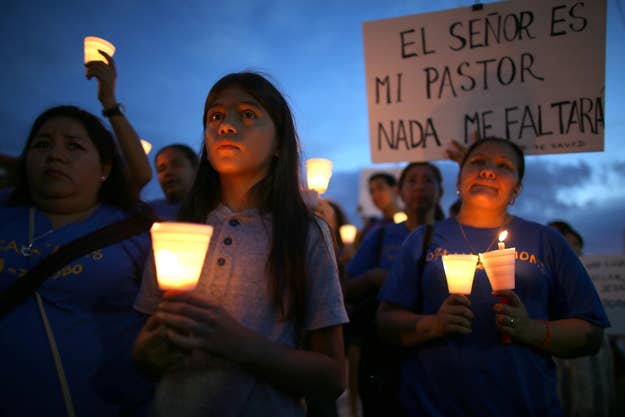 WASHINGTON — The children of undocumented immigrants, known in the capital as the DREAMers, warned President Obama Wednesday not to toy with them to score political points as he shifts the White House's focus back to immigration following the end of the fiscal battle.
Cesar Vargas, executive director of the DREAM Action Coalition — a group known for high-profile actions featuring children of undocumented immigrants raised for most of their lives in the United States — said Wednesday he's cautiously optimistic that House Republicans could be persuaded to take up immigration reform after seeing their poll numbers collapse through the government shutdown. But as Democrats and the White House geared up to take advantage of the situation, Vargas penned an open letter to Obama calling on him to focus on getting something done when it comes to immigration reform instead of spouting rhetoric designed to help his party's chances in 2014.
"Dreamers and the American people, however, especially Latino voters, have heard the same empty words and broken promises before from candidate Barack Obama and President Obama," he wrote. Even during the shutdown, Vargas wrote, immigration agents have been working, "bringing [Obama's] Administration closer to the 2 million deportations milestone."
"We will not be fooled by your rhetoric again," Vargas wrote. If Obama wants to talk about immigration reform, Vargas said in an interview, he needs to get serious about working across the aisle, even if that means upsetting leaders of his own party. He called on the president to "make phone calls to the Speaker and Republican leadership on immigration" and "not follow" what Vargas sees as a Democratic House "strategy to just make immigration a partisan issue to win more seats the next election."
Comprehensive immigration reform is an intensely personal issue for the DREAMers, and their plight has tugged at the nation's heartstrings, leading to strong support in polling for legislation providing a pathway to citizenship for them. In perhaps the best example of how difficult it is to move immigration legislation through the House Republican caucus, the House GOP voted in June to end an Obama administration policy that seeks to limit the deportation of DREAM Act-eligible immigrants.
Nevertheless, many Republicans have expressed interest in DREAM Act-like legislation and Vargas said that if Obama wants to get serious on immigration reform in the coming weeks he'll reach out to them as much as possible.
"We haven't seen the president call up the Speaker, or for example House Judiciary Chair Bob Goodlatte [a Republican member from Virginia]," Vargas said. "A lot of Republican officeholders we've been able to speak to say 'Democrats and the White House haven't reached out to us.'"
"So if they're genuine about dealing with the issue, rather than using it as a 2014 issue or a 2016 political talking point, then we need to see those actions that the president's not showing," Vargas added. "And so we're being very critical about how he speaks about the issue."
At the White House Wednesday, Press Secretary Jay Carney told reporters the White House does not see immigration as a partisan fight.
"[Immigration] legislation passed the Senate with a significant bipartisan majority. And he absolutely believes that the House ought to take up that legislation and pass it," Carney said. "And as we've discussed in recent days, that's not a partisan pursuit. It's the opposite of a partisan pursuit, one, because it requires votes from both parties."
Obama has repeatedly blamed House Speaker John Boehner for the immigration impasse, attacking him for refusing to bring the Senate bill to the House floor for a vote. Obama fired off another missive at the Speaker Tuesday in an interview with Univision.
"The only thing right now that's holding it back is, again, Speaker Boehner not willing to call the bill on the floor of the House of Representatives," Obama said.
Vargas actually shares the view of many immigration advocates and Democrats that the shutdown and it's dramatic effect on the GOP's standing could be a boon to immigration reform's chances.
"Right now the Republican leadership looks very weak, and the fact that they want to be able to take initiative and actually look stronger, I think immigration is an opportunity [to do that]. It's going to gain momentum not only by the Republican leadership's stance, but by the fact that Senate Republicans and Democrats worked together to put something together," he said. "What we know is that there are people on both sides of the aisle who really want to get it done, and the only thing that's going to kill is the politics that Democratic leaders and Republicans extremists are going to play with."
Vargas' group is doing its best to spark bipartisan conversations on immigration reform. Next week, the DREAM Action Coalition is hosting an event in Washington featuring members of Congress on both sides of the aisle calling for DREAM legislation.
Now Obama needs to prove he's out to do whatever it takes to get immigration reform accomplished, Vargas said.
"His credibility [with us] is not what it used to be, but he does care about the issue," he said. "At this moment, he's got a legacy that shows a record number of deportations. He can still regain that trust by simply doing what he has done with other issues."