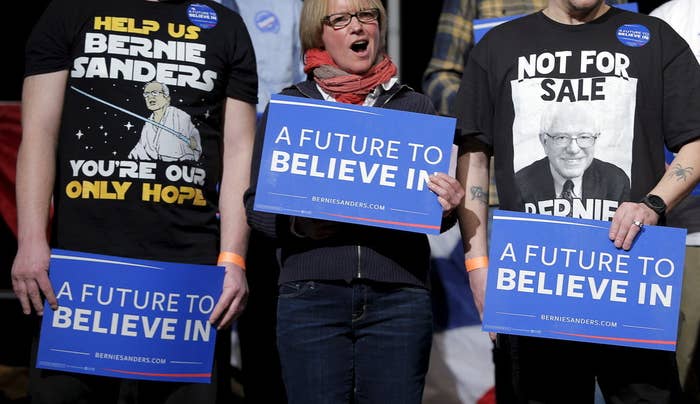 FORT COLLINS, Colo. — If Hillary Clinton can't close the deal with young voters, Donald Trump just might be the one to do it for her.

The younger voters who support Bernie Sanders are still stepping up for him — the one bright spot of his bleak Saturday in the South Carolina primary was a win of the 29-and-under vote. They're also still showing up for him. Thousands of young people packed an outdoor venue in Austin Saturday, an indoor venue near Dallas later on Saturday, another indoor event in Rochester, Minnesota Saturday night, and were a big part of the 6,000-plus attendees at a large arena in Oklahoma City Sunday afternoon. They almost filled Moby Arena at Colorado State University in Fort Collins Sunday night.
And they're still the most fiery, most passionate Sanders supporters around, but with the already uphill climb for Sanders to win the Democratic nomination steepening after back-to-back losses in Nevada and South Carolina, some members of Sanders' youth army are looking ahead and pondering the unthinkable: backing Clinton.
What worries these young Sanders supporters is not Democratic Party unity, or the need to coalesce behind their party's chosen nominee. What worries them is Trump. The rise of The Donald gives them no choice but to line up and turn out in November — but they wonder if their political revolution might keep some of their fellow young voters from doing the same.

Tightly packed on the bottom row of the bleachers at the Colorado State arena Sunday were Holly Rogers, a 26 year-old ecologist; Ian Johnson, 28, who works at the university; and John Skura, 25, a software engineer. The three friends are, to varying degrees, Bernie super fans. Rogers and Johnson volunteer for the campaign in Colorado and have donated to it. Rogers wore a campaign t-shirt, while the men had large Bernie stickers. Without hesitation, Skura ticked off a list of reasons he backs Sanders.
But none of them hesitated when asked if they'd vote for Clinton if the Sanders campaign ends in a loss. The discussion of a Clinton victory moved unprompted into concerns that some Sanders may stay home in November, potentially hindering the Democratic ticket's chances.
"We still vote blue," Rogers said. "Absolutely. We vote to get blue in congress, too."
"I would actually hope that a lot of Bernie supporters would vote for Hillary," said Johnson. "But I would be a little afraid that a Hillary nomination would suppress the turnout of some of the folks who do support Bernie, especially the younger voters."
That's really a thing, Johnson insisted.
"A guy over here has a sign that says 'Anybody But Hillary,'" he said, gesturing to the festival seating section of the Fort Collins event. "We're not a Republican rally here. So..."
Three dyed-in-the-wool Sanders supporters, all willing to vote Clinton, all nervous about what the rest of the Bern nation will do.
It's been a relatively civil primary on the Democratic side — as far as primaries go — and especially so in comparison to the Republican side. There has been plenty of Democratic bombast too, but generally it's fought via social media, where the Bernie Bros reign, and where Clinton backers and Sanders boosters trade outrage over the slight of the day launched by one campaign or the other.

So, in theory, unity is not that far out of reach for the Democrats should Clinton win. (A Sanders victory would still likely test the smizing skills of Democratic establishment figures faking a grin for photographs with their nominee.)
But the persistence of the Sanders supporters and the depth of the split in the Democratic electorate by age this cycle has led many a political observer to wonder aloud if those feeling the Bern might be a lasting problem for Democrats' general election efforts should Clinton emerge as the party's standard bearer.
That question is also on the minds of young Sanders supporters holding out hope for Bernie, but also aware of the deeply disappointing losses in Nevada and South Carolina and their implications for his candidacy.
"I would [support Clinton]," Chase Johnson, 22, of Norman, Oklahoma said from the back of Sanders' rally in Oklahoma City, hosted on the covered parquet floor of the arena that usually plays home to the NBA D-League's Oklahoma City Blue. "I don't get the sense that a lot of people in here would, though. There's a lot of animosity towards Hillary, I feel, among Bernie supporters, and that's concerning to me."
"This campaign has done a great job of portraying [Clinton] as kind of working for corporations," he continued. "He's doing what he can to win. She damaged herself."
Clinton supporters, associated with the campaign or working in outside groups that support it, tend to say both publicly and privately lately that their candidate's failure to rouse the passions of young voters in large numbers will be washed away when she secures the nomination. The kids will come home, they say.
Sanders supporters remain skeptical of that narrative but also terrified of Trump.
"It seems like Donald Trump really might end up being the frontrunner, and I think he would not make a very good president," said Liz Warren, 27, who was standing across from the Oklahoma City arena and holding a "Bernie Supports Unicorn Rights" sign.
As for Clinton, Warren doesn't think Sanders supporters will turn up to work for her and boost her cause the way they have for Sanders.
"I don't think she inspires the same passion that Bernie does," Warren said. "She appeals to an older crowd, too. Less energy."
Her friend Aphrodite Gonzales, 26, agreed. Sanders supporters will vote against Trump by voting for Clinton, but that's about as far as it will go.
"Fundamentally different [from Sanders' energy]," she said of Clinton. "Very, very different."
The specter of Trump, however, makes supporting Clinton — perhaps even actively — a given, said a dozen or so young Sanders supporters across four states, six cities and three days of whirlwind campaigning before and after the South Carolina primary.
"If Trump got the nomination, I guess I'd have no choice. Because that's not something that I would really want," Ashley White — 23 years old and figuring out her options after graduating from the University of Texas — said at Sanders' outdoor Austin rally Saturday when asked if she'd vote for Clinton if it came to it. "In the last elections, especially in the last two, the Republican candidates, I don't agree with them, but at least they're decent people. I can kind of see where they're coming from. But now it's just bam, hate. Bam, Islamophbia. Bam, racism. This is really bad."