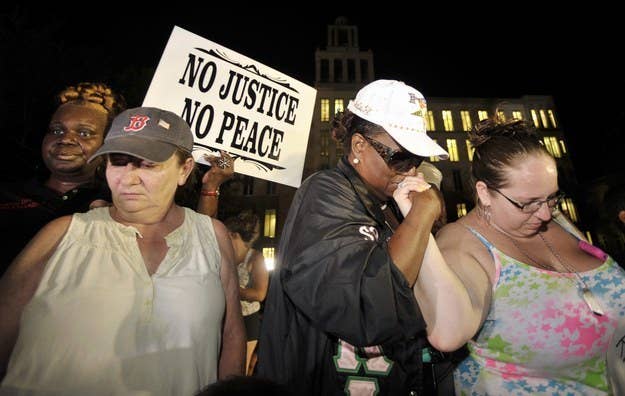 WASHINGTON — When Jeff Triplett, the mayor of Sanford, Florida, watches the footage from Ferguson, Missouri on TV it's personal for two reasons. First, Triplett is a native of St. Louis and his family lives just a few miles from the scenes of protest and police militarization. Second, he says he sees what could have been.
"I hate it," he said of watching the scenes in Ferguson. "The hair on the back of my neck stood up. You always have the what-if of that could have happened in our community."
Triplett, who is white, was the man in charge a year-and-a-half ago when the killing of Trayvon Martin spiked racial tensions in the area and far beyond. A situation that many expected to explode into violence, didn't. Peaceful protestors were met with respectful police and public officials. Triplett credits the the Department of Justice for the calm and in an interview Tuesday he urged Ferguson leaders to embrace the help the feds have to offer. In his town, Triplett said federal officials arrived with experience on how to handle large crowds and engage with protest movements.
They had tips on police tactics, too.
"The best thing that you can do is use your mind and your mouth versus an nightstick and a gun. You know, 'violence breeds violence' type thing. These guys [Justice Department advisers] have been there, done it, they're very astute," Triplett said. "We on the city side, we fix roads. We make sure your lights turn off and on. We make sure your toilets flush. We cut ribbons for new businesses. So you've got to rely on those that know."
Justice Department officials are engaged in Ferguson in full force, with six agencies on the ground in the Missouri town coordinating a federal investigation into the death, monitoring police behavior and trying to build a bridge between authorities and protesters through a previously little-known department branch called the Community Relations Service. The agency, which has ten regional offices across the country, is specifically designed to diffuse tension after discrimination-charged events and was established as part of the 1964 Civil Rights act.
On Wednesday, the head of CRS, Grande Lum, will be in the Justice Department party accompanying Attorney General Eric Holder on his trip to Ferguson. Holder has been very critical of the police response to protests in Ferguson, and Justice Department officials have pointed to the early involvement of CRS as proof the feds have a better handle on how to deal with the Ferguson protests than local authorities do.
Tripplett agrees with that assessment. The part-time mayor of the Florida town, he said his government wasn't equipped to deal with the influx of protesters and national scrutiny following the shooting of Martin. CRS and the Justice Department gave him the tools — and contacts — his team needed to create a dialogue with protest leaders.
"They had the rolodex of the demonstrators. They know Al Sharpton and his people. They know [Jesse] Jackson and his people. They know the people who put together how they're coming in, when they're coming in, where they're coming in," he said. "They had the contacts that we would never have."
"I think there was even some of the more militant groups that said they were coming into town, and these guys reached out to them and said 'hey listen, we don't want that here, but we understand that you've got a message. So let's sit-down before hand," he said. "[CRS] is the go-between." .
CRS is an agency designed to facilitate conversation, to connect wary authorities with angry protesters to diffuse tensions and prevent violence. By law its required to do its work confidentially, a position that put it at the center of controversy in Sanford and led to conservative criticism of the agency and charges that it incited protest rather than calmed it. Critics said the agency's engagement amounted to choosing sides. It didn't help that CRS agents wore government windbreakers, stood in the back of rallies and refused to talk to media, citing their confidentiality mandate.
Triplett said the CRS was above-board in Sanford.
"There were some in the community that obviously got mad about it, but I looked at it as a partnership," he said.
Contemporary reporting from time found protest leaders also viewed the Justice Department as a welcome sight. "People are more relaxed and satisfied when they know they have someone from the outside, like the DOJ who have no ties to the community to try and relax the emotions," the local head of the NAACP told the Orlando Sentinel in 2012.
Despite the relative calm in Sanford throughout the aftermath of the Martin killing, Triplett said he was often worried violence could erupt, especially once protesters from outside Sanford showed up.
"The world was watching, and one of the fears that I had was that you never know what someone's going to do when the camera's rolling on them," he said. "You never now. The mind changes, 'here's my ten seconds of fame.' Once a rock is thrown you never know what's going to happen."
Nevertheless, comparisons between Sanford and Ferguson can be clumsy. Triplett said his community didn't have the racial divides of Ferguson, and pointed to large, longstanding black communities in towns surrounding Sanford as a source of stability Ferguson doesn't have. The Missouri town hasn't been majority black for very long and Ferguson's mostly white leadership seems to lack the connection to black leaders that Triplett said Sanford had. But Triplett said welcoming federal involvement is a lesson Sanford can teach Ferguson. Missouri leadership has appeared wary of federal involvement. Earlier this week, the state's Democratic governor, Jay Nixon, didn't tell federal official before ordering the National Guard to engage in Sanford, and federal officials have expressed skepticism at tactics like the guard deployment and the short-lived curfew Nixon tried to impose.
In a Tuesday op-ed for the St. Louis Post-Dispatch, Holder hinted at the role CRS will play in Ferguson and said the the agency will stay on the ground for months after the current situation is diffused.
"Beyond the investigation itself, we will work with the police, civil rights leaders, and members of the public to ensure that this tragedy can give rise to new understanding — and robust action — aimed at bridging persistent gaps between law enforcement officials and the communities we serve," Holder wrote. "Long after the events of Aug. 9 have receded from the headlines, the Justice Department will continue to stand with this community."
Triplett said that long-term Justice Department engagement is real. After the heat of the protests died down, Triplett said CRS helped Sanford develop a "nine-point plan" with African American leaders aimed at building stronger bonds with city leadership.
"Those guys still say in contact with us. When you go through something like that, you almost become a little bit of a family. There's always the next thing you need to do and accomplish. And they followed up with us," he said. "I wouldn't hesitate to give them a call if something happened and say 'what do you think about this' or 'how do you think we should handle this?'"