Did Obama Diss Catholic Education In Northern Ireland?
Catholics, conservatives say the president pulled a big gaffe in Belfast. Update: American progressive Catholic group defends Obama.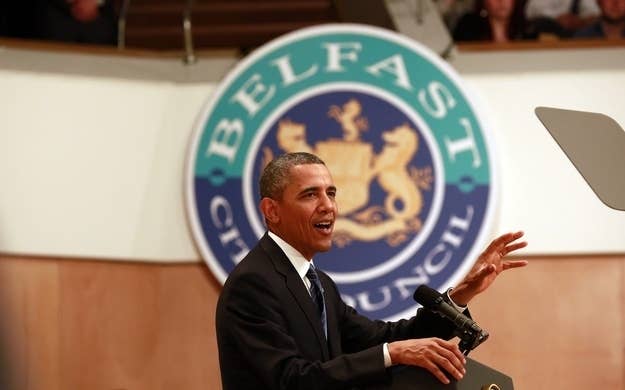 WASHINGTON — President Obama may have picked up a few scratches after he ventured into the political thicket that is Northern Ireland this week.
Some Catholics were offended by remarks Obama gave at a town hall meeting in Belfast Monday, in which he called on the regions often deeply divided Catholic and Protestant populations to integrate.
"Issues like segregated schools and housing, lack of jobs and opportunity — symbols of history that are a source of pride for some and pain for others — these are not tangential to peace; they're essential to it," Obama said. "If towns remain divided — if Catholics have their schools and buildings, and Protestants have theirs — if we can't see ourselves in one another, if fear or resentment are allowed to harden, that encourages division. It discourages cooperation."
To some, the remarks came off as an attack on Catholic education, a sore issue in Northern Ireland. Education remains deeply divided in the region, with the children of Catholics mainly attending Catholic schools and the children of Protestant families mainly attending government-run schools. Obama's speech, aimed at a mixed audience of Northern Ireland youth, came before he made a visit to the area's only integrated primary school with British Prime Minister David Cameron.
"The US President has made an alarming call for an end to Catholic education in Northern Ireland," wrote the Scottish Catholic Observer. The story moved in some foreign papers and was picked up in the Catholic press.
Some Protestant political leaders in Northern Ireland have called for an end to state funding for Catholic schools, and some American conservatives have read Obama's remarks to mean support for that idea.
"Just imagine the reaction if Obama had visited the West Bank and said something like this about Islamic education," wrote David Freddoso.
Asked about the criticisms, a White House official said the administration did not have "anything more to say on this beyond what the President said in his speech."
Back in Northern Ireland, Auxiliary Bishop Donal McKeown dinged Obama over the remarks, but did not criticize them to the extent some American Catholics have. He told the Catholic News Service Obama's remarks were a "hackneyed analysis" of the current situation in Northern Ireland. McKeown said sectarian division flows not from the classroom, but from the home.
"It is the Catholic schools in Northern Ireland that are now actually among the most racially and linguistically mixed," he said. "And, while so many young people are very open to new friendships and opportunities, it needs to be stated that it is adults outside schools who promote mistrust for their own political and personal agendas."
"A simplistic denominational vocabulary fails to do justice to where we are," McKeown added.
Update: Catholics United, a progressive faith group not associated with the Vatican, defended Obama's comments in Northern Ireland and noted the president has honored Catholic education leaders at the White House in the past.
James Salt, director of the group, accused conservatives of ginning up the controversy over Obama's remarks.
"President Obama's comments are directly on point and in no way disparage Catholic education. Obama has been a consistent supporter of Catholic schools and has held multiple events honoring them at the White House," Salt said. "The real story here is how far the Catholic far-right will go to disparage this President. Simply put, Obama's detractors have taken an innocuous yet important comment out of context as a way to score cheap political points with an electorate that doesn't fully understand the context of religious and public education in Northern Ireland."