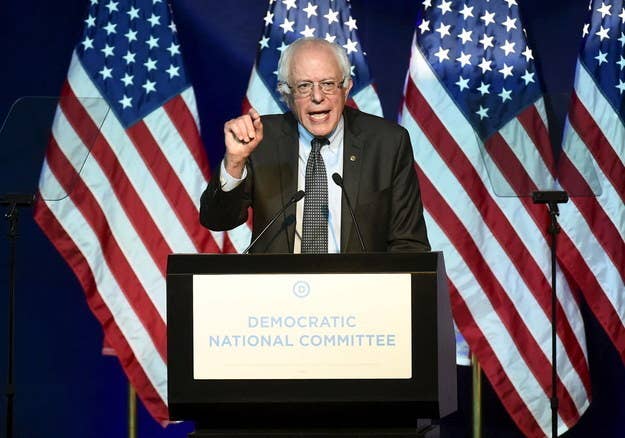 MINNEAPOLIS — The Democratic Party platform now calls for a $15 per hour national minimum wage for all hourly workers after delegates voted in an amendment proposed by progressive activists during the Democratic National Committee Meeting here on Friday.

The move aligns Democrats with the most vocal of the activist left and labor movement — and puts the party to left of its presidential frontrunner, former Secretary of State Hillary Clinton. Most Democrats, including Clinton, favor an increase in the federal minimum wage of some kind. The Obama administration has set $12 as its suggested federal minimum, while urging states that want to go above it, to do so. Clinton has also urged states and localities to raise their minimum wage to $15/hour, but has declined to publicly support a $15 federal minimum wage, citing differing economic landscapes from state to state.
The current federal minimum wage is $7.25/hour, meaning just about every Democratic elected official these days is pushing for a significant increase they say will help bridge the growing income gap between wealthy Americans and the rest of the country. But the political divide between a $12 and $15 minimum wage is vast in Democratic circles; $15 is generally seen as the far-left position, so far mostly adopted by progressive-controlled municipalities like San Francisco and Seattle. More establishment-aligned Democrats have worried that a national wage that high could lead to job losses and stifle small businesses.
But the Democratic Party as an institution now stands with the progressives on the minimum wage. The shift, advocates say, could help mainstream the $15 federal minimum proposal — even as Democrats contend with a Republican-controlled Congress whose lockstep opposition to significant increases in the federal minimum wage makes $15 all but impossible.
"It will now allow us to go out there and push Democrats, independents, and Republicans who are in office to say, 'Look, even the national party is on board with this.,'" said Christine Pelosi, a DNC delegate from California. Pelosi, daughter of the House Democratic leader, helped to author the resolution that passed Friday.
"We are on record as standing for a set of principles," she said. "Now we are going to use that document, that resolution, to go out and organize. To convince the people who are new to politics or who are more skeptical of politics that we mean what we say because we put our name behind it, we put our votes behind it."
The big moment for Pelosi's side of the minimum wage debate could not have been more anti-climactic. The vote came after a pair of raucous speeches by Clinton challengers Bernie Sanders, the independent senator from Vermont, and Martin O'Malley, the former Maryland governor. Much of the room had cleared out when the vote was taken and had someone not been looking out for it, they probably would have missed it.
So, by voice vote, delegates put the $15 minimum wage plank into the party platform along with a slew of other resolutions recognized the contributions of deceased party members, hailed the Black Lives Matter movement, and other party business.
Party platforms are also no guarantee that a politician will take up a specific policy position, though DNC chair Debbie Wasserman Schultz, a member of Congress from Florida, told the assembled delegates that the resolutions voted on the Friday carry weight.
"Our resolutions are really an invaluable tool for our institution, so we honor those who have dedicated their lives to the betterment of our party and our nation, to addresses injustices in society, and to recommit ourselves to the values that our party holds dear," she said. "Each of those resolutions holds great importance and we can all use them as inspiration as we move forward."
The vote also more closely aligned the party platform with Sanders and O'Malley than Clinton and the Obama administration. In a hint of how future pushes for the $15 wage could play out in the campaign landscape, the wage increase language was part of a larger new plank focused on economic opportunity for women called the "Women Succeed Agenda." The slate of proposals includes calls for mandatory paid sick leave, "paycheck fairness," and various tax incentives and government spending increases aimed at broadening access to quality child care.
Pelosi said that will help her allies put pressure on Democrats who remain wary of a $15 minimum wage for what she suggested were reasons based in political cautiousness.
"Today was an example of the activists winning over the operatives who are then winning over the candidates," she said. "It's very, very exciting."