Democratic Party Chief Angers Democrats
Rep. Debbie Wasserman Schultz plans to use her position to fuel — and fund — her own political ambitions. "Outrage" in the White House.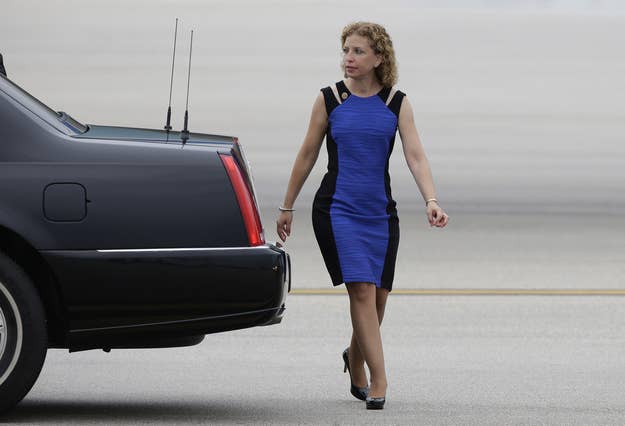 WASHINGTON — Rep. Debbie Wasserman Schultz angered many top leaders in the party she leads as Democratic National Committee chair when she went public with her plans to use the connections she's made in her national job to position herself for a statewide run in Florida or even a bid to replace Nancy Pelosi as Democratic leader in the House.
"This is unbelievable. So much for supporting the president or electing Democrats," said a top Democratic political adviser. "She was honest that this is about her."
Wasserman Schultz told Politico Friday that she plans to use the DNC's donor network to create a political infrastructure for herself, with the goal of building a ladder of powerful connections.
"I don't really do anything halfway," Wasserman Schultz told Politico. "We thought with the higher profile I have at the DNC, and the donor relationships I've been able to build — and thankfully, a lot of people who want to help me be successful, because we share the same goals. We kind of put the leadership PAC on steroids. That's the best way to describe it."
Played out to its logical end, a push for House leadership would pit Wasserman Schultz, who represents a Florida district in Congress, against Rep. Steny Hoyer of Maryland. Hoyer has long the next in line for Pelosi's job as House Democratic leader, but Wasserman Schultz could seek to keep him from ascending to the top spot if Pelosi retires. Politico reported Wasserman Schultz "pointedly wouldn't rule out running for [House] leadership, governor or senator [from Florida."
The DNC Chairwoman's relationship with the Obama political operation has long been strained — though Obama asked her to stay on as DNC chair after he was reelected. The new comments prompted open anger from some Democratic quarters. Wasserman Schultz has been known to have a tenuous at best relationship with the Obama team in the past, though
One senior Democratic source said the White House was "absolutely outraged" by Wasserman Schultz's comments in Politico.
Another said Democrats in the House were just as upset. The source pointed to the number of "I, me or my" statements in the interview and said it reads like Wasserman Schultz thinks "others in leadership now don't exist."
"It's a fucking car wreck," said a third prominent Democrat.
A DNC official defended the boss, pointing to Wasserman Schultz' packed travel schedule and plans to stump for top Democratic candidates like Terry McAuliffe in Virginia as a sign she hasn't taken her eye off the DNC ball.
"The Chair's working tirelessly, crisscrossing the country working for the president," the official said.