Democratic Congressman Will Introduce Police Demilitarization Bill
Rep. Hank Johnson pivots off Ferguson to introduce the "Stop Militarizing Law Enforcement Act."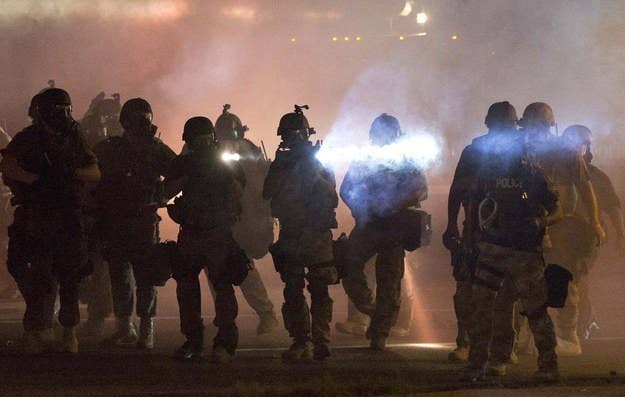 WASHINGTON — Amid growing criticism of the military-style equipment and tactics deployed by police in Ferguson, Missouri, a Democrat from Georgia plans to introduce the "Stop Militarizing Law Enforcement Act" in Congress next month.
Rep. Hank Johnson asked his all his colleagues Thursday to join him in supporting the bill, which he said in a letter "will end the free transfers of certain aggressive military equipment to local law enforcement and ensure that all equipment can be accounted for."
Images of assault rifle-carrying camouflaged police riding through Ferguson on military vehicles similar to the IED-resistant equipment used by American armed forces in combat have proven to be a jolt of energy for a long-simmering debate about police militarization.
In his letter to Congress, Johnson signaled that he expects his bill to break through the partisan gridlock in the House.
"Before another small town's police force gets a $700,000 gift from the Defense Department that it can't maintain or manage, it behooves us to reign in the Pentagon's 1033 program and revisit the merits of a militarized America," he wrote. "I hope we can work together on this important issue."
The 1033 program, instituted in 1996, transfers equipment the military is not using to police forces; the program has been approved as a very small part of the National Defense Authorization Act, a military spending bill that generally passes with overwhelming bipartisan support.
There are some initial signs of bipartisanship on the issue of ending police militarization. Kentucky Republican Senator Rand Paul penned an op-ed for Time Thursday in which he called for an end to the militarization of the police force but didn't offer any specific steps.
Outside activists who have been pushing the government for years to abandon police militarization are cautiously optimistic about the growing outcry.
"Organizations like the ACLU have been warning about the dangers of aggressive policing, particularly in communities of color, for a long time," said Kara Dansky, lead author on a June ACLU study of military tactics and modern police forces.
"I am encouraged to see that people are willing to engage in a conversation about this topic," she said. "Ultimately, we want the police to protect and serve communities, not wage war on the people who live in them. It's high time that Americans engaged in a conversation about that."
Read Johnson's bill here.