Clinton And Sanders Slam GOP Plans To Block Scalia Replacement
After Senate Republicans said they would block any of President Obama's nominees to replace the late Supreme Court Justice Antonin Scalia, Hillary Clinton and Bernie Sanders found something they could both agree on.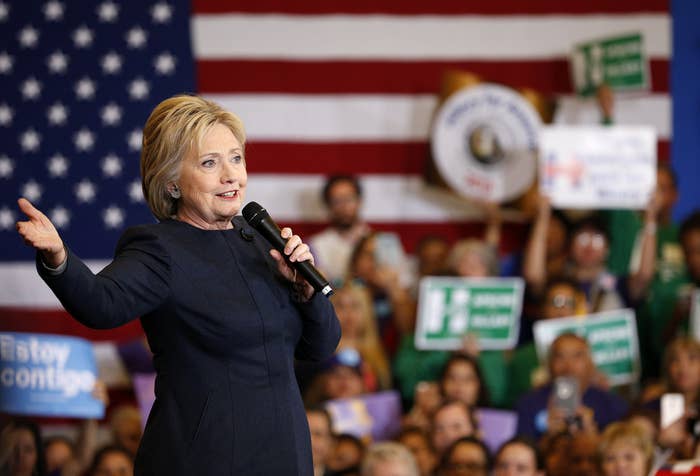 DENVER — For one evening, Hillary Clinton and Bernie Sanders took a break from each other and ganged up on the Senate Republicans.
Speaking before a record crowd at the Colorado Democratic Party's 83rd Annual Dinner Saturday, Clinton and Sanders both attacked Senate Republican promises to block any nominee President Obama selects to replace Supreme Court Justice Antonin Scalia, who died Saturday morning.
In back-to-back speeches at a downtown Sheraton ballroom, Clinton and Sanders both called on Obama to nominate a replacement for Scalia and scolded Senate Republicans.
"Let me just make one point. Barack Obama is president of the United States until January 20, 2017," Clinton said. "That is a fact, whether Republicans like it or not. Elections have consequences."
Sanders, who currently serves in the Senate and presumably would vote on a presidential nominee to the Court, addressed his fellow lawmakers from across the aisle.
"It appears that some of my Republican colleagues in the Senate have a very interesting view of the Constitution of the United States," he said. "Apparently they believe that the Constitution does not allow a Democratic president to bring forth a nominee to replace Justice Scalia."
"I strongly disagree with that," he said.
The dinner came just hours after Scalia's death was announced. Those hours were full of eulogies for Scalia's remarkable career and impact on the American judiciary, as well as a near-instantaneous politicization.
In clipped statements released by their campaigns shortly after Scalia's death was announced, both Sanders and Clinton expressed their condolences and praised the conservative icon.
"While I differed with Justice Scalia's views and jurisprudence, he was a brilliant, colorful and outspoken member of the Supreme Court," Sanders said in a statement. "My thoughts and prayers are with his family and his colleagues on the court who mourn his passing."
Clinton previewed the political fight to come in her statement
"My thoughts and prayers are with the family and friends of Justice Scalia as they mourn his sudden passing. I did not hold Justice Scalia's views, but he was a dedicated public servant who brought energy and passion to the bench," she said. "The Republicans in the Senate and on the campaign trail who are calling for Justice Scalia's seat to remain vacant dishonor our Constitution. The Senate has a constitutional responsibility here that it cannot abdicate for partisan political reasons."
Well before either Clinton or Sanders spoke, Sen. Michael Bennet kicked the event off by leading the large crowd of Democrats in a moment of silence for Scalia's family.

Once that was done, he tore into the Republican field in a stemwinder of a speech that set the tone for the evening ahead.