DNC Chair Takes Heat From Top Democrats Over Party's Debate Calendar
Intraparty debate over debates has broken out among Democrats, and top party officials say they were locked out of the process by Democratic National Committee chair Debbie Wasserman Schultz.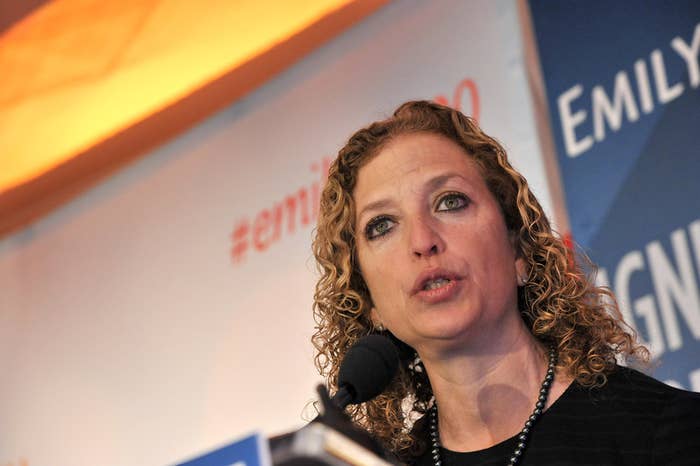 WASHINGTON — The Democratic Party is having a very loud, very public fight over the presidential primary debate calendar, pitting leaders at the Democratic National Committee against chair Debbie Wasserman Schultz.
Top party leaders say Wasserman Schultz rolled out the debate calendar without consulting them and refused to listen to concerns that the tightly-limited calendar would cause problems. For her part, Wasserman Schultz says there's no way the calendar she set up will change.
Despite the growing chorus of Democrats calling for more debates — led most vocally by Martin O'Malley — Wasserman Schultz continued to say Thursday the six official presidential forums she scheduled will be the only sanctioned debates between candidates vying for her party's nomination.
"We're having six debates–period," she told reporters at a breakfast sponsored by the Christian Science Monitor.
On Wednesday, two vice chairs at the DNC, former Minneapolis mayor R.T. Rybak and Hawaii Rep. Tulsi Gabbard, took to Facebook to express their disappointment at the DNC debate rules, which punish candidates who participate in non-sanctioned debates by denying them a space at the party debates.
The rules and the six-debate calendar "limits the ability of the American people to benefit from a strong, transparent, vigorous debate between our Presidential candidates, as they make the important decision of who will be our Democratic Presidential nominee," the pair wrote.
In an email conversation Thursday, Rybak criticized the process that led to the debate calendar. Wasserman Schultz made the decision on her own, he said, and didn't include the vice chairs in the decision-making process.
"The chair made the decision. Vice chairs were not involved," Rybak told BuzzFeed News. Once Wasserman Schultz came up with the calendar, "We had a healthy discussion and I disagreed with decision," Rybak said.
Another senior party official familiar with the process confirmed that the chair did not consult with vice chairs before announcing the debate calendar — or give them much time to comment on it once she had made her decision.
"The Chairwoman didn't consult with any of us," the official told BuzzFeed News. "We were told a few minutes before the announcement was made."
The party official asked not to be quoted on the record "to help facilitate a constructive dialogue" over the debates.
Asked for comment, a DNC spokesperson directed BuzzFeed News to another Wasserman Schultz comment from the Monitor event.
"This was a decision that I reached that, absolutely, I consulted and communicated with many people, including our officers, and decided that this was the best way to approach it," she said.
The open debate about debates among Democratic party officials is music to O'Malley's ears. The former Maryland governor has made the push for more debates the centerpiece of a new, insurgent persona that's seen the former Democratic Governors Association accuse Wasserman Schultz of overseeing a "rigged" debate process he has strongly hinted is aimed at benefitting national frontrunner and former Secretary of State Hillary Clinton. O'Malley has languished near the bottom of polling against both Clinton and Vermont Sen. Bernie Sanders in the race for the Democratic nomination.
Sanders has also called for more sanctioned Democratic Party debates, but his campaign has been less interested in picking a fight with party leadership than O'Malley's has been. "Our view is we want to work with the Party and not against it," Sanders top strategist Tad Devine told Time last month.
Clinton has said repeatedly that she'll participate in as many party-sanctioned debates as the DNC decides to hold.
"I am open to whatever the DNC decides to set up," she told reporters recently.
Rybak rejected any suggestion the debate calendar was being dictated by Clinton's forces.
"I don't think the Clinton people are driving this," he said. "It's a policy issue [plain and] simple and smart people can disagree."
Rybak also said the public debate over debates was part of the process for his party.
"I disagree with the chair on this policy issue but support her work," he said. "We are Democrats, which almost by definition means we won't agree on everything . But we are right on the issues facing the country and we should get our candidates out there as much as we can."