Controversial Judicial Pick Michael Boggs' Nomination Is In Serious Trouble
The nomination of Michael Boggs, selected by the president as a compromise with Republicans, hits the skids.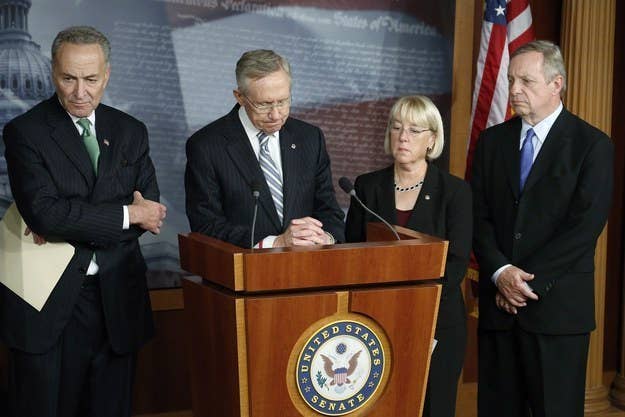 WASHINGTON — Progressives are poised to derail the nomination of Georgia state judge Michael Boggs, as top Senate Democrats Thursday expressed serious concerns about voting for his confirmation.
Publicly, progressives are not ready to say their plan to scuttle Boggs' nomination to the federal bench has succeeded. They note that Boggs may make it past the Senate Judiciary Committee, and that it's hard to predict what might happen on the Senate floor. But with new progressive groups directing Democrats to vote against Boggs every day and top Democrats in the Senate signaling they'll vote against him, there's a growing confidence behind the scenes that Boggs is not going to be confirmed.
Boggs, who has been a state judge for a decade, has come under intense scrutiny over his past as a Democratic state lawmaker, which was marked with fervent opposition to same-sex marriage and support for abortion restrictions and the Confederate flag.
After a contentious confirmation hearing in the Senate Judiciary Committee Tuesday where the progressive groups say Boggs was unable to answer for his legislative past, the entire Democratic leadership of the Senate expressed concern over Boggs. Two Democratic senators in leadership, Harry Reid of Nevada and Patty Murray of Washington, flat out said they plan to vote against Boggs if his nomination reaches the Senate floor.
Judiciary Democrats remain tight-lipped about their plans when it comes to Boggs, who is scheduled to come up for a committee vote when the panel meets next week. None of the committee Democrats would respond directly to questions about their vote Thursday. Minnesota Democrat Al Franken, who was among the tough questioners of Boggs when he appeared before the committee, said through a statement from his office that he hasn't made a decision about how to vote yet.
"Sen. Franken vigorously questioned Boggs and he is still weighing the nomination," an aide said.
Boggs' nomination came out of a deal the White House cut with Georgia's Republican senators to get nominees past the "blue slip" process, which effectively allows a senator to veto nominees for federal courts in his or her home state. The deal apparently didn't require the judges get confirmed, according to one of the senators who made the pact.
"Our deal was that the committee would hear all seven of them and the committee would vote whichever way they vote," Sen. Johnny Isakson, Republican from Georgia, told the Huffington Post's Jennifer Bendery Thursday. "Beyond that, there was no deal."
The other Georgia Republican senator, Sen. Saxby Chambliss, declined to comment on the nomination Thursday, though he said Wednesday in an interview with Politico that he had no indication that Boggs' nomination would be scuttled.
The White House has not been vocal since the confirmation hearing in defending Boggs'.
That's a marked shift, however, from before the hearing when the administration defended the nomination strongly. The White House did not respond to questions about what efforts, if any, are underway to defend Boggs in the face of mounting Democratic concern.
At the press briefing Wednesday, White House Press Secretary Jay Carney did not press very hard for senators to cast their votes in favor of Boggs.
"The president of course believes that each senator should vote as he or she sees fit," he said. He believes that all of the nominees he sends up are qualified, and that includes Judge Boggs."
One Senate Republican aide familiar with judicial nominations observing the Boggs process said it appears the White House has abandoned Boggs in the face of the progressive opposition.
"Running away from things when their base gets riled up is something this White House does well," the Republican said Wednesday after Carney's remarks. "The president backpaddles from someone he nominated the same day that Harry Reid says he won't support him? C'mon."
Outside observers say the Boggs' isolation is part and parcel of the process that led to his nomination in the first place. The use of the blue slip process has skyrocketed in recent years, University Of Richmond law school professor Carl Tobias, an expert in the judicial nomination process, said. Presidents pick nominees they don't necessarily like in the interests of compromise, and that means those nominees may end up going it alone.
"This blue-slip policy creates problems. There may be some questions people ought to ask about whether the blue slip policy works," he said. "If you look at all the present vaccines without nominees, they're almost all from states that have Republican Senators. When you have deals like this, with a number of people filling vacancies, it can be very difficult and it become unraveled."
But with the blue-slip process in still in place, more isolated nominees like Boggs may be the only way to break the judicial logjam.
"I'm tempted to say that horse-trading on judgeships is just not a good policy. I'm not even sure that's what's going on here, but people have been very critical of that sort of notion," said Tobias. "Still the federal courts are hurt when the vacancies aren't filled. And those Georgia vacancies have been ongoing for a long time. So I think it's a good idea from that perspective to have those seats filled."
"Either you would trade a judgeship for legislation or multiple judgeships…sometimes that can work."
Gideon Resnick is a political reporter at BuzzFeed. His work has appeared in VICE, the Atlantic and the Daily Beast.