Conservative Prison Reformers Silent On White House Clemency Plan
A breakdown in the bipartisan push for criminal justice reform as the White House promises changes that could result in clemency for thousands. Conservatives say they don't know enough to weigh in yet.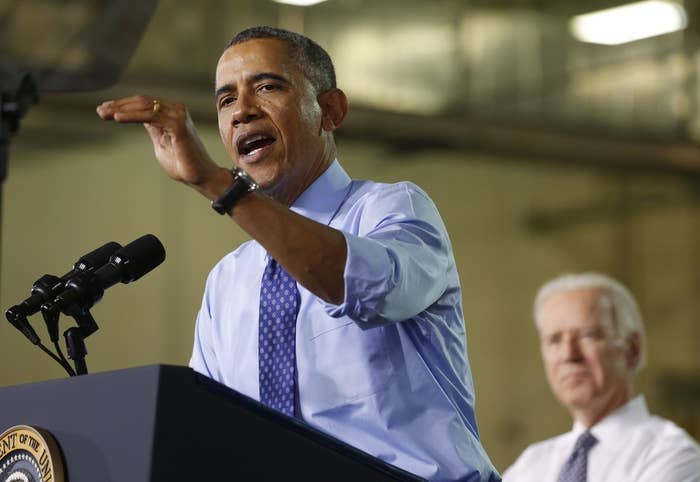 WASHINGTON — A sweeping promise by President Obama Monday that has the potential to see thousands of drug sentences reduced or eliminated hasn't yet drawn the full support from conservatives in the justice reform movement.
For now, conservatives want more information on the plan, which an administration source told Yahoo Monday could eventually result in the president using his executive power to grant clemency to "hundreds, perhaps thousands" of nonviolent drug offenders currently behind bars.
In the hours after the Yahoo story Monday, conservative justice reformers were putting the brakes on Obama's move, demanding answers before they'll get on board.
"Who are they releasing? What metrics are being used to make the determination? What level of drug offender do they have in mind? Who is developing those metrics? How many offenders will be involved? Why are they limiting themselves to drug offenders?" one prominent conservative justice reform advocate said in an email. "How does this decision relate to the bills currently pending in Congress? How does it relate to the recent change to the sentencing guidelines recommended by the federal Sentencing Commission?"
"That's just a small sampling of the questions that I have," the advocate said.
The advocate was one of the few conservative reformers to talk Monday. Several didn't respond to multiple requests for comment. A staff member for Sen. Rand Paul, the conservative justice reform champion in the Senate, said he was traveling in Kentucky Monday and would not be able to provide a statement on Obama's clemency plans. The staff member also said there was more than one outstanding question about the president's clemency plan.
The wariness from the conservative side of the justice reform debate is a rare moment of friction in what, of late, has been a rare bipartisan bright spot.
Paul and other conservatives have bucked past conservative dogma to advocate criminal justice reforms that would see far fewer offenders sentenced to prison and advocate government funding of prison alternatives the conservative groups say are cheaper than incarceration. Progressive criminal justice reformers have welcomed the conservatives with open arms, leading to bipartisan reform efforts in some of the reddest states in the country.
But pardons are ultimate peacetime expression of a president's individual power, and Obama's plan to use it in large numbers would be the ultimate expression of his late second-term "pen and a phone" strategy of using executive power to put his policy goals in place. Republicans and conservatives have condemned the strategy as blatantly political at best and flat-out unconstitutional at worst.
In a video Monday, Attorney General Eric Holder announced the Justice Department would be a willing participant in Obama's clemency goals. The Justice Department will roll out new rules this week related to how department lawyers decide which cases to recommend for clemency. In a video, Holder said the new guidelines would result in "thousands of additional requests for clemency." Both the White House and Justice Department are planning to move around staff to give more resources to clemency applications, a sign that the administration is serious about making clemency a part of Obama's legacy.
Conservatives say they are going to wait before giving the effort their blessing.
"We don't have a comment to offer yet because we are still acquiring information," the advocate said. "I am not entirely sure how broad this effort will be, what parameters will be used, or how it will be managed."