Conservative Group Also Tweeted Aurora Shooting Photo Featuring Obama In 2013
Americans for Prosperity Colorado, a conservative group, used the same image of Obama and Sen. Mark Udall after a shooting in a tweet last year. Update: AFP deleted the tweets, but did not respond to a request for comment about them.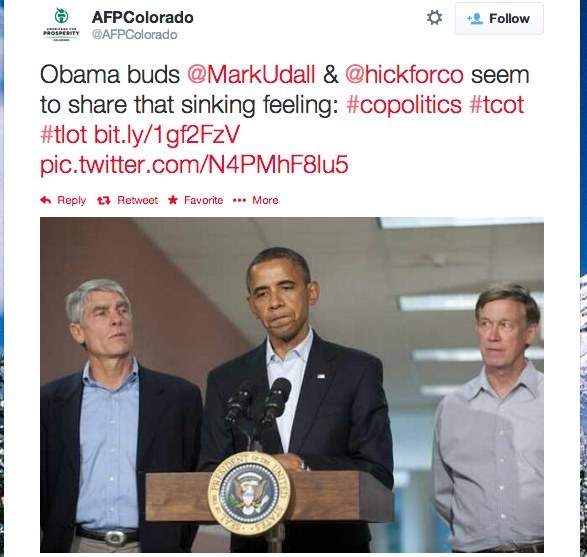 WASHINGTON — Late last year, Americans For Prosperity posted a tweet attacking Colorado Sen. Mark Udall and Gov. John Hickenlooper for being "Obama buds." The Koch-funded group used an image of the two Democrats standing with President Obama looking dismayed to make the point that the three men were sharing "a sinking feeling."
The image AFP Colorado used was taken at a Colorado hospital in July 2012, where Obama and the two men were gathered to visit victims of the Aurora shooting.
The picture and a tweet defending its use remain posted to AFP's Colorado account.
The group reacted very differently Wednesday when it used the same image from the Colorado hospital in a TV ad.
"The image used was an unfortunate oversight which was immediately corrected as soon as it was pointed out," AFP's national spokesperson Levi Russell later said about the TV spot. The statement made no mention of the previous instance AFP used the image.
Democrats, Republicans, the families of Aurora victims and the White House condemned the use of the image in the attack ad Wednesday.
Here's the tweet AFP posted on Dec. 7, 2013:
The tweet was immediately criticized:
But AFP stood by the image:
The AFP tweet says the image was used in the RCP story it linked to, but the image is no longer there.
Update (5:35 PM): AFP's national office did not respond to a request for comment about the tweets. The tweets were deleted after this post was published.