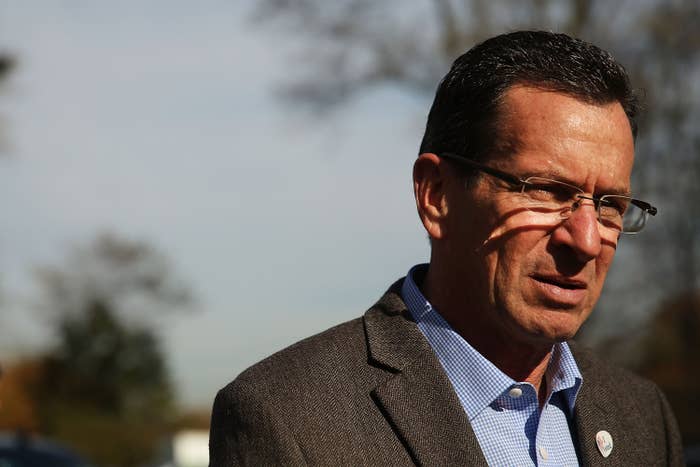 WASHINGTON — Democratic Gov. Dannel Malloy believes his plan to use an executive order to prevent people on federal terror watchlists from buying guns could spread to other states with the help of a supportive White House, he said in an interview with BuzzFeed News.

And the Connecticut governor defended the use of the no-fly list and terror watchlist as a standard, as many Democrats, including President Obama, have in recent weeks — something that has disrupted frequent liberal skepticism toward those lists over the years.
"This has got to be subject to appeal or review, but I prefer that review take place before we sell a gun to someone on the list as opposed to after. It's kind of common sense isn't it?" Malloy told said in an interview Thursday afternoon.
Earlier in the day, the governor publicly announced his plan to add federal watchlists to the existing criteria state regulators use to deny a request for a gun permit, which is required for firearm purchase in Connecticut. The proposal, which he said is still in the formative stages and requires a federal sign-off, once again puts Malloy at the center of the gun control debate, though in a different way than when he helped guide some of the nation's strictest gun regulations through the state legislature after Newtown.
That effort pit Malloy against the National Rifle Association. This time, he's facing opposition from the NRA and other gun rights supporters from the right — but also on concerns about the watchlists themselves, concerns initially voiced during the Bush administration by liberals and libertarians alike.
When it comes to the lists themselves, critics argue the secrecy and lack of recourse for those on the lists amount to an unconstitutional denial of due process. On Monday evening, for example, after initially making equivocal statements, the ACLU cautioned against using the no-fly list in its current form as a reason to deny a person a firearm.
"I'm a liberal, and I'm saying this," Malloy said when pressed on left-leaning concerns about the lists. "So what you mean to say is, 'some liberals say that.'"
Connecticut's existing gun-permit structure will provide the due process required to ensure that people on the watchlists aren't denied the right to purchase guns unfairly, Malloy argued.
"We have a state-level appeal. We already have it. It's built into our existing law. And if someone came forward, there's a board that routinely grants those appeals, it's not as if we don't already have an appeals process," he said. "So subject to that appeals process, and I don't know how many times I can say it, that it makes sense to deny people who are on that list … the right to buy a gun."
Malloy said simple appeals like cases of mistaken identity with names on the list could easily be solved by the state appeals process. But, he acknowledged, the lists would add an additional burden to the existing appeals process.
"Quite frankly, we'll have to do additional work in regards to that," he said.
The proposed Connecticut ban mirrors a federal proposal pushed by the Obama administration and Democrats in Congress following the shooting in San Bernardino. While those shooters were not on government watchlists, Democrats and gun control advocates say the attack by reportedly self-radicalized ISIS sympathizers show that the existing no-fly list, for example — which denies a person the ability to board an airplane but has no effect on their ability to buy guns — is dangerous. Malloy suggested that the potential threat should sweep aside lingering progressive concerns over the list.
"And by the way, those comments [from progressives critical of the watchlists] were before attacks in Paris, and before the attacks in California and, quite frankly, before attacks on innocent refugees," Malloy said, pressing his view — shared by many Democrats — that there is support for this idea.
Malloy repeatedly mentioned that many Republicans support putting a hold on Syrian refugees from resettling here — whom Malloy noted are not suspected of anything — but were happy to let, he said, more than 2,000 people on the watchlists buy guns with no additional scrutiny since the lists were implemented.
"I want to put this all in context. We have candidates for president of the United States running around saying that you should exclude entire classes of people based on their religion. And that same person, and others running on the Republican side, saying we should deny refugees," he said. "Does it make any sense to continue to allow people on a watchlist, without a review, to continue to buy a gun?"
In Washington, prominent gun control voices in Congress are defending the push against liberal critics in a way similar to the way Malloy is — the lists should be vetted for accuracy and those on them should be given a chance to appeal when they're denied a gun, they say, but they say the lists are aquate enough to deny gun purchases.
At the White House Thursday, Press Secretary Josh Earnest embraced Malloy's plan and confirmed the administration was assisting local officials seeking "steps they can take to protect their communities from gun violence."
Malloy said he first asked the White House about using the lists to deny gun permits on a state by state basis before Obama formally made it part of the Democratic response to San Bernardino in an Oval Office address.
"The conversations I have have indicated support," Malloy said. "And a 'wow' moment — 'Why didn't we think of this?'"
Malloy, the chair of the Democratic Governors Association, said governors and state lawmakers have already begun to call him to talk about how to institute executive orders like the one he's proposed in their own states. Though some progressives have questioned the idea, most Democrats support it — and the biggest political barrier toward using the watchlists to ban gun purchases comes from gun rights advocates in the GOP.
Not known for backing away from an opportunity to goad Republicans, Malloy said the political fight should continue in Washington if federal officials eventually determine he doesn't have the power to use the watchlists as he plans.
"[I]f I'm told we can't do it then the Congress of the United States needs to act responsibly," he said. "You've got a whole bunch of people who support anything the NRA says, but at the same time they also talk about states' rights. Well guess what? Making people safe in my state is a state right and I want to do it."