Commerce Appointment Opens A New White House Rift
Room enough for Valerie Jarrett and Penny Pritzker both to reach out to business, the White House says. But Jarrett tried to kill the appointment.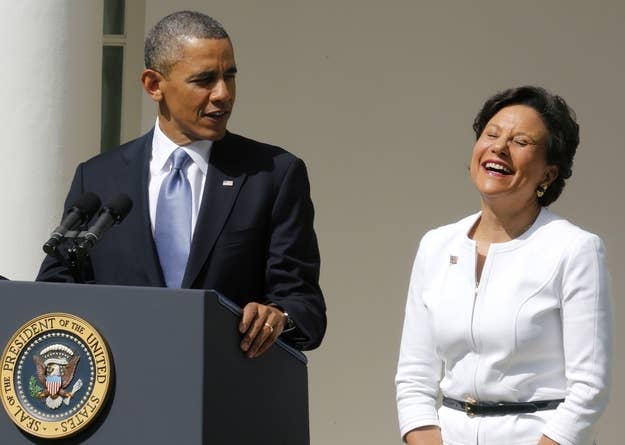 WASHINGTON — The nomination of billionaire Penny Pritzker to be secretary of Commerce will import a Chicago rivalry into the Obama administration.
Pritzker and Obama confidante Valerie Jarrett share roots in their native city's insular business community and will have overlapping portfolios of outreach to corporate America. But there is no love lost between the two women, people who know both say: Indeed, Jarrett tried to torpedo the appointment, someone she made the case to told BuzzFeed. And their tense relationship could help define the administration's attempts to mend ties with the business world that frayed badly during the first term.
A top fundraiser for his first campaign, Pritzker — who inherited the Hyatt Hotel fortune — stayed outside the administration during his first term. Jarrett, who came up in the world of Chicago real estate, tried to manage relationships with business leaders who felt shut out by a president who didn't want to golf with them and complained of populist rhetoric.
Unhappy with Jarrett, many directed their complaints to Pritzker, people familiar with the tensions say. And when Obama began to seriously consider her as Commerce secretary, Jarrett tried to stop it, arguing that the pick would provoke a backlash from labor leaders and progressives over Hyatt's tense relations with the union representing hotel workers.
Those progressive complaints were relatively muted Thursday. And now, as business leaders welcome Pritzker's arrival in the cabinet, she is also posing a challenge to the woman who is one of the president's close advisers and personal friends. While Obama called Pritzker a "friend," Jarrett is something more — a longtime patron and adviser, and someone who has survived challenges from other key insiders. But there is little question who big business would prefer to deal with.
"Valerie doesn't really have ties to the business community," said Greg Simoncini, a longtime Chicago Democratic activist and fundraiser. "Penny does."
A White House official, speaking on the condition of anonymity, discounted any suggestion that the women would clash.
"Outreach to the business community is not a one-person job," the official said when asked about what Pritzker's role will be in regard to Jarrett's when it comes to business outreach. The official said the administration expects Pritzker to use her considerable Rolodex on the White House's behalf.
Pritzker is a real estate investment titan and philanthropist, born into the Pritzker and Hyatt fortunes. She has sat on several major corporate boards and knew the Obama family personally for years before helping finance the president's 2008 run. Despite grumbling from some in his union base over Pritzker's opposition to a proposal to ease organizing known as "card check," Obama considered Pritzker for the Commerce post in his first term. (She eventually took herself out of the running.) Forbes lists her net worth at $1.85 billion.
And with Pritzker headed for the Cabinet, people close to both women hurried to play down the suggestions of tension between them.
"I know there is a lot of 'noise' out there," one person close the Jarrett said. "But I think it is much more fiction than fact." The source said Jarrett welcomes Pritzker to Washington and thinks having her at Commerce will make it easier for the White House to reach out to business.
Officials in the White House and at business groups also publicly discount any suggestion that relations aren't going swimmingly, but few deny the tensions of the first term.
Business leaders weren't happy with the push for health-care reform, and they didn't like what they thought was an antagonistic tone coming from the White House in the years after the financial collapse. William Daley, who, like Pritzker, has close ties to big business, was famously brought in as chief of staff to shore things up with the business community after Rahm Emanuel left to run for mayor of Chicago. (His ties to the business community were supposed to make things easier with the new Republican House majority, a plan that didn't quite work out.) But Daley's tenure was short, and Obama never built strong ties to the business lobby.
Some business groups say they hope things are changing.
"I think we would argue that especially in the second term, the last couple months have been a reinvigoration regarding small business," Molly Brogan, spokesperson for the National Small Business Association, told BuzzFeed. "I'm not sure how cordial relations are with the White House and large business organizations, but I think we've all heard the stories that it's not always terribly warm. But in our experience, we have had a decent amount of outreach."
Meanwhile, the big-business lobby welcomed Prtizker's nomination.
"The Chamber looks forward to continuing to work with the Department of Commerce to promote the interests of America's job creators and I am pleased to personally congratulate Penny Pritzker on her nomination to this important post," U.S. Chamber of Commerce President Thomas Donohue said in a statement.
The White House blasted out more words of praise for Pritzker Thursday afternoon, noting statements of support from leaders at the Real Estate Roundtable, Financial Services Forum, American Hotel & Lodging Association and Hispanic Chamber of Commerce.
"Penny's strong relationships with leaders in the business community will make her an asset to the administration, and she will bring a lifetime of business experience to the position," a White House official said. "Penny has known the president for many years and believes in the work that he and his administration are doing to create jobs and strengthen America's economy."