Internal Biden Supporter Memo: "The Colbert Bump Is Real"
An internal Draft Biden memo says people were much more likely to click on targeted banner ads — as well as give money and sign up to volunteer — in the three days after the vice president appeared on Stephen Colbert's new show.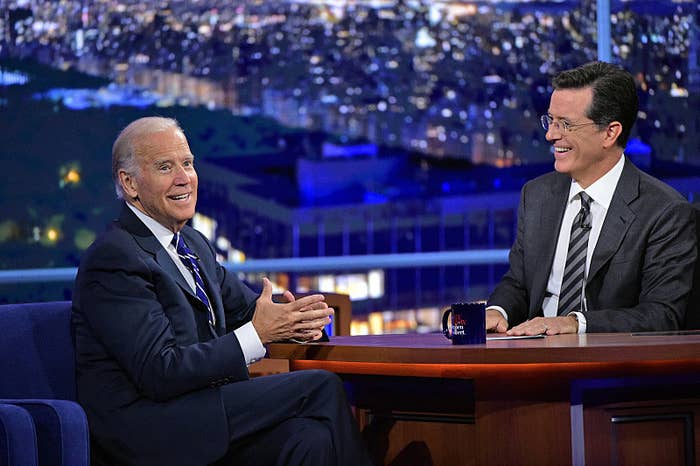 WASHINGTON — An internal memo circulating among supporters of a Vice President Joe Biden 2016 run for president shows that Stephen Colbert's new CBS late-night show is still the home of the "Colbert Bump."
The memo, sent to top officials at the super PAC Draft Biden by its data vendor — a D.C.–based startup called VEDA co-founded by former Democratic Congressional Campaign Committee fundraiser and Democratic consultant Meghan Buck — shows huge increases in web traffic and so-called engagement with Draft Biden in the week since Biden appeared on The Late Show With Stephen Colbert last Thursday.
"The power of the Vice President's appearance on the Late Show with Stephen Colbert cannot be understated," Buck wrote in the memo, obtained by BuzzFeed News. "The Colbert Bump is real."
The memo describes an "800% increase in daily signups" since the Colbert interview and a six-fold increase in the number of people in early states clicking on targeted banner ads placed by Draft Biden on popular websites.
Buck declined to share the raw numbers associated with the increases, but said around 200 people signed up to volunteer for Draft Biden in the first 72 hours after the interview, a number she said was significant because it came from people who had clicked on a banner ad, which requires users to stop what they're doing and interact with the Draft Biden site.
Veda told BuzzFeed News Draft Biden "website traffic also increased by 600% on the day following the Late Show appearance." The banner ads, which send people to a petition urging Biden to run and then ask them for a donation or to put their name in the volunteer database, saw big increases as well.
Biden's interview with Colbert was one of the most emotional and revealing of either man's career. The interview was replayed heavily on cable news and was shared widely online.
Before the interview and after it, Draft Biden has been targeting early state voters with banner ads and other digital engagement campaigns. Buck said click-throughs on banner ads in Iowa and New Hampshire were six to eight times higher than the national click-through average after Biden's Colbert appearance.
"All of this data points to one real conclusion: The American people saw the Vice President's emotional honesty on display last week and are excited about the opportunity of having an honest, authentic voice in this race," Buck wrote in the memo.
Colbert has been hosting a number of presidential candidates since starting his CBS show earlier this month. On Friday, he will interview Vermont Sen. Bernie Sanders, who already enjoys online engagement that's the envy of most other presidential candidates. Colbert's first episode featured Republican presidential candidate and former Florida Gov. Jeb Bush.