Climate Advocates Surprised By Obama's Keystone Mention
The environmental left says Obama changed the paradigm on Keystone Tuesday and now he has no room to oppose it. Conservatives say otherwise.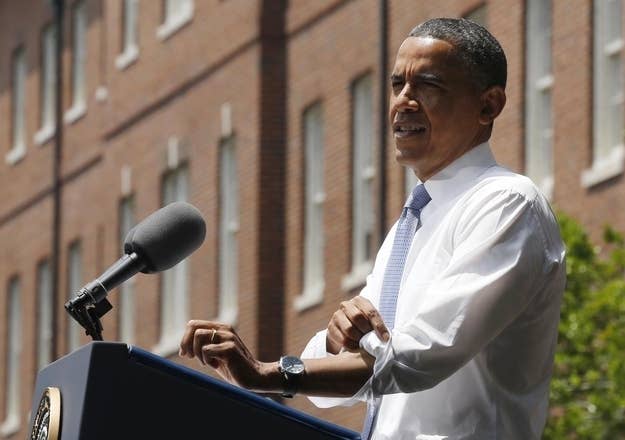 WASHINGTON — The climate activists who have pressured President Obama over the Keystone XL pipeline project for years told BuzzFeed they won a surprise victory Tuesday when the president laid out new rules for approving the project based on its potential to create greenhouse emissions.
No one expected Obama to mention Keystone in his big climate speech at Georgetown University — and activists didn't expect to be declaring V-K Day so soon.
"[It's] clearly interesting that he 'had' to mention the KXL, when they signaled that they really did not want to," Kert Davies, research director at Greenpeace. "And none of the briefing docs or planned rumors alluded to this."
Climate activists did not expect to see Obama address Keystone in the speech. One group actually planned a Keystone-themed protest outside the speech's location. Similar actions have dogged Obama for years, with progressives protesting loudly outside Obama's events and promising civil disobedience if the pipeline is approved.
Some of the pressure may continue, but the early reaction among Keystone opponents to Obama's speech Tuesday is that they won, and the people who want to see the pipeline built lost.
"The President definitely changed the terms of the debate on Keystone—making clear that we need to evaluate its impact on the climate," said Navin Nayak, a vice president at the League of Conservation Voters. "So while there's still a decision to be made, it's definitely a game changer."
Leadership at CREDO, the progressive group with a list of tens of thousands of people who have promised to get arrested if Keystone is approved, called Obama's remarks a "breakthrough." Executive Director Becky Bond said that her group will continue to pressure Obama on Keystone through public action, but suggested that a significant amount of the work was now done thanks to protesters like hers.
"No one expected President Obama to address the Keystone XL pipeline in his first major climate speech. But because of massive grassroots pressure, including a Pledge of Resistance signed by over 62,000 Americans pledging to risk arrest in peaceful civil disobedience, the president announced that he could not approve Keystone XL if it increases the carbon emissions that fuel climate change," she said. "And the consensus from EPA and scientists could not be more clear -- it does."
Up until Tuesday, the White House and Obama have pushed off questions about Keystone to the State Department, where the pipeline project is still under review. Activists wanted Obama to take a stand against the project, and to make it clear he wasn't going to approve it on environmental grounds. In the speech, Obama said the environment must be a factor in the final decision.
"Allowing the Keystone pipeline to be built requires a finding that doing so would be in our nation's interest. And our national interest will be served, only if this project does not significantly exacerbate the problem of carbon pollution," he said. "The net effects of the pipeline's impact on our climate will be absolutely critical to determining whether this project is allowed to go forward. It's relevant."
Davies said Obama gave the Keystone protesters much of what they wanted.
"[The speech] clearly sets a new bar," he said. "He made the pipeline decision a 'climate impact' decision. That's what the movement has been asking and saying."
Supporters of pipeline didn't see Tuesday as a defeat. They say Obama made it more likely he'll approve the pipeline in the Georgetown speech. Though they agree with opponents of Keystone that Obama set new parameters for deciding whether Keystone is approved, they read the new parameters as tilting things in their favor. Supporters cite a March environmental impact report from the State Department showing the pipeline will not create more carbon emissions than other means of transport the Canadian oil Keystone is meant to carry.
The U.S. Chamber Of Commerce, an ardent supporter of the pipeline, said that if Obama didn't approve Keystone now, he would be "changing the rules of the game," and ignoring the State Department impact report. EPA and other observers have said that Keystone will create a net gain in carbon.
Republicans think history is on their side and insist that Obama signaled Tuesday that the pipeline will be built.
"The standard the president set today should lead to speedy approval of the Keystone pipeline," Brendan Buck, spokesperson for Speaker Boehner said in a statement. "Based on the lengthy review by the State Department, construction of the pipeline would not have a significant environmental impact. It's time to sign off on Keystone and put Americans to work."