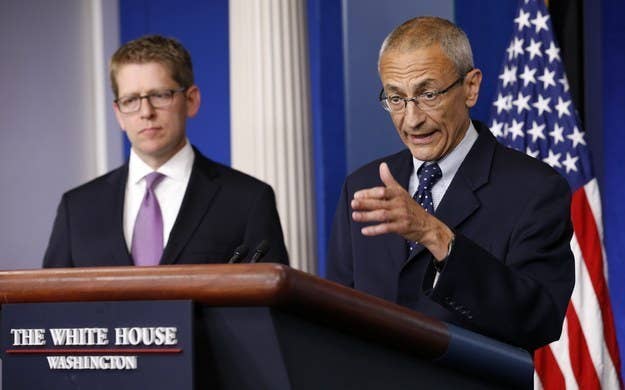 WASHINGTON — On Tuesday the White House released its latest case that climate change is a real and ongoing threat rather than just a future problem to be solved down the road.
The shift in focus to current impacts of climate change has worked on some Republicans, top White House advisers said, but not the Republicans in Congress.
Top White House advisers John Podesta and Jason Furman joined a call with reporters Monday to preview Tuesday's White House climate change announcement, an administration study finding that, essentially, climate-change skeptics are already hurting the American economy by running up the tab required to deal with climate change impacts down the road.
Podesta argued the message that the impacts of climate change are upon us have have changed the conversation for some on the Republican side of politics.
"Given the general lack of productivity on Capitol Hill, we haven't noticed any signs that they want to take this up and work constructively with us," Podesta said. But when it comes to "the other side of the aisle" in total, he added, senior Republicans like former Treasury Secretary Hank Paulson have now embraced the idea that climate change is an ongoing threat to the economy today.
Podesta pointed to a presidential task force launched earlier this year aimed at developing ways for communities to cope with the effects of climate change as place where Republicans outside Washington have embraced the White House climate change message.
"We are doing our work around resilience, we have very good cooperation from Republican stakeholders including governors, mayors, and others to try and build up more resilient infrastructure," he said. "They're getting the fact that this is affecting their communities right now, whether that's the drought in California, wildfires in the West, sea-level rise and storm surge."
The Capitol remains a place where the White House message is not getting through to Republicans, Podesta said. But that doesn't mean the White House strategy isn't working.
"The Congress in that regard, particularly the Republican-led House is a lagging indicator there," he said. "I do see change across the political spectrum, and of course the public is solidly on board wit the idea that climate change is happening, it's happening now and that it's caused by human activity."
The new administration report says action on climate change now is the only way to protect the economy from suffering under the affects of changing temperatures, rising sea levels, and shifting weather patterns.
"Delaying policy actions by a decade increases total mitigation costs by approximately 40 percent, and failing to take any action would risk substantial economic damage," reads a White House summary of the Council of Economic Advisers study. "These findings emphasize the need for policy action today."
Shifting the conversation about climate change toward making it a today conversation versus a tomorrow conversation has been a highlight of Podesta's tenure in the White House. The longtime Washington veteran is a champion of climate change, and has helped to refocus White House toward climate-based executive actions in the "pen and phone" era. A key component of the new strategy is talking about climate change as a current threat. In May, the White House climate assessment was built around the notion that climate change has a measurable impact on American lives already, pointing to longer, hotter summers, "disruptions to water and agriculture," and seasonal allergies.
At the same time, Republicans in Congress have all but abandoned conversations about climate change. In a political environment where passing a law through Congress is a rare feat, there's no real chance for significant climate change legislation in the near future. Podesta admitted as much on the call Monday.
But Furman, the current head of the Council of Economic advisers, said the White House is changing minds, even if its not changing them in the halls of Congress. He said the views among those in the "economics profession" are starting to coalesce around the notion that climate change is a real thing that needs to be dealt with.
"If you look at my predecessors...from both political parties, you tend to see a concern about climate change as well as understanding of the basic economic concepts in our report: that it's more costly to delay action, that it has an important insurance value," he said. "Certainly the extensive literature on this topic by economists doesn't know any political party. The facts and the data tell a pretty consistent story."