Campaign Tone From Sanders And Clinton On DNC Flap Shifts In Minutes On Debate Night
Two more Sanders staffers have been suspended over the breach, a spokesperson said Sunday.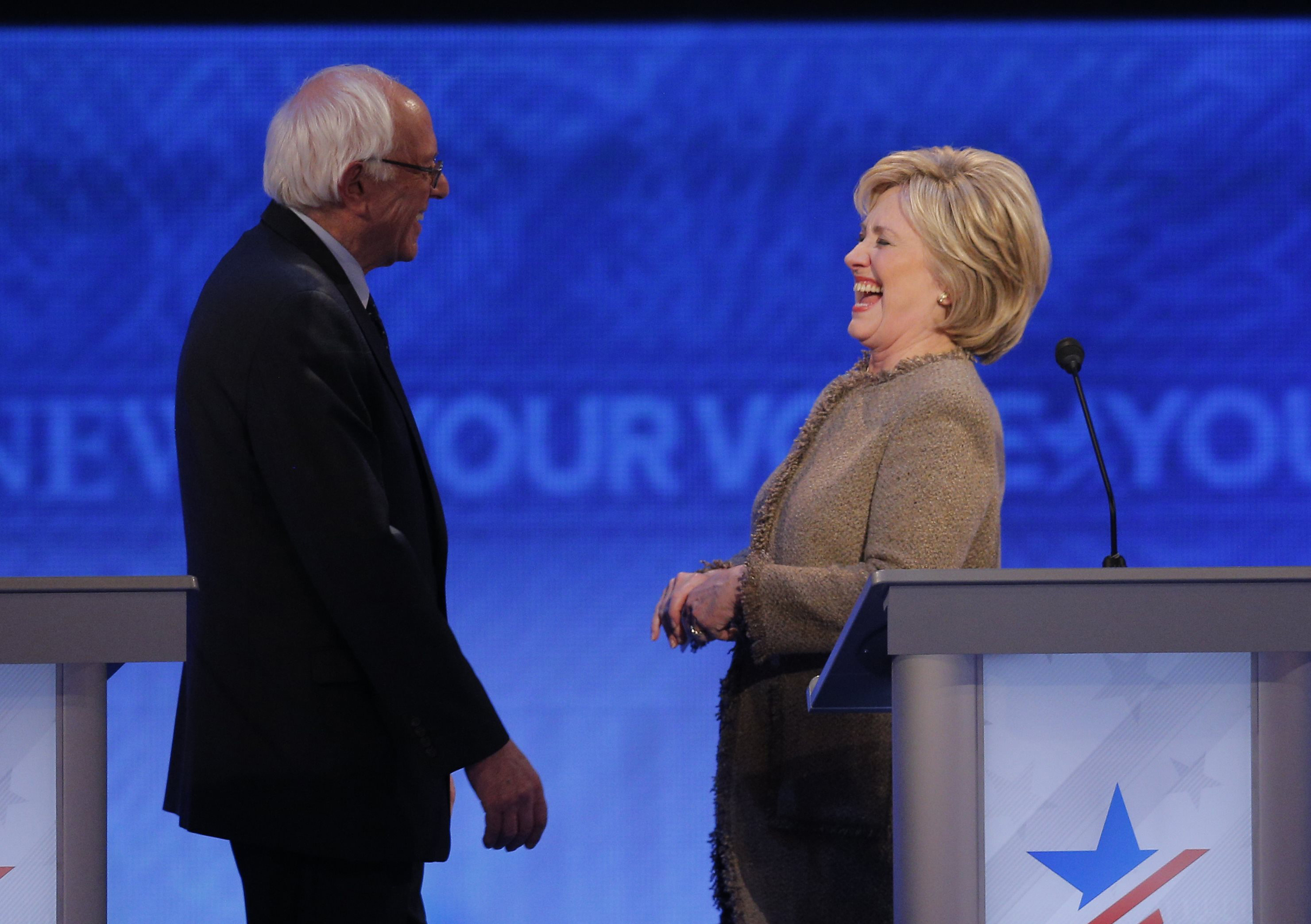 MANCHESTER, N.H. — Bernie Sanders has suspended two more staffers from his campaign over the DNC data breach, a spokesperson told BuzzFeed News on Sunday.
"I can confirm that two staffers were suspended," spokesperson Michael Briggs said in an emailed statement. "We are withholding their names while the investigation continues to determine what further action may be warranted."
The suspensions come after data director, Josh Uretsky, was fired over the data breach.
On Saturday night, up until the moment Democratic presidential candidate Bernie Sanders offered a full-throated apology to rival Hillary Clinton on the debate stage at St. Anselm, and Hillary Clinton accepted it, it wasn't clear how the DNC data breach was going to play in the debate.
That's because up until the moment the debate started, the Sanders campaign and the Clinton campaign were still trading barbs after Sanders aides peeked at proprietary Clinton campaign data they weren't supposed to.
The rhetoric kept ratcheting up, with Clinton aides accusing Sanders aides of committing a crime, and Sanders aides accusing the DNC of working in collusion with the Clinton camp to run their campaign into the ground.

On stage, the candidates tried to clear the air while it was still thick with flak from the previous 48 hours.
"I apologize," Sanders said in the opening minutes of the debate. "Not only do I apologize to Secretary Clinton … I want to apologize to my supporters. This is not the type of campaign that we run. And if I find anybody else involved in this, they will also be fired."
Clinton accepted.
"So, now that we have resolved your data, we have agreed on an independent inquiry, we should move on," she said. "Because I don't think the American people are all that interested in this. I think they're more interested in what we have to say about all the big issues facing us."
That was not how the two campaigns were talking to each other before the debate began. In the afternoon, the Clinton campaign posted a sharp rebuke to an anonymously-sourced Politico report claiming the Sanders campaign wanted to push hard on the DNC and Clinton campaign over its 48-hour suspension from the Democratic voter file.
"In an interview with Bloomberg yesterday, [Sanders chief strategist] Tad Devine claimed this was all a 'mistake,'" wrote Clinton communications chief Jennifer Palmeri. "A mistake?"
Palmeri then produced logs from DNC voter file vendor NGP VAN showing what the Clinton camp and the DNC says reveals Sanders aides deliberately trying to steal Clinton data.
In a tweet that posted about 15 minutes before the debate started, Devine responded.
"When I said a fired staffer made a 'mistake,' I meant it in the same way Hillary Clinton did about the Iraq war," he wrote, linking to a May story about Clinton.
By the end of the debate, that kind of head-to-head battling over the DNC data was over. At least when it came to public rhetoric.
"The Clinton campaign put out a little prequel or something mentioning me personally, alluding to something I said," Devine told BuzzFeed News after the debate. "So I did answer that charge that they made against me by name, by the way."
"I did respond to an attack against me, maybe it wasn't too clever after all, but you know I got a kick out of it," he continued. "And you know, it is Twitter."
As he often does, Sanders himself steered the campaign away from the sharper tone, Devine suggested.
"Let me tell you something about Bernie Sanders, and I've worked for him for 20 years," Devine said. "There's no script. Bernie decides what he wants to do, decides what he wants to say."