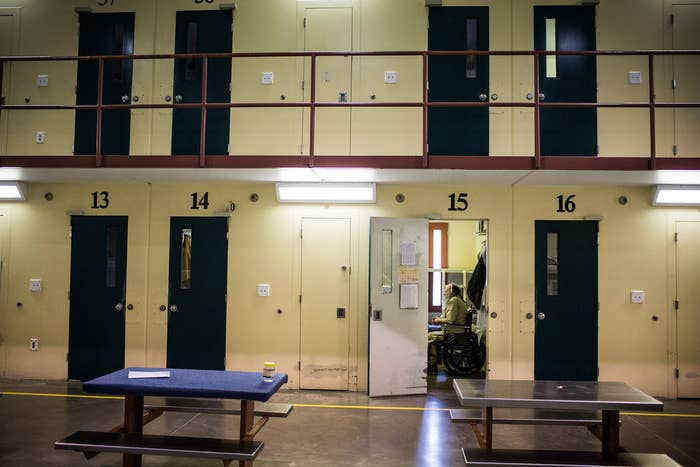 WASHINGTON — The White House and prominent Democratic senators have once again joined forces with the most prominent names in the Republican Party's libertarian wing to try and sell the law-and-order GOP on a bill that would reduce the mandatory-minimum sentences of nonviolent offenders currently serving time in federal prison.
On Wednesday, a bipartisan group of senators led by Illinois Democrat Dick Durbin and Utah Republican Mike Lee announced the reintroduction of the Smarter Sentencing Act, a bill that failed to move despite bipartisan support in the last Congress.
The White House, which has been a prominent supporter of reexamining the mandatory minimum sentences mostly created at the height of the drug war, praised the new effort.
"We applaud Sens. Lee and Durbin for their bipartisan work to move forward with criminal justice reform this year, as the president called on Congress to do in his State of the Union address," a White House official told BuzzFeed News in an email.
The official said the White House has yet to review the new Smarter Sentencing Act language, but that the administration has "every expectation" the new bill will mirror the old, which the official said the president "strongly supported" last year.
The bill would allow federal prisoners currently serving mandatory minimums, which largely affect drug offenses, to have their sentences reviewed by a judge and possibly reduced, in some cases dramatically.
Libertarian Republicans and liberal Democrats have joined forces to push back against mandatory minimums. Liberals most often support the change for social justice reasons, while conservatives have had great success pushing red state legislatures to reduce their prison populations by making the financial argument that fewer nonviolent offenders behind bars saves taxpayer money.
Democratic Sens. Durbin, Chris Coons of Delaware, Patrick Leahy of Vermont, and Cory Booker of New Jersey are joining with Republican Sens. Jeff Flake of Arizona, Rand Paul of Kentucky, Lee, and Ted Cruz of Texas in sponsoring the Smarter Sentencing Act, reflecting the unlikely political alliances that have formed over criminal justice in recent years.
But while liberals have, for the most part, been able to rally Democrats in Washington to their cause, libertarians have had a hard time getting law-and-order Republicans in D.C. with careers forged in the tough-on-crime years of the 1980s to get on board.
At the state level, these libertarian-minded conservatives have led a successful nationwide push to have sentencing laws reviewed and sentences reduced, starting in some of the reddest states like Texas. There's a hope among some conservatives that success will trickle up and influence Republicans at the national level still skeptical of reviewing drug sentencing, fearing that reduced penalties will bring back the high crime rates of the past. Newt Gingrich, who recently signed on with criminal justice advocacy effort led by former White House official Van Jones, told BuzzFeed News at a Washington event last month that Republican governors from red states that have made sweeping changes to their criminal justice systems will influence the D.C. GOP.
Sen. Chuck Grassley of Iowa now chairs the Senate Judiciary Committee following the Republican takeover of the Senate. He expressed skepticism at changing mandatory minimum sentences just days after the election, a move that has mandatory minimum opponents in the activist community privately wary of the Smarter Sentencing Act's chances in the new Congress.
Molly Gill, government affairs counsel at Families Against Mandatory Minimums, told BuzzFeed News the reintroduction of the Smarter Sentencing Act should lead skeptics like Grassley to follow in the footsteps of his Republican colleagues who found a "win-win" situation in this issue.
"This is yet another sign that there is unprecedented bipartisan support and momentum for sentencing reform. Members of Congress are excited about working together on this because it's one of those rare win-win issues for both parties," she wrote in an email. "It's an un-missable opportunity to do something that would be good for Congress, for bipartisanship, and for taxpayers, the Justice Department, families, and communities."
This post was updated with comment from the White House.
Molly Gill is the government affairs counsel at Families Against Mandatory Minimums, not the organization's president.