Bill Maher: Hillary Clinton Has My Vote But She's Not Getting A Million-Dollar Check
The HBO host talked to BuzzFeed News about a Democratic presidency he's not excited about, a Republican field he says is too weak to win a general election, and the "teenage girls" who attacked him this week.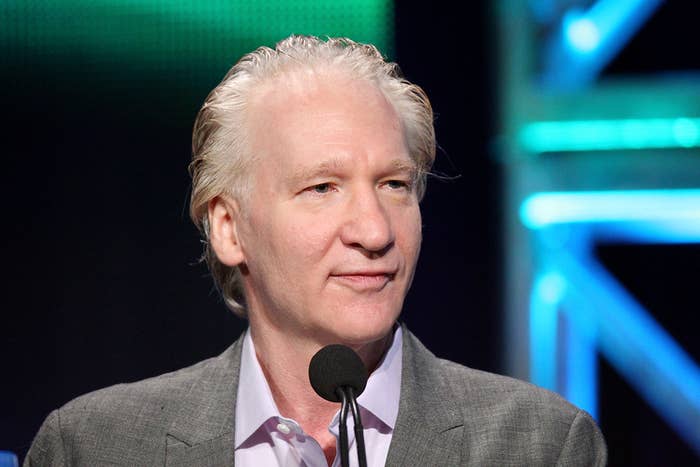 WASHINGTON — Bill Maher is not bullish on the post-Obama White House, no matter who wins the election.
In a wide-ranging interview with BuzzFeed News this week, the host of HBO's Real Time With Bill Maher said Democratic frontrunner Hillary Clinton is likely to disappoint many voters in her party with an agenda he said will be too "centrist" for progressive tastes. She's not getting the million-dollar check he cut for President Obama in 2012. He dismissed the Republican presidential field as too beholden to its base to be of much interest to the general electorate. Sen. Rand Paul, who Maher previously called a Republican he could vote for, has thrown over his libertarian values for a base-friendly social conservatism, he argued. And Maher complained that social media swarms like the one he faced this week after a joke placing a photo of convicted Boston bomber Dzhokhar Tsarnaev next to one of One Direction member Zayn Malik are raising the profile of "people who don't actually do anything good in their life."
The Tsarnaev point is a particular source of tension for the comedian. Some Muslim advocates and progressives have accused Maher of taking a borderline racist stance toward Muslims — but he contends Muslims are actually supportive of his rhetoric, promising to bring one of his Muslim defenders onto his set soon to set the record straight. He was upset that the critics of his Malik joke had gained traction with a social media campaign.
"I feel like any place that considers itself a serious journalistic enterprise — and I certainly consider BuzzFeed to be that — it's beneath their dignity to even ask about something that, really, is the province of teenage girls," he said. "We threw up a picture of the guy from One Direction and we threw up a picture of the Tsarnaev kid. They look alike. That's the whole joke."
He also didn't think the criticisms were all that legitimate.
"'Do something useful with your life' is my response to the people who are asking for an apology," he said. "I understand why teenage girls are upset; they're teenage girls. Anybody else that is upset is acting like a teenage girl."
"I don't know how we got to this place where we think that anything that gives us the least bit consternation we have to make a protest about it," he said. "Turn the page or flip the dial. Pick up the roll of quarters and leave the booth. Whatever it is. It's insane."
Regular viewers of Maher's HBO show would not have been surprised by his wholesale dismissal of the Republican presidential field. Wisconsin Gov. Scott Walker, he said, was most likely to clinch the GOP nomination because "he's the worst, and the Republicans, you know, they are pretty good at nominating the 'are you fucking kidding me?' candidate. And to me, Mr. Walker is the 'are you fucking kidding me?' candidate." Florida Sen. Marco Rubio has "honesty, integrity, and intelligence issues." "What I call The Full Palin." None of the GOP field is "of presidential timbre," Maher said, including former Florida Gov. Jeb Bush.
"When he was the governor of Florida, he threw an election for his brother, he threw black people off the voter rolls, he crushed the unions, he signed the Stand Your Ground law, he put the feeding tube back into Terri Schiavo," he said. "This is what passes for a moderate in this party? Yeah, I guess so."
There is one candidate who's different for Maher — Sen. Rand Paul, who has been a guest on his show and about whom Maher has spoken positively (or at least more positively) about in the past. But he now believes the Kentucky senator had strayed from his father's libertarianism ("he had the balls to stand on that stage and get booed") to earn votes from the Republican base.
"His father made a calculation: 'Better to be true to yourself, better to be real, better to be honest and say what you really believe and not win than to sell out like these other dopes,'" Maher said. "And Rand Paul looks like he's not making that calculation — he looks like he's making the opposite calculation."
Paul has been combative this week since announcing his presidential candidacy. Interviews with both NBC News and the Associated Press have been ""testy," and Paul has bristled when asked questions about his past. That's not new, according to Maher. The two men had drinks before Paul appeared on Real Time last November, Maher said, and Paul was interested in coming on only if he wasn't set to face a barrage of questions about his past statements. Maher was happy to accept.
"What I did want to know was what his views on the environment were. And quite frankly, they were not good. It didn't look like he had really given it any thought. I mean, he mumbled the same ridiculous talking points. I told him, that's never going to cut it for me," Maher said. "When he did the show, like a month or so later, he had gotten a much better answer. I don't know whether it was sincere, but it was not an answer that I could really make fun of. And I was certainly ready to make fun of him. So it's not like the boy can't learn. But unfortunately, again, it looks like the lesson he learned from his father is, 'Say stupid shit to get the nomination because if you don't, you'll lose.'"
So the Republicans are set to face the same attacks from Maher this cycle they did in 2012. Democrats may be in for a rougher go. Maher famously gave Obama's super PAC $1 million at the height of the 2012 election, and called on other wealthy Obama supporters to surpass him in a bid to bolster Obama's financials against the billionaires backing Mitt Romney. The expensive stunt worked, Maher said — the host said Paul Begala, one of the leaders of Obama's Priorities USA super PAC and frequent Real Time guest, told him large donations poured in after Maher used his TV show to call for them.
Clinton will not be getting the same full-throated support.
"I like Obama a lot more than I like Hillary. I just think he's better. That's just how it is. Hillary is way too centrist for me, she's way too hawkish for me," he said. But there is no Republican that appeals to him, obviously, so the choice is simple. "So am I going to be a supporter of Hillary? Absolutely. Is it as enthusiastic as I was for Obama? No. But it doesn't have to be because we all have to grow up and and realize, pick the best answer on the test. There's no perfect answer."
Maher defended Clinton but was not bullish on her chances to helm a bold presidency.
"I am not going to worry that if she's president she's going to blow up the world," Maher said. "What I worry about is she's not going to make some significant progress on many issues where progress needs to be made because she's just not enough of a rock-the-boat type. That's not who the Clintons are. They are the ones, after all, in the '90s who could have taken the Democratic Party back to where it belongs on the left but took it back to what we call the center now, but really isn't the center. It really is the right."
"Who knows, maybe she could surprise us," he said. "That certainly is not what her past indicates. Is she really going to go up against the oil companies and say, 'you know what? we need to get serious green energy program in place yesterday. We need a carbon tax and we have to attack this like it's terrorism times fascism which is it is.' But no, that's not going to happen."
So Clinton won't be getting the big check. "That's not something that's going to come around every time. I'm not Sheldon Adelson. I don't have like million dollar amounts like washing around in my pockets. So no, that's not going to happen," he said. Maher said his 2012 million dollar donation was meant to be a wakeup call for well-heeled Democratic donors after Citizens United when unlimited donations to super PACs became par for the campaign course. And Clinton doesn't need any help opening the wallets of the rich, Maher said.
Despite his broad praise for the president, Maher has sharpened his attacks on Obama lately over an issue that is often heard in a Republican stump speech: the president's dismissal of the phrase "radical Islam" when it comes to groups like ISIS. Maher, an outspoken atheist, has used his show to strongly criticize the teachings of Islam, which Maher has warned is inherently violent. After the Malik joke, the spokesperson for the Council on American-Islamic Relations told ThinkProgress the bit was "another example of [Maher's] casual racism and anti-Muslim bigotry."
Maher is a friend to controversy, but has been stung by the accusations of Islamophobia by both Muslims and many of his would-be allies on the left (a fight with progressive actor Ben Affleck on Real Time over Islam went viral last year). He's bristled at the liberal critics.
On March 27, he even said on a webisode of his show that Muslims were actually praising him behind the scenes. "Since this issue blew up, I must say that I've heard from an awful lot of Muslims who say, 'Yes, you're defending me. I'm a liberal Muslim and I want to live in the 21st century. And all the people who are calling you a bigot are shouting down the debate that we need to have,'" Maher said.
This week, Maher said plenty of Muslims support his rhetoric — he specifically pointed to former Wall Street Journal reporter Asra Nomani, who stood up for Maher in a January Washington Post op-ed and said he hopes to have her on the show soon.
"She's always saying this, that there's a battle within Islam and the place that others outside of Islam can help us with is by being honest and not giving Islam a pass in the way they wouldn't their own faiths. Which is exactly what I've been saying, but it means a lot more when it comes from a Muslim. And there does have to be a civil war in the Muslim faith. The people who want to live in the 21st century, and those are the people who say thank you to me, are going to have to fight it out with the people who want to live in the seventh century. And we can't do that for them."
Maher also distanced himself from some of the conservatives who have embraced him as he's ramped up his rhetoric on Islam.
"It's funny that they think they're allied with me on the right because my whole point about this is that I'm the liberal in this debate. And that, by the way, is how I won over I think such a big part of the liberal audience that I've been talking to, because I've been talking about this issue for years," he said. "And the audience, especially here in the politically correct studio that I work in, often was booing me — and now they're not because they get it that if you're standing up against countries that have a law saying you should kill people and keep women in beekeeper suits, you're the liberal in this debate."
"It's not the liberal thing to be defending this."