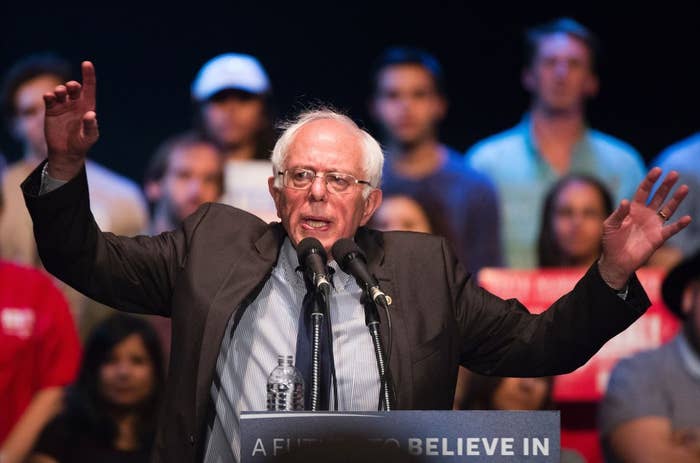 Bernie Sanders told a progressive internet show Wednesday that he considers President Obama both part of "the establishment" and one of the progressives who are trying to fight against it.
"Do you think President Obama is the establishment? Or is fighting against the establishment?" Cenk Uygur, host of the daily liberal talk show The Young Turks, asked Sanders during a long interview with the Democratic presidential candidate.
Sanders effectively said the answer to Uygur's question was yes.
"I think probably both," Sanders said. "Do I think he has real views and real concerns, deeply felt? I think he does, you know, unlike some people who will go with the wind all the time."
Sanders pointed to Obama's continued push for a closure of the military prison at Guantanamo Bay as a place where the president is expressing values "he believes in in his heart and soul." Sanders praised Obama for a commitment to criminal justice advocacy.

"I like him, I think he's a decent guy," Sanders said. "But on the other hand, as Hillary Clinton reminds us, he got more money from Wall Street than she did."
Sanders noted Clinton has used Obama's Wall Street fundraising in 2008 to push back on Sanders's criticisms of the millions Clinton has raised from the financial sector in the current cycle.
It was in the financial sector that Sanders saw Obama's establishment ties.
"Do I think, for example, he stood up to Wall Street in the way that he should have?" Sanders said. "As I go around the country and speak to people, a lot of things get them angry. But nothing gets them angrier than the fact that some kid smokes marijuana today, gets caught with marijuana, that kid gets a prison record, right? That's what happens. But what happens if you're a banker on Wall Street and you destroyed the American economy because of illegal activity?"
"How many of these people are going to get criminal records?" Sanders went on. "Zero. And that shows the American people the corruption of the system."
Who has the mantle of Obama's legacy and who or what exactly is the establishment has been a key theme of the Democratic primary campaign, which Sanders is continuing to wage despite a large Clinton delegate lead. Throughout the race, the two candidates have bickered over who is more establishment — Clinton, part of decades of mainstream Democratic party growth and change, has pushed back on Sanders's establishment claims by saying he was a lawmaker longer than her and that, as a candidate running to be the first woman president, she can't be considered more of the same old Democratic Party.

Clinton has largely gone out of her way to praise Obama, while offering some critiques of foreign policy and standing with progressives like Sanders who don't like the president's trade policies.
The Sanders campaign has laughed at Clinton's claims to be a progressive and a change agent. In the Young Turks interview, Sanders suggested she is too conservative to get a seat in his cabinet.
"There are other people that I would probably go to before Hillary Clinton," Sanders said. He name checked Elizabeth Warren.
Sanders took Obama on over and over in the Young Turks interview, criticizing the president's Supreme Court nominee as not progressive enough and saying the president "could have done more" to "get money out of politics."