Bernie Sanders: Pope Francis And I Agree On So Much
The independent senator from Vermont says he and the pope are on the same page.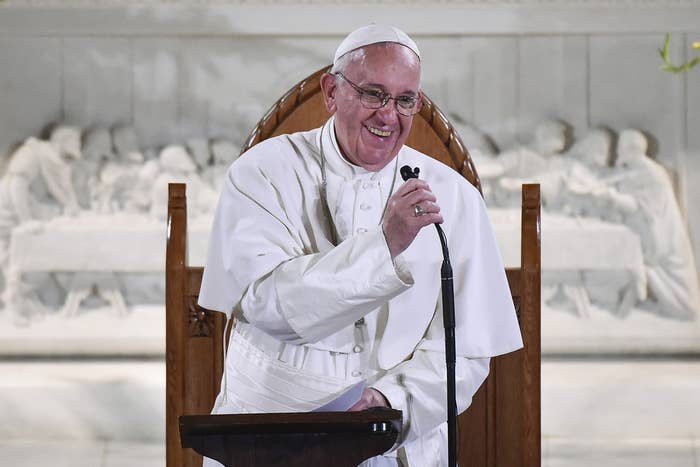 More than any other lawmaker, and certainly more than any other candidate for president, Bernie Sanders — the independent, small-s socialist running for the Democratic nomination — leaned way, way into Pope Francis' visit to the United States.
On Thursday, as Francis addressed a joint session of Congress, Sanders endeavored both before and after the speech to tie his message to the pope's.
Sanders — who is Jewish, but has said he's "not particularly religious" — favorably mentions Pope Francis on the campaign trail constantly, so it was not a huge surprise that he would greet the pope's visit warmly.
But Sanders went a step farther on Thursday after Francis' speech, which focused largely on the economic equality issues that have driven Sanders' political career. Sanders has largely dismissed the pope's opposition to abortion and marriage equality, noting that while they men disagree on those issues, Francis has not made social conservatism a priority.
And as the world's eyes turned toward Francis in Washington, Sanders was right there and ready to claim the role as closest to the pope's vision.
Sanders' Senate Twitter account kicked off the day by tying the senator to Pope Francis.
Pope Francis centered his speech around four Americans, including economic radical Catholic writer Dorothy Day. Immediately afterwards, Sanders said he was overjoyed and again linked his own message to Pope Francis's.
From The Washington Post:

"The name Dorothy Day has not been used in the United States Congress terribly often," said Sanders in a short interview. "She was a valiant fighter for workers, was very strong in her belief for social justice, and I think it was extraordinary that he cited her as one of the most important people in recent American history. This would be one of the very, very few times that somebody as radical as Dorothy Day was mentioned."
...

The Vermont senator was less concerned by Francis's glancing mentions of other issues that animate progressives, such as climate change and gay rights. "He knew where he was speaking," said Sanders. "I think he does not want to be rude, as a guest. But I think his calling out for social justice, his talking about income and wealth inequality, his talking about creating an economy and a culture that works for everybody, not just a few, is a very, very powerful message."
In an interview with MSNBC shortly after he talked to the Post, Sanders again noted Francis talks a lot about the issues Sanders talks about.
"I would say the vast majority of the American people would not know who Dorothy Day was," Sanders told MSNBC host Andrea Mitchell. "And the fact that he mentioned her as one of the four examples of people he admired was rather extraordinary unto itself. Dorothy Day died in 1980, she spent her entire life working amongst the poorest people in this country. She was a socialist. She organized workers to stand up against the wealthy and the powerful.
"And the fact that the pope signaled her as one of the leaders that he admired tells us what his view is in terms of what we should be doing around the world, in terms of income and wealth inequality, poverty and the need to fight for justice," he said.
"This is a brilliant man," Sanders added. "I know that people think Bernie Sanders is a radical, read what the pope is writing about because he is not only talking about poverty and income and wealth inequality, he is getting to the heart of hyper-capitalism and he is saying 'why as a society are we worshipping money? We're making money the golden idol, respecting and admiring people who have billions of dollars at the same time as we're ignoring people who are sleeping out on the streets, people who are going hungry, people who have no health care. And he's saying that is not the way we should be living our lives. That is a pretty profound critique of modern society."
Sanders' presidential campaign Twitter account also got in on the action.
In his official Senate statement on Francis' speech, Sanders was glowing in his praise of the address as "a wonderful example of the never-ending struggle for justice in our country and the world."