Bernie Sanders Looks For A New Democratic Pipeline Divide In New Hampshire
Sanders — and senior Granite State politicians on both sides — oppose the Kinder Morgan natural gas pipeline. Hillary Clinton has not publicly weighed in on the issue.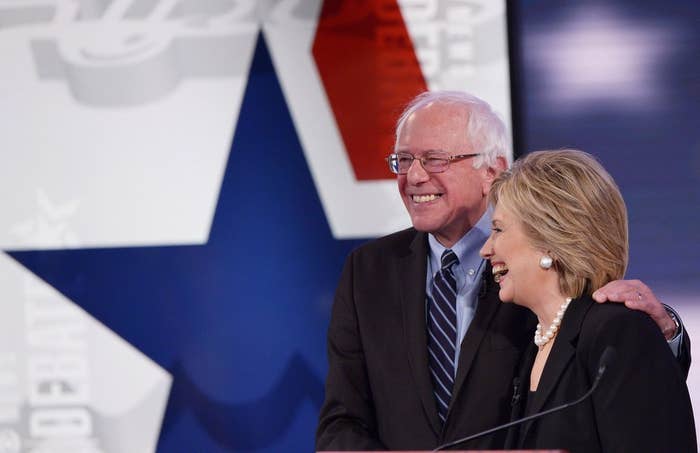 WASHINGTON — Supporters of Bernie Sanders are hoping a new debate over a controversial fossil fuel pipeline at a politically-beneficial moment will give him a chance to draw fresh contrasts with Hillary Clinton in New Hampshire.
Major politicians in the Granite State are lining up to voice their opposition to the Northeast Energy Direct Pipeline, a proposed natural gas transportation solution that would move natural gas captured in Pennsylvania into New England.
At the presidential level, Sanders is standing in full-throated opposition to the pipeline, a stance pipeline opponents welcome.
Clinton has not offered up her take one way or the other on the specific issue. When asked about it in July, she called the pipeline "a local matter."
Pipeline opponents, many of whom have organized under the banner "NH Pipeline Awareness" group known for gathering at public events wearing signature matching neon green t-shirts, have seized on Sanders's position. The grassroots operation may start informally helping Sanders's presidential efforts, a spokesperson said, citing Sanders' "courageous" opposition to the plan. That could give Sanders a boost in the early state where Sanders runs closest to Clinton in public opinion polls.
The Sanders campaign is also using the New Hampshire pipeline divide to return to a past environmental divide between the Vermont senator and the former secretary of state.
"While others were still hedging and equivocating, Bernie Sanders helped lead the fight against Keystone XL since day one," Sanders spokesperson Karthik Ganapathy told BuzzFeed News. "No one should be surprised that he's once again demonstrating leadership, and forging public opinion on issues that matter."
Sanders has long argued that his public opposition to Keystone, which came well before Clinton's (as well as the White House's) earns him bona fides with the environmental movement that Clinton doesn't have. That argument hasn't actually benefited Sanders when it comes to the backing of major environmental groups, but his supporters have used it to make things awkward for leaders of groups like the League Of Conservation Voters when they endorse Clinton.
The politics of the situation in New Hampshire are different, but the Sanders campaign hopes they'll result in similar awkward moments for Clinton backers.
The Northeast Energy Direct proposal calls for around 70 miles of new pipeline construction in New Hampshire as well as a large compressor station in New Ipswitch, near New Hampshire's southern border.
Active opposition to the pipeline in New Hampshire has come from both sides of the ideological aisle, with libertarian-leaning conservatives pushing back against the pipeline and the company that wants to build it — Houston-based energy firm Kinder-Morgan — over eminent domain grounds and the green left opposing it over environmental impact concerns.
The uncommon coalition of ideologies has created an uncommon coalition of political opposition to the pipeline. Between Tuesday and Thursday, Republican Sen. Kelly Ayotte, Democratic Gov. Maggie Hassan — who's running against Ayotte for Senate next year — Republican Rep. Frank Guinta and Democratic Rep. Anne McLane Kuster all came out in opposition to the current pipeline proposal, citing a lack of consideration of public opposition by the Federal Energy Regulatory Commission, which extended the public comment period after outcry in New Hampshire.
Many environmental groups also oppose the pipeline. The Connecticut branch of the League of Conservation Voters opposes the pipeline project over the potential impacts on drinking water for part that cuts through that state. The national League of Conservation Voters, which backs Clinton, did not immediately respond to a request for comment on the national group's position on the pipeline project. A spokesperson said congressional action was keeping the Washington staff busy Thursday.
At the New Hampshire Democratic Party's Jefferson-Jackson dinner, Sanders flatly called the pipeline "a bad idea" and added that it "should be opposed."
When asked about it by a New Hampshire reporter back in July, Clinton called it a "local issue." A Clinton campaign aide pointed to her comments at a October town hall where she sharply criticized the federal review process that has come under fire from both sides in New Hampshire of late but continued to remain on the sidelines when it comes to the pipeline itself.
"The process that FERC is employing does not give enough weight to public opinion in the locations where pipelines are going through. It does not pay, in my opinion, enough attention to all of the other issues, whether they be health issues, safety issues and the like," she said on Oct. 16 in Keene. "And so I am going to do what I can to try to make it absolutely the case that FERC has to, in any of these decisions, pay much more attention to local communities and listen to what your concerns are and do much more to evaluate whatever the consequences or the downsides of these decisions are."
That's not good enough for some in the neon shirt crowd at NH Pipeline Awareness. Elisa Benincaso, a spokesperson for the coalition of pipeline opponents representing the progressive side of the fight, said Sanders' campaign has been in regular contact with activists since Labor Day, when Benincaso said opponents ran into Sanders and his supporters at a parade in Milford, New Hampshire.
"It was Sanders that actually took the bull by the horns. He formally opposed the NED without any equivocating," Benincaso said of her group's communications with the Sanders camp. She said Clinton's campaign was not as interested in hearing the groups' pitch, and the groups weren't very interested in her after she continued to call the pipeline a local issue.
"There was some small interaction with her campaign but it was sort of 'talk to the hand,'" Benincaso told BuzzFeed News.
Kaela Law, a conservative critic of the pipeline who has confronted a number of Republican presidential candidates about the project in New Hampshire, called Clinton's criticism of the FERC a significant step and said it shouldn't be discounted. Law is another activist with the NH Pipeline Awareness group, and praised Clinton for her promise to reform the FERC.
"Though she doesn't say how," Law added. The activist has not decided who to vote for in the Republican primary, and she said many of her fellow conservative activists praised Sanders for his words on the pipeline.
Benincaso said she's going vote for Sanders in the primary. She many in the organized group opposed to the pipeline will too, and many will go to work making sure others vote the same way.
"You cannot force politics onto a group that is opposed to a pipeline but we plan to offer our support," she said. "Many, many of us will be shifting to support Sanders. Many of us."