Bernie Sanders Is Stuck Being A Regular Politician Now
He's officially a Democrat, has a pollster and ads, and most notably is on the attack — in other words, the trappings of a "regular politician." And once you lose your outsider cred, you've lost it for good, say the people who tried to make Howard Dean the Democratic nominee.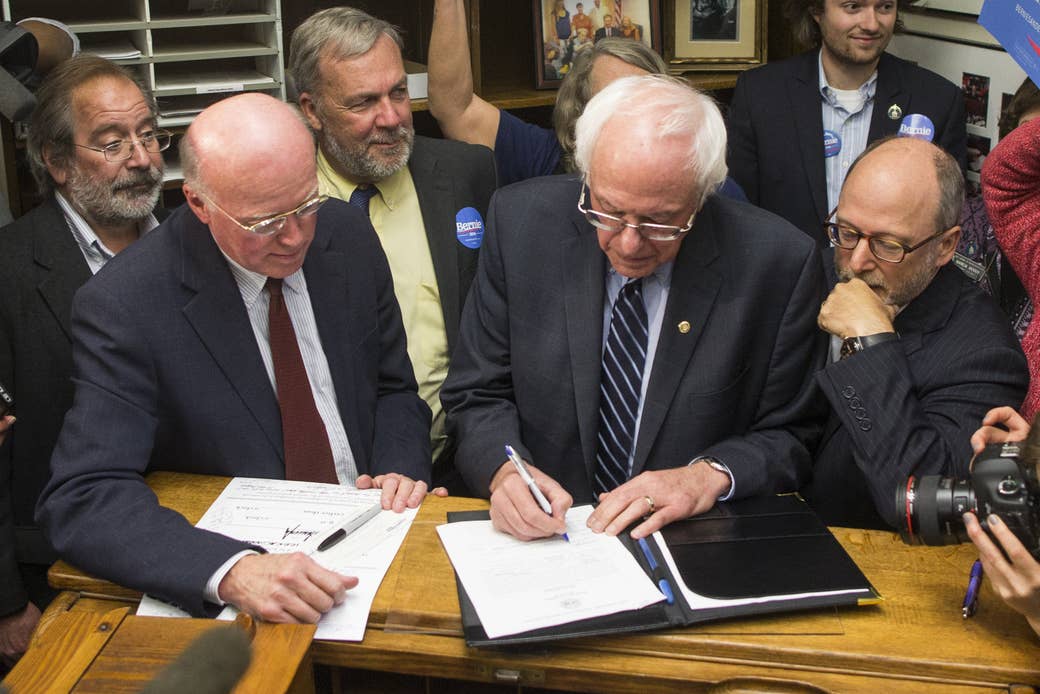 CONCORD, New Hampshire — On Thursday, Bernie Sanders joined the Democratic Party when he officially signed up to appear on ballot for the first-in-the-nation presidential primary.

State party rules require Sanders to be a Democrat to run in the primary, and Sanders — who has long reveled in the fact that he's not officially a member of any political party — is willing to do what it takes to keep his presidential bid moving forward.
But as he becomes a regular Democrat, Sanders is also becoming something else: a regular politician.
Five months in, the candidate's pledge to run a different kind of campaign has collided with the realities of a competitive, two-person primary. He's responded with the trappings of a traditional politician: His campaign hired a pollster, launched a debut television ad casting Sanders as the "honest leader" in the race, drew aggressive contrasts with Hillary Clinton in a key speech at the Jefferson-Jackson dinner in Iowa, and in a sharp interview with the Wall Street Journal this week, Sanders himself raised the question of Clinton's character regarding her recent opposition to the Trans-Pacific Partnership.
Sanders's aides say the shift is the natural next "phase" in the race. But outside the campaign, Democrats — including those who worked on Howard Dean's 2004 effort that captured the progressive zeitgeist before falling back to earth — see a candidate losing grasp on his own best features.
Joe Trippi, the strategist who ran Dean's bid, pinpointed the Jefferson-Jackson dinner as the turning point for the Sanders brand.
"They've made a big mistake in this whole get-tough strategy of theirs," said Trippi. "It's just backfiring. It came at exactly the wrong time in exactly the wrong place, and it was counter to his brand, which was the bigger problem. That's what people liked about him."
"So you're going after somebody the Democrats like, and doing it in a way that erases or smudges everything they liked about you. Either one of those things is bad," Trippi said. "But when you're doing both of them — it's not a good strategy."
In an interview with BuzzFeed News on Thursday morning, senior strategist Tad Devine maintained that nothing has changed about Sanders and dismissed the idea that Sanders had become a "regular politician."
"I do not see any fundamental change in Bernie in terms of his message. His message is still the same message," Devine said, adding that the delivery remains "straightforward and blunt."
"He is more willing to talk about these substantive differences in particular forums," Devine allowed, but said that Sanders has "always" said that he's willing to talk about policy differences with Clinton. "The gist of what he's doing and where he's going is what we've been doing."
Aides from the Dean campaign identified a key lesson from 2004 for Sanders: Once you lose your hard-earned insurgent status, once you become a "regular politician," you can't come back. In the lead-up to the Iowa caucuses, Dean spent weeks beating back sustained attacks from Dick Gephardt, whose future in the race depended on the state. Voters expected Dean to fight back: The former Vermont governor was already perceived as scrappy — even too aggressive at times. But some former staffers said the protracted sniping, which played out on the trail and in ads, dulled Dean's non-politician politician look.
"A contested back-and-forth over votes and character feels like politics-as-usual to voters," said Ben LaBolt, a top Obama aide who worked on Dean's campaign. "When you're running as a different candidate who wants to start a revolution rather than effectively manage the political process, that does brand damage."
"Sanders's mistake was that he said he wasn't going to run a negative campaign," LaBolt said. "Now he looks like a hypocrite."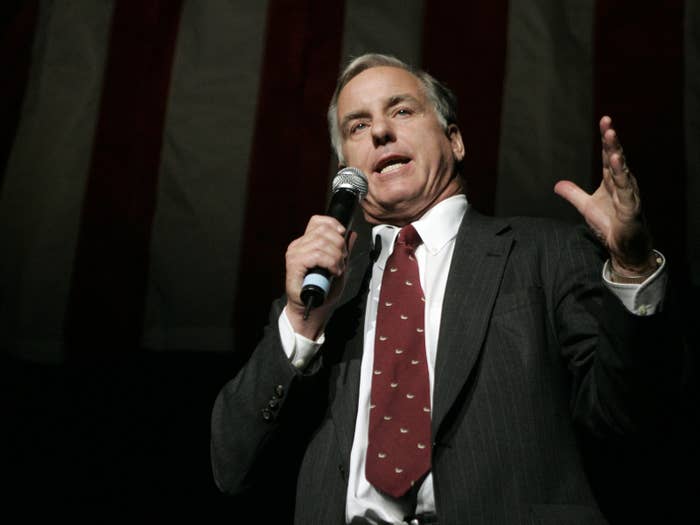 Another top Dean aide, who declined to be named, echoed widespread surprise inside the Democratic Party at Sanders's decision to debut a contrast message at last month's Jefferson-Jackson dinner.
"We all say the same thing, which is you don't go negative at the J-J in Des Moines," the former Dean aide said. "That's the place, for a significant amount of people, where it is time to see your wares. And when he made it about her, some would say it was a debacle."
Privately, Sanders's team has said it learned the lessons of Dean's 2004 implosion. But there's at least a perception that they are carrying on where Dean left off: The campaign's pollster, Ben Tulchin, has been reported as Dean's. (Paul Maslin, Dean's pollster, said that Tulchin only worked with his firm at the time. "Ben helped me with some questionnaires," Maslin said in an email. "He's a good guy. But I did all of it. All the meetings, all the conference calls all the strategy in Burlington.")
There are signs Sanders advisers recognize they're walking a tightrope. While Sanders is quick to bash Clinton in national interviews these days — interviews are now full of bravado and warnings to Clinton not to go negative lest she find herself contending with the full force of what Sanders has to offer — actual voters who get facetime with Sanders get the same Sanders they got before the J-J and the new tone. In New Hampshire town halls last week, Sanders didn't change his rhetoric at all, and he never mentioned Clinton by name.
On Wednesday, however, Sanders reversed his repeated promises to not make personal attacks on Clinton. The senator told the Journal that Clinton's shift on trade policy "does speak to the character of a person."
The reversal did not go unnoticed by the Clinton campaign. "It's disappointing Sen. Sanders and his campaign strategists have chosen to change direction and engage in the type of personal attacks that they previously said he wouldn't do," said spokesman Josh Schwerin, who added that this "has and will remain a campaign about issues for Hillary Clinton, and that's what she'll continue to talk about on the trail."
But Devine rejected the idea that the comment about Clinton's "character" represented a change from before.
"Well, sure, I mean that's their observation from a distance," he said of the Dean aides who see Sanders making a key change. "It may also be their observation from a more partisan perspective — they may be more for Hillary, either publicly or implicitly. No, we're not changing things. If we were running a big push-off campaign, we'd be running ads that push off."
Sanders also told the Journal that the FBI should continue its investigation into Clinton's email setup, backing away from his bring-the-house-down moment in last month's presidential debate. It was a line Sanders had clearly come to deliver: "The American people are sick and tired of hearing about your damn emails!" Sanders told the WSJ this week he didn't have enough time to respond on the emails. (A review of the transcript shows he had plenty of opportunity to talk about the investigation if he wished, choosing instead to tell debate moderators, "Enough of the emails. Let's talk about the real issues facing America.")
The moment was celebrated by supporters of both candidates, and used by both campaigns for fundraising purposes. A Sanders fundraising email sent while the debate was still going on included video of the "damn emails" exchange and called it "a special moment" on "the most important night of the campaign so far."
On Thursday, Sanders's campaign attempted to quash the notion that their candidate had shifted his position on the emails, pointing to an interview Sanders conducted with CNN right after the debate where he said the investigations should continue. "He said so before the debate, he said so on the stage immediately after the debate … and he basically said the same thing yesterday," Devine said.
"There's no ad about the emails in the can, we're just not going there," he said. "That's not what the campaign is going to be about."
And when it comes to the campaign's first TV spot — the one that characterizes Sanders as an "honest leader" — Devine said the language emphasized Sanders's strengths, in isolation from Clinton. Likewise, he categorized the campaign's emphasis Sanders's vote against the Iraq War as less a critique of Clinton than a testament to Sanders's judgment. "Just because she voted the other way doesn't mean we shouldn't talk about it."
"We're not willing to walk away from those strengths because someone will say, 'A-ha! you're pivoting against her.' That's just giving up too much," Devine said. "We can't unilaterally disarm because someone might say, 'Well, she's got problem there and therefore you're doing this.'"
The campaign stands behind this distinction between advancing their message — and that nothing has changed. Devine said he understands that the best way for Sanders to win is "not to have a drag-out fight with someone who is so well known, so popular, and so established" within the party.
"The best way to do that is to beat her because we have a better message and that message resonates more powerfully with voters," he said.
In Concord, after signing the papers to run on the ballot, Sanders delivered a speech to supporters outside the capitol building about political revolution and taking on billionaires. He didn't mention Clinton by name. But shifting between outsider iconoclast, hard-nosed politician, and back again, is easier said than done.
"They should come off of it. I'm not sure they have much chance anyway. Which may be the thing that they're doing: We'll lose if we stay positive, so we gotta go negative," said Trippi. "That could be their logic. But I don't think they have any chance of doing this the way they're now doing it. So reversing is better than continuing at this stage."