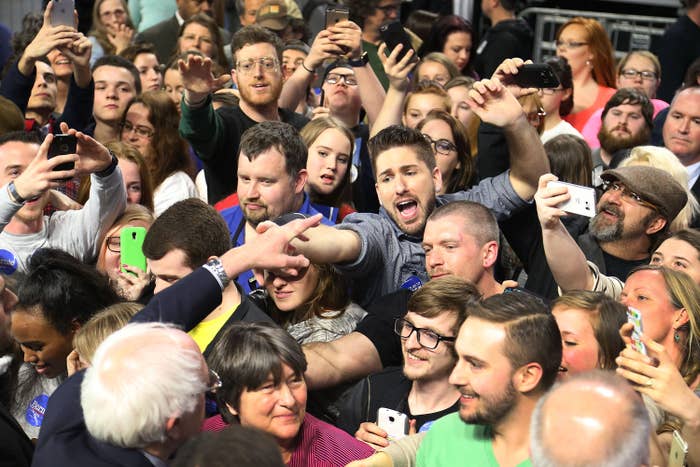 GREENVILLE, South Carolina — The day ended with the Sanders campaign classic: a huge rally in a college town.

He spoke to more than 5,000 in the Bon Secours Wellness Arena here, the temporary home of the Clemson Tigers basketball team. There was the cheering, the laughing, the finishing Sanders's sentences.
But it all sounds very, very different in South Carolina. The candidate's tone was markedly different than 48 hours earlier, when an exuberant Sanders proclaimed he'd win the Nevada caucuses. (He lost by enough for rival Hillary Clinton's campaign to pronounce their "firewall" against Sanders had held.)
In Nevada, Sanders was the candidate on the rise, the man about to break apart the Democratic establishment and put his grassroots revolution it's place.
"I have a feeling, folks, we're going to make history tomorrow," Sanders said Friday night in Henderson, Nevada. "It could well be that in 10, 20, or 30 years from now people may well look back and what happened in Nevada and say this was the beginning of the political revolution."
Sanders in Greenville was wistful and taking stock of how far he'd come. There was no "feeling" about South Carolina — there was hope and a life lesson.
"On Saturday, South Carolina has the opportunity to make American history and I hope you will," Sanders said, reading from notes. "You know, we go around once — we may as well make history as we go around. We may as well do something that people will remember decades from today."
He went on to talk about how his bid had made "Wall Street nervous," and had tapped into progressive, working class angst other Democrats had ignored. That rich vein of liberal intemperance was still carrying The Bern forward, he said.

"This campaign is gaining momentum because we are listening to the American people we we are listening in a way that other campaigns don't," Sanders said.
More than one observer noted the Greenville crowd was overwhelmingly white and young — not a great look for a South Carolina Democratic primary, where the electorate skews older and has been approximately half black in the past two contested Democratic primaries.
There was little anecdotal evidence Sunday to refute polling that shows Sanders trailing Clinton considerably among black voters here. Early in the afternoon, Sanders stopped at the post-service Sunday Dinner at Brookland Baptist Church in West Columbia, one of the largest black churches in the region and a famous 2008 stop for President Obama on the way to his upset South Carolina win.
Former NAACP president Ben Jealous, a top Sanders surrogate, tried to recapture some of that Obama feeling at Brookland, introducing Sanders for short remarks by dropping both of Obama's 2008 catchphrases, "fired up and ready to go" and "yes we can!" Neither had much effect — the churchgoers sitting around a large buffet at Brookland clapped politely for Sanders, and a handful asked for selfies. Many kept eating and talked amongst themselves while Sanders walked around the room with Jealous and state Rep. Terry Alexander, another Sanders backer, leading him around. Others actually worked their way down the steam trays, filling their plates behind Sanders while he spoke about his promise to root out and eliminate racial biases in the criminal justice system.
The headlines after the event were not the stuff of Sandersmentum: "Muted Response to Sanders at South Carolina Church," wrote the New York Times. "Sanders greeted politely, if not enthusiastically, as he courts black vote at S.C. church," wrote the Washington Post.
None of this comes as a great surprise to the Sanders campaign. After the Nevada loss, Sanders barely mentioned South Carolina in his speech. None of his campaign material blasted out to supporters to raise money and keep the faith after Nevada referred to Saturday's primary here. Privately, aides vehemently deny the campaign is skipping South Carolina — a move that could be seen as offensive in black political circles, and solidify the narrative that Sanders isn't really competing for the non-white vote.
The Sanders campaign prefers to look ahead to Super Tuesday on March 1, where they see potential for Sanders to do well in a number of the 11 states up for grabs.
The campaign schedule shows where the priorities are. After campaigning in South Carolina for a day — the first half of which was spent talking to a national audience on the Sunday talk show circuit — Sanders was scheduled to be back on his charter jet Monday, heading off for stops in Massachusetts and Virginia before coming back to South Carolina Tuesday afternoon.