Inside The Two Bernie Sanders Presidential Campaigns
Big crowds are fueling what the campaign calls a unique professionalized volunteer infrastructure. Meanwhile, in Iowa and New Hampshire, a traditional, paid boots-on-the-ground campaign is still figuring out how to turn 28,000 screaming Sanders fans in Oregon into votes in the primary states.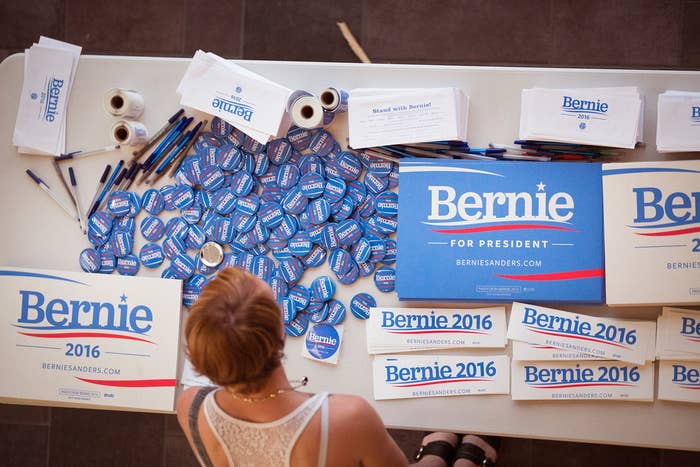 Bernie Sanders is running the most innovative campaign for president of anyone, his aides say. Separately, he's also running the most traditional campaign for president, his aides say.
How, and if, the twain shall meet could be the difference between Sanders as summer 2015 distraction and Sanders as serious threat to Hillary Clinton in 2016. His campaign machine is still in the process of launching just a few months after Sanders declared his bid for the White House. Twin operations — what one senior aide called "parallel campaigns" — are under construction.
First, there are the traditional paid operations in Iowa and New Hampshire. And second, a digital operation designed to harness Sanders enthusiasm into a relatively low-cost, high visibility national volunteer grassroots army.
Over the weekend, Sanders drew tens of thousands to three massive rallies on the west coast. Sanders fanatics waited for hours outside basketball arenas in Seattle and Portland to watch the uniquely all-vegetables Sanders political extravaganza — there were no fancy light shows, no opening band, opening video or, for the most part, any of the trappings of other large political gatherings. While Los Angeles crowd got a speech from comedian Sarah Silverman, the thousands in Seattle and Portland saw a handful of local activists and elected officials who introduced Sanders and talked about his record before kicking off the main event.
Then there was Sanders. He stood alone on an empty stage (save for a lectern bearing one of his campaign signs) and lectured for nearly an hour with a stump speech mostly devoid of rhetorical tricks.
And the response is the same each time: staggering, shattering enthusiasm.
The 73-year-old Democratic Socialist got screaming, standing ovations when he described something as mundane as the average interest rate people can get when they refinance their homes vs. the (higher, he said) rate they get for a student loan.
Any politician would kill for this. The Sanders political organization is still figuring out how to translate it into caucus-goers and voters. At a campaign stop in Oakland, California Monday, Sanders agreed that turning big crowds blue states into voters in the early primary calendar purple states was the key to his campaign.
"You're absolutely right. You can have 28,000 people coming out to a rally and that's great but you're not going to succeed unless you convert that energy into a grassroots movement and make sure people are voting," Sanders told BuzzFeed News. "What we are doing now, and I have to again say we've only been in this race for three-and-a-half months. Four months ago, my wife will tell you we were not sure we were going to do this thing. So we started with no organization."
Sanders said his nascent effort in Iowa is working along traditional lines, with a lot of phone calling and door-knocking run through paid staff efforts. He promised "a massive grassroots campaign in New Hampshire, as well" and said "we're starting to gear up in South Carolina and in Nevada and other states, as well."
"But I will not deny to you that we've got a lot of work to do," he said. "I think we're going to bring millions of people into [our] movement and that's how we're going to win this election."
That process was on display up and down the west coast over the weekend.
Right now, the supporters at Sanders' huge public events are being funnelled into a digital campaign run by Sanders' longtime digital aide, Kenneth Pennington. Outside huge Sanders rallies in Portland and Seattle, teams of volunteers wandered among the queues of supporters waiting to get in and gathered email addresses and phone numbers on clipboards. Inside the event, supporters were admonished to send a text message to Sanders' campaign, logging them and instantly signing them up for offers to volunteer and attend future Sanders grassroots events in their area.
Meanwhile, the tens of thousands who turn in for the events online are urged to share links all across their various social media accounts that also collect names and email addresses. Sanders' social media engagement is strong, and the campaign has shown off on several occasions how it can leverage the huge numbers of online followers its collected so far. On the night of the Republican presidential debate, Sanders had the most-retweeted tweet of any candidate, either party, of the night. To pack the large venues for his big west coast speeches, Sanders put the word out on social media just a week before they happened.
In a phone interview, Pennington said the whole digital effort is aimed at empowering the grassroots to become a sophisticated national field operation — with a relatively tiny national field staff befitting Sanders' small-dollar campaign. Those who agree to volunteer are connected with "grassroots team leaders" — especially reliable volunteers who help manage phone banks, letter-to-the-editor writing parties, and canvassing efforts. Grassroots team leaders are given regular digital and conference call trainings from Sanders staff and in-person training from "Builders" — super volunteers who are talking to Sanders headquarters constantly, giving a lot of their time to the campaign and coordinating trainings and field efforts with the paid staff in Vermont. The system is heavy on metrics, Pennington said. Volunteers regularly give reports to grassroots team leaders. They in turn give regular reports to builders who give their own reports to staff.
"People who get things done are rewarded with greater and greater responsibility," Pennington said.
The system is called the steer pyramid. Pennington said it differs from other grassroots digital efforts in past campaigns due its reliance on volunteers over staff for a lot of the basic work of building a field operation.
"The old system relied heavily on staff organizers, what the Obama campaign did with unpaid, but full-time organizers — basically unpaid interns. We don't have unpaid interns," Pennington said. "We're noticing increasingly that our volunteers are capable of doing a lot of heavy lifting on their own."
Here's what that looks like: Wednesday morning, the Sanders campaign emailed a few hundred of its builders, asking them to follow up on the successful west coast swing. Within hours, 200 ideas for events were submitted across the country. Anyone can suggest an event through the Sanders website but each has to be approved, often by a builder-level volunteer. Pennington said he expects thousands of events soon.
The focus on volunteer-managed field and letting the grassroots grow on their own isn't just a function of money, Pennington said.
"The unique system we have working here is actually a Bernie Sanders idea," he said, saying it had similarities to campaigns Sanders has run in Vermont. "We have to mobilize in a grander scale than anything we've done before, but it flows out of his vision for political revolution."
The huge events across the country he's become known for have drastically increased the number of potential volunteers in the Sanders database. This national system of volunteers thousands of miles from the early primary states running and managing events in their own neighborhoods builds the Sanders brand, could eventually lead to "drive ins," where thousands of volunteers pour across the border into Iowa and of course help raise money. But it's not necessarily designed to win among the special circumstances of the early states.
"Digital is happening on a parallel track to Iowa and New Hampshire," Pennington said.
So: how does a 28,000-person crowd help Sanders get votes in New Hampshire?
"We don't exactly have a 1, 2, 3-step plan yet," said Julia Barnes, Sanders' Granite State director. She just took the job two weeks ago after being the executive director of the Vermont Democratic Party and is still creating the plan that will turn Sanders enthusiasm into votes on Primary Day. Before that, she worked on a number of New Hampshire campaigns.
Barnes was hired for her experience, and she expects to rely heavily on a traditional campaign model, featuring offices up and down the state, paid staff to work in them and a top-down field structure that's less like Pennington's and more like most other candidates who have tried to win New Hampshire in the past.
"There's going to be a component of tradition here. We're not throwing out the old standards," she said. "A huge component of our program is face-to-face voter contact."
The sprawling digital campaign offers some unique assets other campaigns don't have, Barnes said. The online effort creates a level of enthusiasm that is helpful in convincing local officials and experienced people to sign up. The online campaign will run alongside the traditional efforts, too, with volunteers in the steer pyramid creating events across the state. Barnes will have her offices and her more structured efforts.
"There is a lot of time and energy that goes with connecting with voters in New Hampshire and we are in the process of building that relatively quickly," she said. She's managing a breakneck effort to get Sanders the paid infrastructure he needs to compete.
"I expect by the beginning of September you'll see our numbers really bloom," she said.
Even with the focus on tradition, the chance to leverage the Sanders online army excites Barnes and her fellow New Hampshire veterans on the Sanders team and, she said, could be the campaign's edge.
"My experience and the folks who are coming aboard in New Hampshire now have a long history doing traditional campaigns in New Hampshire," she said. But Pennington's raucous online army is giving the effort "an energy we've never felt before," she said.
"It's really a professional dream for me to be able to utilize all these new resources," Barnes added.
The Sanders Iowa effort is very similar to the New Hampshire effort in that it's more like Iowa campaigns of cycles past than it the all-volunteer, all grassroots Sanders national effort.
Pete D'Alessandro, a veteran Iowa caucus operative dating back to 1999 when he became New Jersey Sen. Bill Bradley's presidential campaign political director, is Sanders' state director. He's managing a growing number of offices throughout Iowa — 13 by the end of next week, he told BuzzFeed News.
The massive events for Sanders in far-flung places like Seattle and Los Angeles result in people coming into offices and asking how they can get involved, D'Alessandro said. They also serve as a great way to fire up those grinding through the monotony of field organizing.
"We're able to make it, 'Hey, we know we're doing phone banks all week, but come into the office and do a watch party for Bernie,'" he said. "It gives you that little extra thing to do for your organizers. You're gonna get some pizza, get some sodas, connect. So that's a positive."
Like Barnes in New Hampshire, D'Alessandro has been impressed by what the Sanders online army, fueled by the high-profile national appearances, is able to add to the traditional Iowa campaign. "This campaign has a much higher number of non-staff volunteers who take on regular duties much earlier than in other campaigns," he said. "People saying things like, 'there's a parade in my town' and then get people to the parade."
So: The huge crowds in Portland fuel the huge online army which in turn bolsters the traditional campaign D'Alessandro is running in Iowa. Maybe. But in the end, he said, the size of the crowd doesn't matter.
"I know why you guys think it's cool when 2,500 people show up in Council Bluffs, Iowa," he said. "That's a story in itself. But all we care about is how many can we get to commit to caucus."
Enviable online presence, jaw-droppingly huge crowds, millions of dollars raised without a billionaire donor. These are already Sanders success stories. But they're not victory.
"The only thing we're going to be judged on is how many people can you get to caucus," D'Alessandro said.