Bernie Sanders Delivers Long Riff About Why He's Not An Unserious Candidate
"When I began this race people said, 'Well, Sanders is quaint. Look at his hair. And he doesn't dress particularly well.'"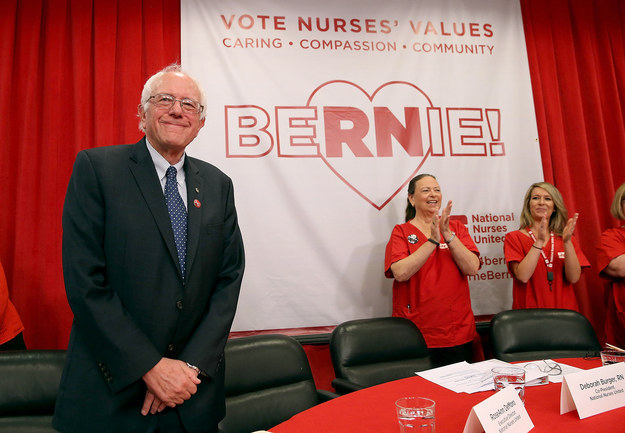 OAKLAND, Calif. — Bernie Sanders understands the haters. And he thinks he's got them beat.

In a long, third-person narrative at the headquarters of the National Nurses United union headquarters Monday, Sanders said he's staring down those who don't see a chance for the self-proclaimed socialist to really compete against Democratic presidential frontrunner Hillary Clinton.
"When I began this race people said, 'Well, Sanders is quaint. Look at his hair. And he doesn't dress particularly well. He's an interesting guy, but obviously not a serious candidate. Imagine standing up for working people and taking on the billionaire class, what a laughable idea. Who's going to support that idea?' Sanders said. "And then the campaign progresses."
He pointed to his growing crowds across the country — 5,000 in Denver, 7,000 in Minneapolis, 8,000 in Dallas, 10,000 in Madison, 11,000 in Phoenix, 15,000 in Seattle, 28,000 in Portland — as evidence those who dismissed him as on the fringe were making a mistake.
Sanders does not have a super PAC, does not want one, and said that's led to him being dismissed. Those haters are wrong too, he said.
"What they are saying, and here's the interesting point. They're saying, 'OK, Bernie, you've got all these crazy nurses with you. OK, you've got millions of people. But here's the real story, Bernie. You don't have a super PAC. Where is your billionaire to buy the election for you?'" Sanders said. "And what I have said to them is, I ain't gonna have a super PAC. I don't need billionaires. We have up to this point more individuals contributing to this campaign than any other campaign. And you know what the average contribution is? Average contribution is $31. So this is a people's campaign."
The media, a favorite target for Sanders and his supporters, just refuses to buy that his plan will work, Sanders said. They'll be proven wrong, he told the nurses in Oakland.
"It goes without saying we're going to be outspent. And with the media, that's the main thing," he said. "We will be outspent but we will raise enough to run a winning campaign because we are putting together a grassroots movement of millions of people. That's how we're going to win this."