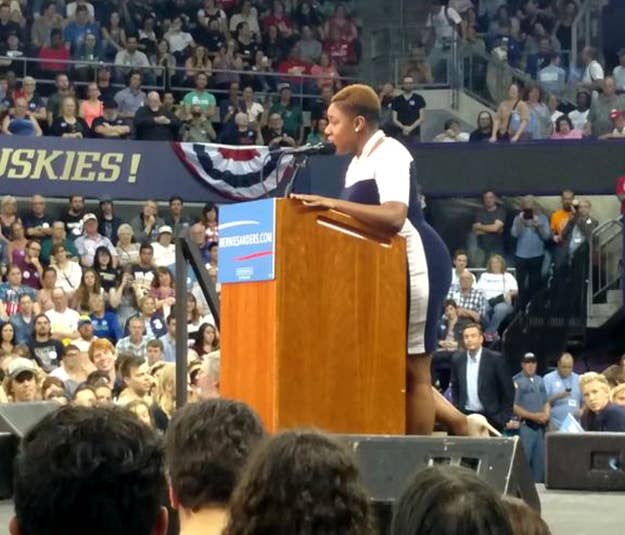 SEATTLE — Hours after Black Lives Matter protesters shut down a Bernie Sanders rally here, the Vermont senator's populist Democratic presidential campaign once again attempted to cast Sanders as the candidate of a modern civil rights movement.

Before a crowd of more than 12,000 at the Alaska Airlines Arena on the campus of the University Of Washington, a new public face for the Sanders campaign appeared. Symone Sanders, a volunteer organizer with the D.C.-based Coalition for Juvenile Justice, was announced as the new national press secretary of Sanders' campaign and was tasked with introducing the 73-year-old senator.
Symone Sanders is a young, black criminal justice advocate and supporter of the Black Lives Matter movement. She's also a progressive political activist right out of the Sanders mold: Her last job was at Ralph Nader's Public Citizen. In an interview, Symone Sanders said she first connected with the senator about three weeks ago, offering him advice on how to better understand the message of Black Lives Matter activists in an hourlong chat.
"One of my suggestions, he took it and ran with it on Meet the Press, is that racial inequality and economic inequality are parallel issues," she said. "I [told him,] you know, economic equality is an issue. It's something we need to address. But for some people it doesn't matter how much money you make, it doesn't matter where you went to school, it doesn't matter what your parents do. It doesn't matter that Sandra Bland had a job and was on her way to teach for her alma mater. It doesn't matter. None of that matters."
Bernie Sanders took to the advice, Symone Sanders said. She also confronted him with one of the criticisms he faced earlier in the summer, when Black Lives Matter activists rejected his statements about his past civil rights movement work.
"Educating America, the community, letting people know who Bernie Sanders is and what he's about," she said, "and not just, 'Oh, I fought for civil rights and I protested and I sat at the lunch counters.' That's important and that's great but that was 50 years ago and he has a lot more to stand on than just what he did 50 years ago."
At the end of the meeting, Bernie Sanders offered her a job. Her address at the Seattle arena rally was her first public statement as a Sanders campaign staffer. Among her jobs, she said, will be helping to sell a promised comprehensive criminal justice policy package she helped to craft that will be coming from the Sanders campaign in the near future.
And, on Saturday, her 10-minute introduction for Bernie Sanders in Seattle was heavy on the Black Lives Matter movement and the list names of those who died in recent police encounters common to recent protests.
As for Black Lives Matter the movement, Bernie Sanders "will turn those words into action," Symone Sanders said onstage to cheers from the huge crowd.
She didn't mention the Black Lives Matter disruption at a Sanders campaign Social Security rally earlier in the day that forced Bernie Sanders to cut the event short and led to an aggressive statement from the candidate.
"I am disappointed that two people disrupted a rally attended by thousands at which I was invited to speak about fighting to protect Social Security and Medicare," Bernie Sanders said in a written statement. "I was especially disappointed because on criminal justice reform and the need to fight racism there is no other candidate for president who will fight harder than me."
Nor did the senator mention the moment in his remarks. After the event, Symone Sanders defended her candidate's record, but was careful not to directly attack the tactics of the protesters in Seattle earlier in the day.
"Some people haven't heard [Sanders' new message] yet, they haven't heard it, they haven't received it yet. But I think they will hear it," she said. "But you have to understand that this is a very emotional weekend for people. Tomorrow is the anniversary when Darren Wilson shot and killed Mike Brown…so people are feeling that."
As for the Seattle protest, Symone Sanders said, "Do I think everyone in the movement agrees with the way the protesters commanded the stage today? No. Am I going to condemn the protesters for standing up and expressing themselves? No. Because their voices matter."
Since an embarrassing clash with Black Lives Matter protesters at Netroots in July, the Sanders campaign has recast his message to appeal to the activist movement. The hiring of Symone Sanders is another part of that shift away from the listening phase to actively promoting Sanders as the candidate of Black Lives Matter.
"We're all doing Black Lives Matter work. Some of us it's policy, some of us it's advocacy, some of us it's activism, but we all have a place," she said.