Bernie Sanders Adviser: I Wish Clinton Opposed Trade Deal "When It Mattered"
Sander's policy director tells BuzzFeed News, "I wish all the candidates were as forceful as Sen. Sanders was in opposition to TPP when it mattered."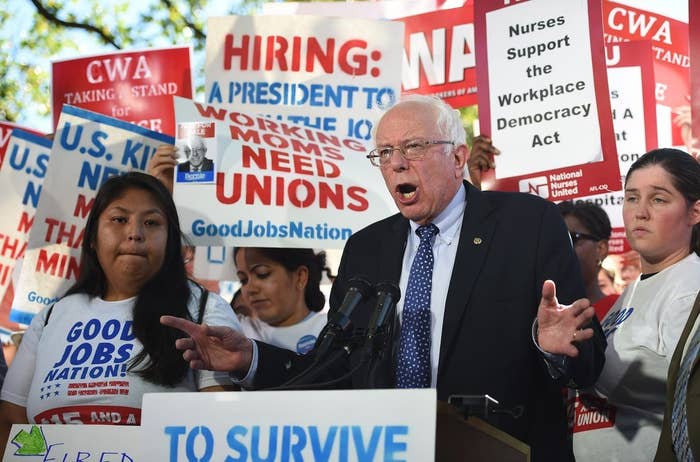 WASHINGTON — The senior policy aide to Bernie Sanders said he was grateful Hillary Clinton had joined Sanders' long-held opposition to President Obama's trade agenda when she came out against the Trans-Pacific Partnership agreement Wednesday, but hinted that the former secretary of state may have waited too long for her public opposition to make much of a difference.
"I wish all the candidates were as forceful as Sen. Sanders was in opposition to TPP when it mattered," Warren Gunnels, Sanders' senior policy adviser, said minutes after Clinton announced her opposition to the TPP. "The fact of the matter is, during the debate over fast track, that fast track bill needed 60 votes to pass and if all the candidates were as clear as Sen. Sanders in opposition to fast track we wouldn't be having this debate right now. The debate would be over, fast track would not pass the Senate and wouldn't have passed the House. So that is an unfortunate reality we are having to deal with today."
Sanders has been vehement in his opposition to the TPP, as well as the Trade Promotion Authority (known in Washington as "fast track") that allowed the White House to negotiate the sweeping free trade deal with a slew of Pacific rim nations.
Fast track was a key fight in the earliest months of the Democratic presidential nomination race, when Sanders as well as former Maryland Gov. Martin O'Malley criticized Clinton for not taking a position on the authority, which allowed the president to send TPP to Congress and request an up or down vote on it with no amendments.
Clinton eventually said she would personally have voted against fast track if she were in the Senate.
On TPP, Clinton also declined to take a position before Wednesday. She said she was waiting for final language on the agreement, which the White House finalized earlier this week. On Wednesday she said she opposed the TPP.
Asked if Clinton's opposition would help opponents like Sanders defeat TPP in Congress, Gunnels said "I hope so."
"We certainly need to make sure that we work to build a grassroots movement to defeat this job-killing free trade agreement," he said, adding, "The fight's not over, there's still a long way to go, and Sen. Sanders is going to do everything he can to make sure the Trans-Pacific Partnership does not become law."
Sanders made a similar statement at the Congressional Hispanic Caucus Institute: