Bernie Sanders And The Fight For Barack Obama's Good, Bad, Ugly Progressive Legacy
Bernie says Obama did a good job — but Clinton says he's covering up his past as a critic. And a top Bernie backer unleashes to BuzzFeed News on everybody.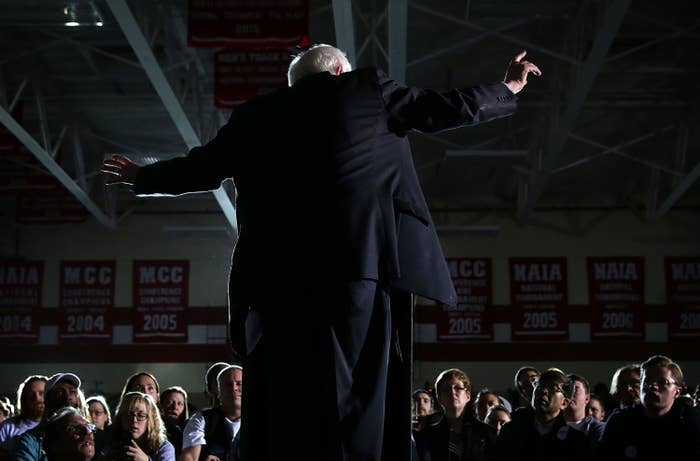 Bernie Sanders took the stage for the final time before the day of the Iowa caucuses Sunday night, hoping that his campaign can capture the same insurgent, outsider spirit that lifted President Obama over his "inevitable" rival Hillary Clinton in 2008.
Sanders has attempted to draw a direct line between his candidacy and Obama's, telling Iowa crowds last week his campaign is facing similar attacks from the Clinton machine that Obama did as his numbers rose in the weeks before the 2008 caucuses.
On Sunday, Sanders told Meet the Press that Obama has done a "fantastic job" as president and rejected the idea that Obama has left progressives disappointed.
But Clinton supporters and some Obama veterans have accused Sanders of trying to whitewash his past as a pointed liberal Obama critic for months. On Sunday, former architects of Obama's 2008 revolution pointed out repeatedly on Twitter that Sanders wrote the lone blurb on the cover progressive pundit Bill Press's new book about the Left and Obama called Buyer's Remorse: How Obama Let Progressives Down.
"Lending your name & endorsement to this critique is no small thing in the heat of an election to replace Pres Obama," tweeted former top Obama campaign aide David Plouffe. Other Obama campaign heavyweights tweeted similar takes. Ben LaBolt tweeted about the book. Dan Pfeiffer tweeted criticism of Sanders for campaigning with activist professor Cornel West, known for his scorching criticisms of the president from the Left. Bill Burton joined in that critique.
(West, a top Sanders surrogate for a while now, has tried to put distance between his previous language about the president and his current support for Sanders. "That's in the past," he told BuzzFeed News in November.)
It's no secret that progressives were at times during Obama's term in office extremely frustrated with the president. The activists Obama's press secretary once dismissed as the "professional left" were dismayed by the president's pace in evolving toward support for marriage equality, by White House efforts to strike a "grand bargain" with congressional Republicans that might have included entitlement cuts, by the administration's long slog toward finally rejecting the Keystone XL pipeline, and by his stepped-up deportation policy even after the expected Republican support for a massive immigration bill fizzled and all but disappeared.
That stuff, for the most part, was first-term Obama. The pen-and-phone Obama era, in which the White House was either confrontational or completely dismissive of the Republican Congress, has brought a warm welcome from that same professional Left. Liberals are happy — or at least happier than they were — with Obama. And now talk among the most powerful liberal activists is about preserving Obama's legacy in 2016 more than it is about correcting his mistakes.
Clinton has spent the closing weeks of the Iowa race embracing Obama as closely as she can: She praises him at every stop, and has even mentioned him as a possible Supreme Court nominee. She is trying to run for the Obama mantle — to say that her brand of pragmatism is the only way to preserve what Obama has gained for the Left and to expand on it.
Sanders, meanwhile, has essentially made the case that he would carry forward the real Obama legacy — the promise of a new politics and a resurgent Left Obama offered.
That pitch, however, appeals too to progressives that still think Obama fell short.
A top Sanders supporter — the woman who runs the organization behind the lone super PAC supporting Sanders's bid for the White House — was not sparing when explaining her frustrations with Obama in an interview with BuzzFeed News in Iowa.
RoseAnn DeMoro, the longtime executive director of the National Nurses Union, was a speaker at Sanders's end-of-caucus rally. The NNU, the largest nurses union in America, backed Sanders early and has pushed for him hard. NNU Nurses are everywhere in Iowa Sanders is. The union is extremely activist, extremely liberal (it endorsed Ralph Nader over Al Gore in 2000) and very much a part of the Sanders machine.
DeMoro wants Sanders to be a different kind of Democrat than Obama was.
"People keep asking what's the distinction between Obama's campaign and Bernie Sanders' campaign," she said. "It's pretty simple: Wall Street was Obama's number-one funder. And Bernie has nothing to do with Wall Street."
DeMoro said she blames Obama's supporters for his having let the likes of former Treasury Secretary Tim Geithner into his White House.
Sanders has one ongoing public problem with Obama — one he's mentioned in speeches a number of times and speaks about publicly often.
"Obama's biggest political mistake that he made is after his brilliant campaign in 2008 was that he basically said to the millions of people who supported him, 'Thanks for getting me elected, I will take it from here,'" Sanders told MSNBC last September. "I will not make that mistake."
DeMoro said she blames Obama's supporters — herself included — for the failure.
"The Obama movement abandoned him," she said. "The base disappeared."
In their place, she said, "we allowed Wall Street to get in the doors."
"They're like termites. They eroded the foundation of our democracy," DeMoro said.
"I don't blame Obama; I blame us," she said. "And that's not going to happen again."
And DeMoro gave voice to Sanders' id in Des Moines, going further than him and pushing harder on Clinton.
DeMoro drew loud boos for Hillary Clinton at the rally Sunday, where she quoted the former secretary of state's skepticism about Sanders's single-payer health care plan, and called it "disgraceful."
She reserved particular scorn, though, for Clinton hatchet man David Brock, who has been cited in coverage casting the Nurses' support as just another outside group, and casting sanders's independence into doubt.
Brock is "sexist to the core" and "an asshole," she said after her speech.
DeMoro, whose union has long been a stalwart of the militant Left, also said she sees Sanders' campaign as unprecedented.
"I've never seen anything like this — never," she said.