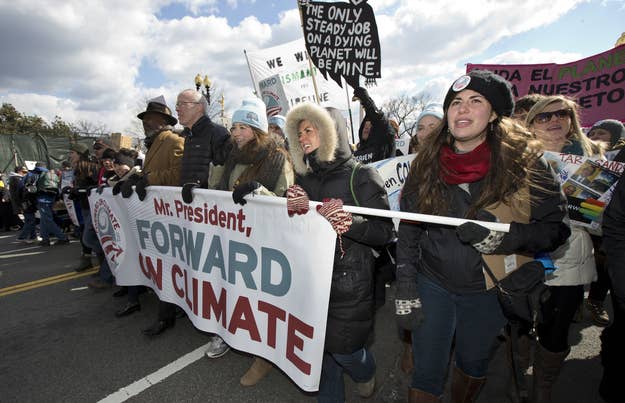 WASHINGTON — Environmentalists are promising mass arrests and acts of civil disobedience if the Obama administration moves forward with a controversial pipeline project through the Midwest — even as Obama's political arm seeks to use the project in its latest fundraiser.
Opponents to the Keystone XL pipeline, which would run from Canada to the Gulf of Mexico, said they have more than 50,000 recruits ready to be jailed as part of one of the largest broad-scale direct-action protests in their movement's history.
"With our Keystone XL pledge of resistance, over 50,000 of us have put President Obama on notice that we will risk arrest to make him take meaningful action on climate by rejecting Keystone XL," said Becky Bond, political director at CREDO, a San Francisco–based progressive group that has protested Obama over Keystone before. The group has also stood with the administration on issues like gun control but it says it has a list of more than 50,000 activists ready to be arrested in civil disobedience actions should Obama approve the pipeline.
Although during a recent meeting with the House GOP President Obama raised pipeline supporters' hopes that he remains open to backing the project, on Thursday his newly independent political operation invoked Keystone in a call to action.
In an email to supporters, Organizing for America specifically mentioned Keystone and slamming members of Congress who hope to force construction of the massive pipeline regardless of what the administration says.
"They'll try to block the EPA's climate change rules, end renewable energy tax credits, and circumvent the State Department's process evaluating the Keystone XL oil pipeline," the email reads. "This kind of backhanded environmental attack is what's broken in Washington — powerful special interests are calling the shots right now. If we want to start fixing it, we've all got to stand up and fight back."
The email goes on to call on OFA supporters lobby congress to stop "trying to load up the budget with anti-environment amendments."
For environmentalists, the OFA mention of Keystone was a good sign. Some progressives have worried that organizers on the left and the Obama team could could butt heads over the pipeline. The email was a sign, they said, that OFA and the environmental movement may be on the same side of Keystone after all.
"We were obviously very excited to see that," Kate Colarulli, a top organizer at the Sierra Club, told BuzzFeed. "It was really great to see the email from OFA ... I hope that email and the response it will get really help show OFA and show the White House team that the people who elected Obama want to see him reject Keystone."
Sierra Club broke long-standing rules against civil disobedience this year when its executive director was arrested outside the White House over Keystone, a sign Colarulli said of how polarizing the issue is for members of the environmental movement. Colarulli said that though Sierre Club hasn't decided whether to use civil disobedience again if the Obama administration OKs Keystone, the group has seen its membership rolls balloon with people upset over the potential for the pipeline.
CREDO organizers were also piqued by the OFA email. An OFA spokesperson said the email was focused on Congress.
"There are a number of members of Congress who have tried to circumvent the process to determine whether it is in our national interest for the Keystone Pipeline to be approved and we believe that it is important that process be seen fully through," the spokesperson said. "The process has been overseen by the State Department for both Republican and Democratic administrations in order to take the decision out of politics and OFA believes this is an important process to reach a sound decision that must not be undercut."
The White House referred questions about the Keystone approval process to the State Department. A spokesperson defended the president's environmental record when asked about the reaction to the OFA email.
"The president has made clear that continuing to confront climate change will be a priority in his second term, building on the historic progress already achieved in his first term, including establishing historic fuel economy standards that will nearly double how far our cars go on a gallon of gas, saving families $1.7 trillion, reducing oil consumption, and slashing carbon pollution," the spokesperson said. "At the same time the president will continue to take steps to increase our energy independence."
Meanwhile, Friday could be a big day in the battle over the pipeline. Senators may be set to vote on a bipartisan non-binding proposal led by North Dakota Republican John Hoeven that would call for Obama to approve the pipeline.
Environmentalists said the proposal only serves to show that Keystone remains on Obama's plate, and they warned him that if he crosses them he'll have thousands of protesters to deal with.
"The only thing today's nonbinding, symbolic vote underscores on Keystone XL is the fact that this is President Obama's decision and his alone," Bond said in a statement. "Ironically, the president speaking to a foreign audience this week declared that politicians will only make the bold decisions when they are forced to make them by the people."
She reiterated the willingness of her group's 50,000-strong army to get arrested if that's what it takes to stop Keystone.