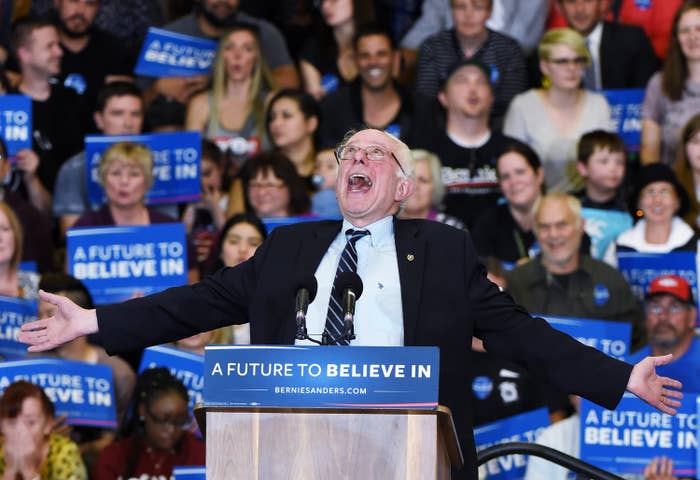 LAS VEGAS — The Bernie Sanders experience is now a touring block party.

For months, a Sanders event stood out for how ridiculously serious it was. Defying conventional political practice, Sanders wouldn't open with a joke, wouldn't keep it brief, and wouldn't tell people things were going to be all right just as long as they elected him. His nearly hour-long stump speech remains a vegan's crisper drawer of policy vegetables, with basically no rhetorical fluff common to the conventional campaign speech.
But last year, Bernie's massive crowds watched, rapt, as Sanders ticked off America's ills and said they would never be cured with anything short of a full-scale reboot of the political left that transforms it into a never-surrender activist army. There wasn't much laughter, though there was plenty of cheering, and a lot of head shaking at the problems.
Something happened on the way to Sandersmentum, though: The Sanders stump speech has become a party anthem, his rallies a raucous, fun homecoming for his faithful. Everyone, including Bernie, is having a damn good time.
Bernie is now the fun one. And his speeches are The Rocky Horror Picture Show of political events. His crowds have increasingly heard him speak before, sometimes multiple times, and they come now for the audience participation.
What that's like, from Sanders' large Bonanza High School event here Sunday: When Sanders got to the part in his stump speech that mentions his average contribution, the crowd chanted "Twenty! Seven! Dollars!" in unison back at him. When he said the word "huge," the crowd let out a collective "yuuuuuuuuuuuuuuge." They did that twice, and Sanders loved it. When he mentioned the name Donald Trump, they booed loudly. Same goes for when he mentioned "the Walton family."
When they booed the Waltons in Vegas, Sanders deadpanned, "Oh, so you've heard of the Walton family?" It's a joke he makes a lot these days — sometimes "Koch brothers" are subbed out for Waltons — and everyone seems to enjoy it.
Standing at the lectern in the Bonanza High gym Bernie grinned, laughed, and joked through it all, the master of ceremonies at his roadshow.

The experience was similar a day earlier in Denver, when Sanders spoke in a cavernous convention center hall and 18,000 people showed up, according to the campaign's figures. It was all there — the boos at the right time; the "Twenty! Seven! Dollars!"; the moment in the speech where everyone yells "yeah!!!" at the top of their lungs when Sanders asks, "So, are you ready for a radical idea?"
The lines outside Sanders events have also become a kind of festival for lefties. When Justice Scalia's death was announced, thousands of people who would be in the Denver crowd were already in line outside. Marilyn Welsh, a psychology professor from the University of Northern Colorado in Greely, said the news traveled up and down the line and became a big topic of conversation among the Berners who were hanging out and connecting with each other as they waited for their man to arrive. They were excited for a new Supreme Court, she said, that they hoped would be crafted by President Obama. Or President Sanders if the Republicans get their way and block the White House's pick.
But mostly, they talked about how big their club has gotten, she said. The Sanders corps, the ones like Welsh who have been for him from the early days, know his speeches by heart, and were happy for months to be the weird ones in the Democratic primary. But now they're living in a world where everyone else is starting to catch on.
That's an exciting feeling, Welsh said.
"Bernie is not such a pipe dream anymore," she said, a huge smile on her face. "He's real. I'm still kind of stunned by it."
Denver may have been fun, but it mostly sounded like the Sanders rallies of old — save for the new call-and-response spirit of fired-up Sanders rally vets. Nevada, where Sanders is very clearly increasingly confident of his chances in this coming Saturday's caucuses, was a celebration.
"We began this campaign nine months ago. And we were taking on a candidate who was, indisputably, the anointed candidate of the establishment," Sanders began.
Boooo, went the audience.
"It was like the campaign was already over — why run? The establishment had determined who the Democratic nominee would be," he said.
That was met with laughter.
"But then a funny thing happened," Sanders went on. "And the people became involved in the campaign."
That triggered 12 seconds of total pandemonium.
Sanders said at the Vegas rally his campaign has "momentum" in the state and can win here — if the turnout is good enough.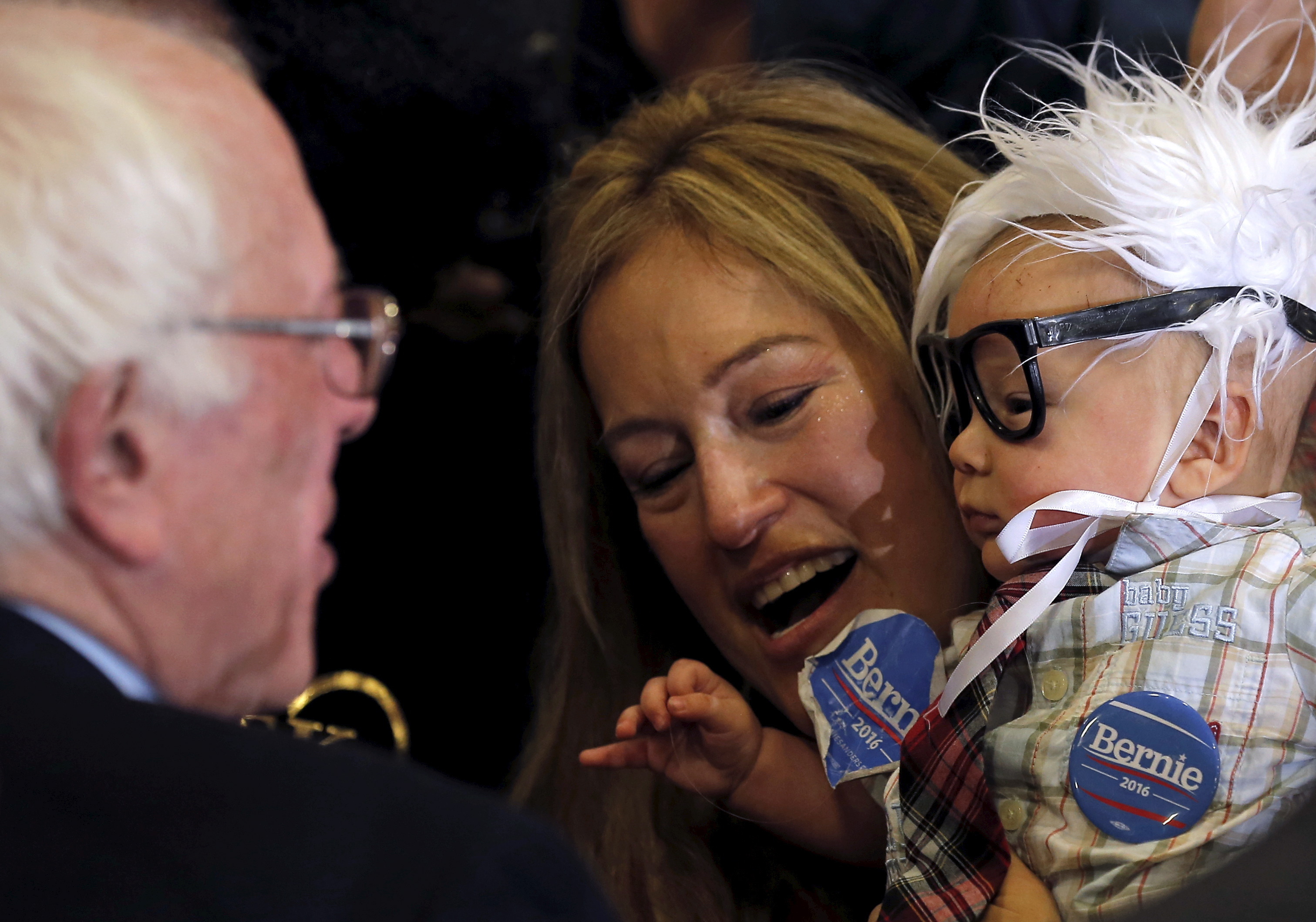 The Sanders campaign has been from the start about ignoring the predictions of the establishment and the pundit class, attempting to change the political laws of physics (74 years old, "democratic socialist") and basically telling everyone what they believed to be so isn't.
Or, at least, isn't if he converts a tie in Iowa and a blowout win in New Hampshire into a win in the more diverse Nevada caucuses.
The newest doozy for the political professionals: Is the self-described angriest man in the race running the most fun campaign around? All signs point to yes.
Up near the front of the Las Vegas rally Sunday was Tonnya Norbury, a 37-year-old photographer from just down the road in Boulder City and her 62-year-old aunt, Theresa Valentein, a retired beautician and aspiring artist from Henderson. After the festivities were over, they went on about Sanders "blowing kisses" during the rally (reporters corralled in the back couldn't see, and couldn't confirm it), "telling jokes," pointing at signs, and generally appearing to have the time of his life.
The feeling was mutual.
"Oh my gosh, this is like a big party. Like we're all going to go party afterwards," Valentein said. "Everyone is just excited about the changes, and I think people have hope in a new revolution. It's kind of like John Lennon, you know? 'Whoohoo!' I'm serious."
"We met people in line today, we exchanged phone numbers, emails. We're all on the same page about it," Norbury said. "It's like, best friends."