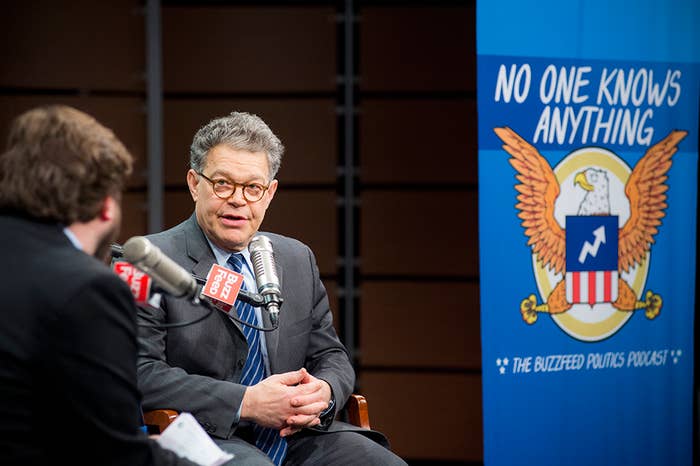 WASHINGTON — Sen. Al Franken believes the prospect of Donald Trump winning the presidency will bring Democrats together, despite the long and sometimes rough primary fight between Bernie Sanders and Hillary Clinton.
"Bernie's a friend of mine, I admire Bernie. I heard him the other night say he's going to do everything he can to make sure Trump doesn't win," Franken, a progressive from Minnesota, said during a live taping of No One Knows Anything: The BuzzFeed Politics Podcast.
"So the party will come together at the convention," Franken went on. "I'm sure Bernie will speak at the convention, have his night, and I think we'll be united going forward because the alternative is so awful."

It was one of Franken's longest national interviews since joining the Senate in 2009. Franken talked about his upcoming book about his time as a politician, his past as a satirist, and the speculation that his future could include a slot on the Democratic ticket in the fall. He also talked about his approach to policy — and gave a sharp take on the Republican Party's struggles with Donald Trump.

Franken is a prominent liberal and prominent Clinton supporter, a position that has sometimes put him in the center of criticism from Sanders backers who helped Bernie overwhelmingly win the Minnesota presidential caucus earlier this year. Franken walked a careful line in the BuzzFeed interview, praising Sanders' campaign while also discussing his own support for Hillary.
While a strong progressive, Franken has embraced the Democratic Party establishment, emerging as one of the party's top fundraisers and policy-focused wonks. He praised Sanders for their many shared beliefs while also noting their strong tactical differences when it comes to making progressive change.
"I don't think it's for me to tell Bernie what to do," Franken said when asked if Sanders should drop out.
He said the Sanders campaign has been good for the Democratic party.
"I think he's helped her in many ways. She's a much better candidate," he added. "And he's brought forward issues that many of us believe in if maybe his prescription for getting something done isn't something that I, as a U.S. senator, think is in any way plausible of getting done."
The interview with Franken was held on May 11, several days before the raucous Nevada Democratic convention which led some Clinton supporters in Democratic Senate caucus to call on Sanders to step back. (On Wednesday, Clinton supporter Sen. Dianne Feinstein worried that the ongoing Sanders campaign could lead to a 1968-like scene at July's Democratic National Convention in Philadelphia.) A top Franken aide Thursday the Senator had nothing to add to his Sanders comments in the podcast.
Franken's name has been bandied about as a potential vice presidential pick for Clinton. Franken laughed off the speculation.
"I'm very happy in my current job serving the people of Minnesota," Franken quipped when asked about the VP chatter. "That's the answer you're supposed to give. It's not gonna happen."
Listen to Franken's sitdown with BuzzFeed News:
The basic take on Franken is that he came to Washington and became very boring. Expectations that a bomb-throwing political satirist in the Senate would turn into a kind of six year-long comedy sketch were met instead with a wonky Franken who barely does national interviews. He's become a prominent voice on progressive policy, however, becoming the public face of liberal efforts to push net neutrality and other privacy issues.
He's also become a strong advocate for strengthened mental health programs he said can help keep people out of prison.
Drug addiction has also been a central focus for Franken for much if his adult life, starting with the famous Stuart Smalley character that actually emerged from his own experiences at Al-Anon, the program for families of alcoholics.
Franken told BuzzFeed News he's not ready to sign on to efforts to legalize marijuana, preferring instead to see it decriminalized.
"I'm not sure," Franken said when asked what it would take to make him a legalization supporter.
Franken is writing a book, due to be released in the next year. It will be his first book published as a politician, and Franken suggested it will be different from the bestselling titles he published during his decades as a comedian and political satirists. Books like Lies and the Lying Liars Who Tell Them: A Fair and Balanced Look At The Right and Rush Limbaugh Is A Big Fat Idiot and Other Observations did not pull punches when it came to take on specific politicians.
Franken said his new book won't match that tone.
"I think anyone's who's expecting me to say bad things about my colleagues are gonna be disappointed," he said. "But there are going to be plenty of things about how broken sometimes the system is, but also how you actually can achieve things here if you work hard enough hand that's why it's worth it got do this it really is. I get things done all the time."

In the interview, however, he had plenty to say about Trump, the presumptive Republican presidential nominee.
"He appeals to people's xenophobia and he's captured some of the same anger that people feel who haven't seen their families be better off for a long long time," Franken said of Trump. "And he's captured that anger, and I'm not saying he's not smart, he's just not very curious."
Asked about the media's treatment of the Republican, Franken deadpanned, "I don't think they've given him enough airtime."