After Pressure From Progressives, Democratic Senator Wants Explanation From Obama Judicial Pick
After receiving a letter from NARAL and the Human Rights Campaign, Connecticut Sen. Richard Blumenthal: "The letter raises legitimate and important questions about Judge Boggs's record."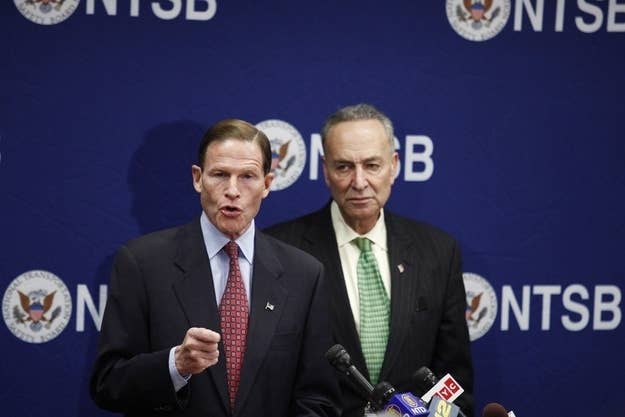 WASHINGTON — Amid pressure from liberal groups, a Democratic member of the Senate Judiciary said Thursday "legitimate" questions have been raised over one of President Obama's picks for the federal bench.
Connecticut Sen. Richard Blumenthal was one of a group of Democrats to receive a letter from a coalition of progressive groups — including close Obama allies NARAL and the Human Rights Campaign — criticizing Obama district court nominee Michael Boggs for his stances against marriage for same-sex couples, abortion access, and in favor of the Confederate flag while he was a member of the Georgia legislature.
"This letter raises legitimate and important questions about Judge Boggs's record," Blumenthal said in a statement. "I look forward to hearing him explain his positions fully before the Judiciary Committee when that time comes."
Boggs has not had a hearing before the Judiciary Committee yet, and progressive groups are hoping to scuttle his chances at a federal judgeship before the committee meets to consider him. Blumenthal and other Democratic Judiciary members — including the chair, Vermont Sen. Patrick Leahy — received the progressive groups' letter Thursday.
In the letter, the progressive groups say Boggs' legislative record "demonstrated a troubling lack of concern for individuals whose experience and personal history differ from his own, creating a record that lacks a demonstrated commitment to fairness and equal justice." Boggs was nominated to the federal district court by Obama as part of a deal with Georgia's Republican senators aimed at filling vacancies on the court.
Leahy's office said Thursday that the Judiciary chair will wait for a hearing before expressing his views on Boggs.
"Boggs hasn't had a hearing yet and we don't have all his paperwork," said Leahy spokeswoman Jessica Brady. "I don't expect that the chairman will weigh in until the nominee has had the opportunity for a hearing and it is pending before the committee for a vote."
NARAL president Ilyse Hogue said that her group has not heard from other Democratic members of the Judiciary Committee in response to the groups' letter.
For now, the White House is standing with Boggs. White House Deputy Press Secretary Josh Earnest said he couldn't answer questions about the progressive letter at the daily press briefing.
"I haven't seen the statements from the groups that you have mentioned," he said.