After Keystone, Bernie Sanders Is Already Leading The Next Climate Fight
Sanders already has a bill calling for an end to developing fossil fuels on public lands — the next great climate change fight.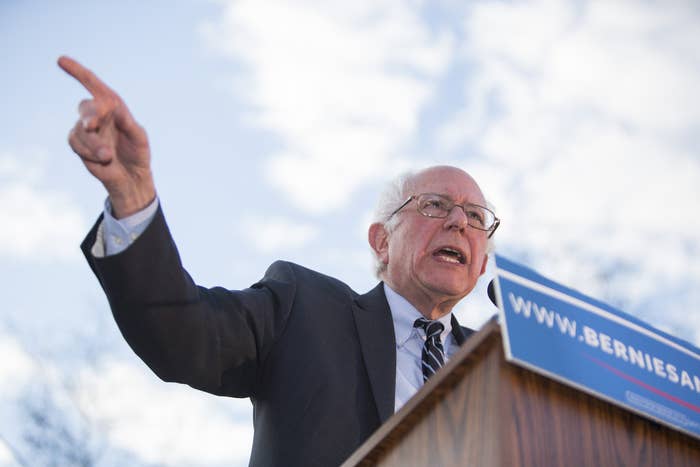 ROCK HILL, South Carolina — Hours after inking their victory in the Keystone XL pipeline debate, climate change activists were already turning the page to the item on the environmental left's wish list: a guarantee from lawmakers that fossil fuels buried beneath land owned by the government will stay where they are and never be extracted.

It's a heavy lift, and an effort, like the Keystone push, where environmentalists are not likely to find any Republican allies. It's also an area where, like Keystone, Democrats aren't yet fully united. But activists do already have a presidential candidate who positioned himself to take the lead: Bernie Sanders. It's an effort that could become divisive in the Democratic primary and a litmus test for backing from the well-organized green left.
In Washington this week, Sanders co-sponsored legislation with Democratic Sen. Jeff Merkley of Oregon that would ban new energy extraction leases for fossil fuels on land and offshore in public lands in the Pacific, Atlantic, and Arctic oceans along with the Gulf of Mexico. The bill will not pass the Republican-controlled Congress, but Merkley told Vox's David Roberts the point is to "spur conversations," pressure the White House to use executive actions to restrict fossil-based energy development, and insert the idea into the presidential election.
Climate activists say that by attacking the supply of new carbon-based energy, they'll spur development of renewable energy sources. In short, if you can't get power from the ground, you're going to have to find it someplace else. The activists are not subtle on this point: The same green groups that united to fight Keystone have now formed the Keep It In The Ground coalition, whose goal is to reduce carbon emissions by reducing available carbon. Climate change activists have been frustrated by a resurgent domestic energy industry producing cheap carbon-based fuels and to some degree pushing talk of pursuing alternative energy out of the political spotlight. Since such a large percentage of energy extraction is done on public lands, the theory goes, banning it would make new energy sources a necessity.
"Keep it in the ground" is a position Sanders is ready to embrace. Hillary Clinton, the Democratic frontrunner, has been more circumspect, saying that a no-new-extraction policy shouldn't be adopted "until there were 'responsible alternatives' in place to keep the economy moving," according to MSNBC.
The keep it in the ground question was posed to Clinton at a contentious July town hall in New Hampshire as part of an organized effort to raise awareness of the issue run by 350 Action, a climate change activist group. 350 activists unfurled a banner at the town hall and asked Clinton to answer for past campaign donations from energy companies.
The founder of 350, Bill McKibben, was at the press conference announcing the Merkley bill. A former top aide at the group, Karthik Ganapathy, recently became a member of Sanders's communications staff.
In an interview, Ganapathy said Sanders's climate positions drove him to join the campaign. He said "keep it in the ground" would become part of Sanders' environmental rallying cry — climate is always mentioned in Sanders' hour-long stump speech on the trail, with Sanders warning that energy companies have used their money to make climate change policy all but impossible without his promised "political revolution."
"I am a climate voter and that's why I came to work on the Bernie Sanders campaign," Ganapathy said. "He's been on the right side of climate issue since before it was cool."
The Sanders campaign has been happy to draw policy contrasts with Clinton lately, and the extraction ban is another place where Sanders can try to cast himself as the more reliable progressive.
Ganapathy said the campaign will make sure voters know Sanders is on the side of keeping it in the ground.
"Bernie Sanders has always been one of the absolute strongest voices on climate change in our government -- and bills like the Keep it in the Ground Act show he will continue to be," he said. "We're going to make sure folks hear that story, and know that he held these beliefs long before they were politically popular or expedient.