After Holder's Complaints, Justice Department Expects Less Militarization On Ferguson Streets
"The guidance is that they're using excessive force," a Justice Department official tells BuzzFeed.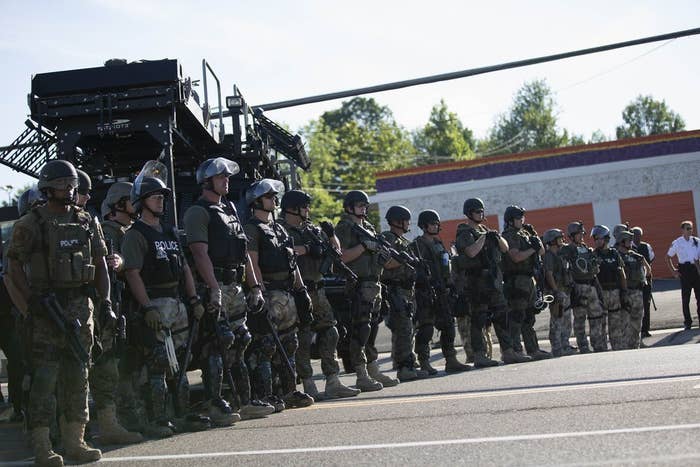 WASHINGTON — As residents of Ferguson, Missouri, prepare Thursday for another night of demonstrations following the police shooting of Michael Brown, six separate agencies from the Department of Justice are on the ground to facilitate community relations, investigate Brown's death, and according to a Justice Department official, keep the military-like police presence to a minimum.
"You're going to see less militarization on the ground thanks to guidance from the Justice Department," the official said Thursday afternoon.
Agencies from the department are following through on concerns about police tactics first raised by Attorney General Eric Holder in his statement on the Ferguson situation Thursday.
"I am deeply concerned that the deployment of military equipment and vehicles sends a conflicting message," Holder said.
Holder promised "technical assistance" to guide local law enforcement to a less militarized presence. The Justice Department official said advice was flowing between Justice Department officials and the St. Louis County police department, the agency in charge of the tumultuous scene Wednesday night. Missouri Gov. Jay Nixon changed things up Thursday, placing the Missouri Highway Patrol in charge of the Ferguson scene and dismissing the St. Louis County police.
The St. Louis County Police were receptive to federal advice, the official said. The Justice Department has now offered assistance to the Highway Patrol as well, the official said. Essentially, the federal assistance comes in the form of conversations, the official said. Department officials with experience in dealing with large crowds and an angry, divided community reach out to local law enforcement leaders and tell them what they know. In the case of Ferguson, the official said, what they know is to not do anything that will lead to violence.
"Not doing anything that's going to incite," the official said, referring to the militarized presence. "They need to scale back on that."
"Right now the guidance is that they're using excessive force," the official added.
Half a dozen Justice Department agencies are helping to calm things in Ferguson. They include: the FBI, which is running an independent investigation of Brown's death; Community Relations Services, which is helping to facilitate conversations between local leaders, protest leaders, and community leaders at groups like the NAACP; Community Oriented Policing Services, one of the groups helping advise the local cops on the ground in Ferguson; the Office of Justice Programs; the Justice Department's Civil Right Division and the local U.S. Attorney's office.
In the short term, these groups are working to create space for dialogue between the protestors and community leaders.
"The long-term goal is to build community trust," the official said. "How do we heal, how do we bring the community back into the fold? There are a lot more meetings that are going to happen."