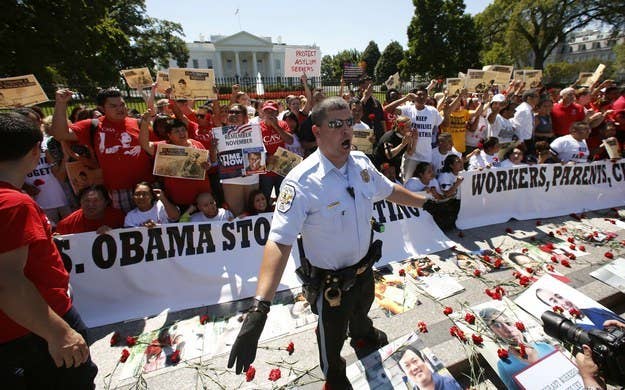 WASHINGTON — The top political strategist for the AFL-CIO, an expert in a voting base crucial to Democrats, said Tuesday that with 55 days to go until the November midterms, Democrats still have not communicated to working-class voters what the election is about.
That means it's time for Democrats to shift their economic pitch into high gear, said Mike Podhorzer, political director for the AFL-CIO, especially in light of President Obama's recent decision to postpone his long-promised executive action on immigration policy — a decision that could curb Latino voter enthusiasm, activists have said.
"The questions about what the president's motivation was or what effect it will have on the election is a little cynical, in light of the moral issues and economic issues that are wrapped up in this," Podhorzer said of the immigration delay at a roundtable with reporters, noting that the AFL-CIO strongly criticized the White House move. But he said that an economic pitch could reenergize disappointed immigrant activists.
"Regardless of what was done, the fact is that an economic frame is going to be crucial for winning working-class voters, whether they be Latino or African-American or white," he said.
Immigration activists in the labor movement have already tried to pivot away from Obama's delay back to their broader message to Latino voters that Republicans need to be punished for failing to move the bipartisan immigration package passed in the Senate. Podhorzer said it's too early to tell if those efforts will bring back angry parts of the Latino voting bloc.
"I think that you can turn the question around," he said. "I don't think [Republicans are] going to get a free pass for having stopped immigration reform or putting out statements or having ads stoking people's anti-immigrant prejudices."
The biggest problem Democrats face, Podhorzer said, is a failure to rally their base to an economic message that winds with voters. He said polling has shown Republican messaging, focused mostly on antipathy to Obama, has done a good job in lighting a fire under the GOP base, ensuring high turnout among voters virtually guaranteed to vote against Democratic candidates.
"The paradox is, on the one hand, studies like Pew and others show Democrats have a 20-point advantage on 'being for people like you,' but on the other hand, have not made the case that this is an election about being for people like you," he said, referring to polling. "It's there for the Democrats but they have really the next month to make the case that this is what this election is about to their base. Or else we'll see depressed turnout."
Democrats already face a structural disadvantage in the battle to control the Senate based on the states with competitive races (most are red) and the fact that 2014 is not a presidential election year, which in the past has meant steep declines in Democratic base voter turnout. This midterm cycle, Democrats have touted a modern ground game based in the cutting-edge field program used twice successfully by Obama to increase the Democratic base vote.
Podhorzer said those efforts are working, but they won't mean much in November if Democrats haven't amped up enthusiasm among working-class voters by convincing them the election is about "the diminishing prospects of most working Americans."
"If the races are close enough that they'll be decided by squeezing out the last votes, from what we've seen and what we're doing, we feel like we'll be able to squeeze out those votes," he said. "The question is whether retail GOTV...solves one-sized challenge but it doesn't solve a bigger challenge if there's too big a disparity. There's only so much you can do with it."
Another structural problem Democrats face: Obama's sagging approval ratings. The president has been among his party's most effective voices at rallying working-class voters in the past, but with so many key Senate races in states where Obama's numbers are toxic, Podhorzer said Democrats will likely have to get their economic messaging right without the president's help.
"I think he can set the tone," he said, praising Obama's Labor Day speech in Milwaukee, which was aimed squarely at the working class base. "But it's up to each individual candidate to demonstrate the fact that they can meet voters where they are on Election Day and convince them that they can authentically try to advance their economic interest."