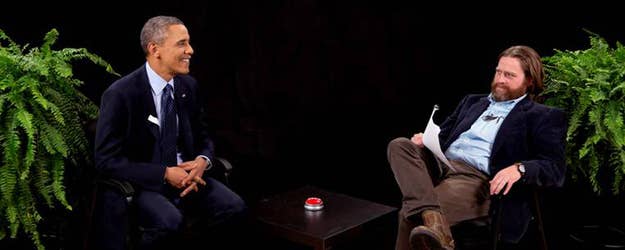 WASHINGTON — The Obama administration Tuesday night defended its initial claims that the President's appearance on Between Two Ferns had led to a surge in web interest in Obamacare, insisting that traffic to HealthCare.gov was indeed up — though not necessarily because of the extraordinary presidential appearance.
"Site visits are around a third higher than yesterday at the same time," said a person knowledgeable about HealthCare.gov numbers who declined to be named. "Not saying the video did that, just stating the fact."
The Department of Health and Human Services raised eyebrows Tuesday afternoon when it announced 3 million views of Obama'a appearance on Zach Galifianakis' improv interview parody show resulted in 19,000 referral visits to HealthCare.gov, which was featured prominently in the video and was linked to both from the Between Two Ferns video player and across the Funny or Die website that hosted it.
At 7:20 p.m. ET, HHS updated the totals in a tweet. "Hourly traffic up from yesterday," read the tweet. "@funnyordie video referrals at 32k and 575k site visits as of 6pm."
The White House was thrilled with the results of the video Tuesday afternoon. An official at the HHS said that click-through traffic wasn't the only way to measure the success of the Funny or Die clip.
"That number [19,000] represents only a fraction of the people who came to HealthCare.gov separately after seeing the video online or on television, and indeed we saw substantially increased traffic to the site overall," the official said. "About 95% of these referrals were new visitors to HealthCare.gov."
Outside observers said it's hard to determine whether the click-throughs from the Between Two Ferns proved the video was a success or not. But the buzz it created was a success for the White House and Affordable Care Act supporters, they said.
"At best and worst, I'd say in terms of direct visitors, it is inconclusive," said a well-known producer of viral content for Democrats who asked not to be named because he is not directly involved in HealthCare.gov. "In terms of generating earned media and roping in second level engagement (people seeing the video off Facebook, Twitter shares, or reading about it on sites like The Verge) it appears to have performed beautifully."