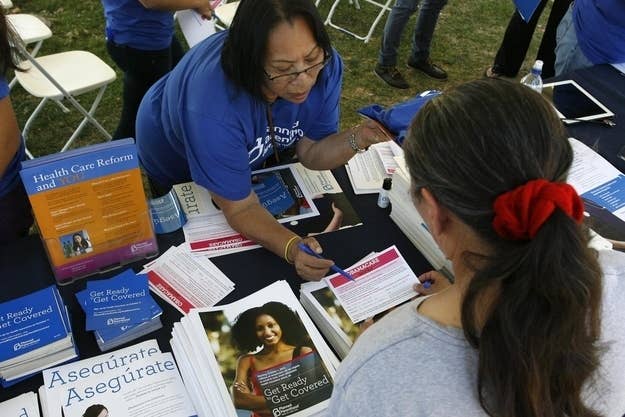 WASHINGTON — The government shutdown could have a seriously detrimental impact on the most crucial part of the Obamacare rollout this week: the push to get young people to buy health insurance.
Health policy observers say that by blowing the opening of health care exchanges off the front page and making it more difficult to correct glitches in the online registration system — the means by which most young people will interact with Obamacare — a shutdown has the potential to significantly impact the health care law, at least in the near term.
The most dramatic impact it could have on the law is making it harder for the government to address bugs in the online health insurance exchanges. With fewer workers available to fix problems as they arise Tuesday, when they go live, word of mouth could spread fast among young adults that the process of enrolling online is cumbersome and inconvenient, said Michael Ramlet, CEO of the health care policy tipsheet Morning Consult, and a former expert at the right-leaning think tank American Action Forum.
"This is especially worrisome when it comes to the coveted young adults, who have the highest expectations for purchasing products online," Ramlet said.
President Obama and the White House have steadfastly stuck to the same message regarding Obamacare and a potential government shutdown: There is nothing Republican opponents in Congress can do to stop it.
"The Affordable Care Act is moving forward. That funding is already in place," Obama said in a statement to reporters Monday afternoon as a shutdown loomed. "You can't shut it down."
That's true when it comes to the enrollment process opening Tuesday — Obamacare will roll out, even if other parts of the government shut down. But the White House is still feverishly working to remind Americans to sign up for health insurance, even as big day arrives.
During his address Monday, Obama had to pivot from lamenting the damage caused by a government shutdown to reminding Americans to sign up for a new government program.
"Starting tomorrow, tens of millions of Americans will be able to visit HealthCare.gov to shop for affordable health care coverage," Obama said. "So Americans who've lived for years in some cases with the fear that one illness could send them into bankruptcy, Americans who've been priced out of the market just because they've been sick once, they'll finally be able to afford coverage — quality coverage — many of them for the first time in their lives."
The president wants those sick people to sign up for Obamacare. But he needs young and healthy people to sign up too in order for the system to work. And as Obama's pivot Monday showed, telling the story of Obamacare while the government shutdown is at the top of the news agenda isn't easy.
Bill McInturff, a top pollster for Public Opinion Strategies, a respected firm used for market research by the insurance industry, said there are early signs that the White House focus on health care is slowly raising interest in the topic among young people. But Obamacare supporters need that number to rise by a lot — and the talk of a government shutdown is perfectly timed to make that job far tougher, McInturff said. Young people don't spend a lot of time consuming news as a general rule, the pollster said, so a story really has to get a ton of attention to breakthrough into their consciousness.
"Having done Medicare Part D healthcare stuff, there becomes this moment where it becomes a huge national news story. And even though these are not the most news-attentive voters, the sheer volume of the story is enough that it helps to kind of push awareness forward," he said. "But in this instance, first we had Syria and now we have, instead of Oct. 1 being kind of drumbeat and press drumbeat about the exchanges coming online, it's about the government shutdown."
Several White House attempts to get Obamacare a lot more coverage have been stymied by news events, McInturff pointed out. An anticipated speech by President Clinton — Obama's so-called "Secretary of Explaining Stuff" — turned into a dud thanks to a closely-watched Senate committee vote on Obama's call to strike Syria.
All the shutdown talk is likely to have the same effect, McInturff said.
"Gosh, witness when Bill Clinton gave that speech in the beginning of September. It turned out to be the day of Syria. Clinton's speech from Arkansas would have normally been a huge deal in the press, but it got nothing," he said. "And on Oct. 1 the headlines aren't about the exchanges, they're about whether or not there will be a government shutdown."
White House efforts to woo young people to the exchanges aren't limited to speeches by former presidents or free coverage in the media, however. Obamacare supporters have leveraged the president's support in the celebrity community to turn big stars into national spokespeople for the health care law, and young person-friendly outlets like Funny Or Die have already begun rolling out their campaigns to get the young, healthy and uninsured to buy coverage under the exchanges.
The White House declined to comment on the record in response to Ramlet and McInturff's predictions, but supporters pointed to the Funny Or Die video and other youth-friendly efforts (like Monday's animated GIF) as evidence that Obamacare will reach the young even if shutdown dominates the headlines.
But a strong rollout of Obamacare is important to a White House still trying to convince many Americans the reforms in the law are something they want. A shutdown delay could throw a wrench in that effort, especially with the crucial youngest enrollees. Observers note it's still still early in the process. Ramlet, for example, said he's looking to Thanksgiving and Christmas to be a big test. When Medicare Part D rolled out, people used their trip home for the holidays to push their parents to sign up for the new benefit, he said, and that let to a surge in applications. This holiday season, it might be parents urging kids to sign up for Obamacare that leads to a boost, and helps Obamacare supporters reach their enrollment targets.
For now though, observers say the shutdown fight could have a real short-term impact. Not the least of which is convincing young people that the government is open just enough to sign up for health insurance.
"For these less news-attentive folks if there's a government shutdown they're not going to presume they're going to sign up for the exchange," McInturff said. "For the advocates for Obamacare, this has been a disastrous September in terms of the kind of news environment that would've increased awareness and recognition."