I Changed My Name When I Got Married And Instantly Regretted It
One year later, I'm beginning to understand why.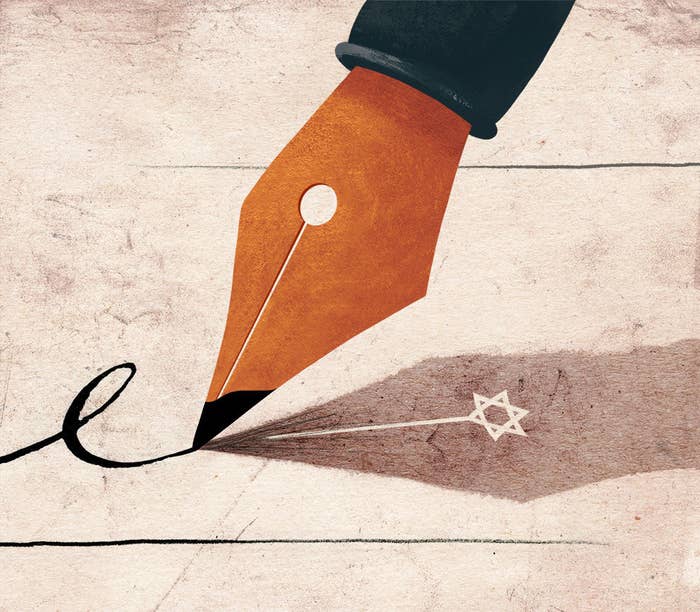 When a man and a woman get married, and the woman does that thing where she takes her husband's last name? Do you know when that bit — the name change — actually happens? I always thought it happened after the wedding. Or maybe immediately before. The truth is, I never thought about it because I didn't care. You might not care either, but I'll tell you anyway.
You change your name when you apply for your marriage license, which, in New York state, you do at least 24 hours before your civil wedding. I know, you still don't care. But it caught me by surprise. I panicked.
We were supposed to meet at City Hall at lunchtime to get the license, but that morning, my then-pre-husband found out that some of the paperwork could be filled out online, beforehand. We were both at work, Gchatting. Oh, he typed, as he went through the form, this is when you change your name. Do you want to change your name?
Oh my god, I thought, sitting at my desk at my old job. This is when that happens? That happens now? I panicked, and I changed my name.
My first name, Esther, has never been popular or fashionable. It's familiar, though — every Jewish person has, at least, a token great-aunt with the name. As I've grown older, I've become fond of it. It stretches far back into the past, all the way back to Ishtar, Mesopotamian goddess of fertility. It's ever-present but never of the present; to me, it transcends time.
My middle name is Chana, which sounds exactly like someone clearing their throat while stirring a pot of chicken soup while hiding from Cossacks. My last name, Werdiger, comes from the German "würdig," meaning "worthy," although my grandfather's family was from Poland, but really, Jews moved around all the time. How long could they have been Polish for, anyway?

It's not a common name, mostly because most of the Werdigers were killed during the Holocaust. The name feels wrought with the stories and struggles of my own family, but it also connects me to other people from families with similar stories — stories of boots, trains, dogs, and death marches — it's a bond that feels almost tribal.
That it's often mispronounced, and requires my spelling it out, very slowly, because the way I pronounce my letters is different to the way an American does (I grew up in Australia), has never bothered me. W-E-ahhh-D-I-G-E-ahhh. If I'm feeling no-nonsense, I will just say it in my best American accent, which feels strange but does the trick when on the phone with a customer service representative.
Throughout the global community of Orthodox Jews, at least someone in my sizable family is always known. My name anchored me in some way, it made me familiar to people, and it made me feel seen and known. The tendency families have to self-mythologize was particularly present with us; we were the descendants of a man who'd miraculously survived the Holocaust, against all odds. We refused to be boxed in or summarized or understood at a glance. My family seemed to always be promoting this idea; yes, we are very religious Jews, BUT we are educated and free-thinking and are friends with all kinds of people, and not just with people who look like us.
I wanted my family to stand for something so wonderful, and I wanted our name to completely embody that. That mythologizing only gets one so far, about as far as my early twenties. My family is great, but I realized that they weren't me. That loyalty and allegiance I felt toward my family is very informative to me now, when I think about it. And I can think about it differently now because since then, I've worked hard to figure out where my family ends and where I begin, and also because of that time I panicked and changed my name.
So he Gchatted me the question, and all I could think about was how if I changed my name, I'd then have to change my passport because your legal name needs to match the name on your passport, unless you want to travel with your marriage certificate, which sometimes is enough and sometimes is not. I thought about that.
I thought about how after we got married, I'd be eligible to apply for a green card, which involves needing to prove, as best as you can, that your marriage is real. Surely a name change would help validate our marriage.
I also thought about the last name my kids would have and whether it mattered to me if we had different last names. I thought about how clunky both of our last names would sound with a hyphen between them.
My mother, a doctor, always used two names — one professional and one personal. When I was in fifth grade, my mother came to my school to tell my class all about puberty, which, miraculously, was not nearly as mortifying as it sounds. She was introduced to my class by her professional name, her doctor name, and afterward, a few of my peers asked me why she had a different last name than I did. She became a doctor before she got married, I'd tell them, so she kept that name as her doctor name.
It made sense at the time, but, I mean, these things don't happen on their own. We choose to change our names or we choose to leave them as is. Does choosing to live with two names mean something about wanting to live with two lives? I also thought about whether or not this would hurt my husband's feelings, and then I got angry and confused. What does marriage have to do with names, anyway? Doesn't it just enforce the idea that you belong to your father until you have a husband to belong to?
I thought of the term "maiden name" and winced. I thought about all of these things, at the same time, in the span of about 10 seconds, while madly and incoherently Gchatting it as fast as my fingers would let me.
It's not that complicated, my husband assured me. Yes, but nobody is asking YOU to change YOUR name, my beloved, who could not possibly understand how this feels. If you're worried about needing to then change passports and all that, he said, that's not a reason to not change your name. It's your choice, but I do need to finish this paperwork. And, oppositional person I am, conflict averse, indecisive, quick to panic: I told him that, OK, I would change my name.
A strange dreamlike state followed. I met him at City Hall, which is, by the way, one of my favorite places in New York. It's a magical airport for weddings. You see all kinds of people there and it's beautiful.
We waited for our number to be called and then we signed the rest of the paperwork, which showed that there are lots of different ways to change your name. You can use a hyphen or not use a hyphen. You can have your name first and then your spouse's, or your spouse's and then yours. Your spouse can change their name too; all those options are also available to them.
Of course, for most men, this would be absurd. It was also absurd to me. Esther C. Werdiger, Esther C. Werdiger, I kept thinking. A mantra slowly being drained of its special powers. An electric lightbulb doing a little flicker. Silent edits being made at Ancestry.com. It was too late. If I wanted to change my name back, it would be a whole thing, or something, at least, and it would probably also cost a lot of money. What's done is done, I thought.
A week later, my husband's stepmother emailed both of us asking how my name should be written on an airplane ticket; she was planning a big trip for the whole family. My husband emailed back before I did. "Silverman," he wrote. My fate was sealed. My passport would have to match the name on my ticket.
Changing my passport name was surprisingly easy. So was changing my bank name, and my IRS name and my Social Security name. You just bring your marriage license to all these places and they nod and make all the changes for you. There was no line at the Social Security office that morning and the nice security guard and I had a whole conversation about my boots. It was delightful.
A few months later, when I filed for my green card, our lawyer assured me that I'd done the correct thing by changing my name, which was nice to hear, although I'm sure she just said it to make me feel better. I left my name untouched everywhere else, which is basically social media sites and wherever I have a byline.
We went on to have our civil wedding, which was so fun because it was the complete City Hall experience, unlike the first time we went to get the license. Only two people came with us, as witnesses, and when the nice celebrant said we could "seal our union with a kiss," my husband leaned in and I, for some reason, got embarrassed and leaned back, and luckily, yes, there is a photo of the most awkward wedding kiss of all time.
How does one reconcile the traditional and sometimes offensive aspects of marriage with the nice bits, or with being a feminist? I regretted the name change almost immediately. I felt as if I'd failed Feminism 101, or something along those lines, and it upset me. I had a chance to perform this classic feminist gesture, to keep my own name, but all I could think about was passports and my future children and my mother. I wasn't able to locate what I actually wanted. Did I think, for a moment, that a name change would make me a better wife, or future mother? That there was going to be some shift within, a loud flick of some switch, that somehow needed to be reflected in what I was going to be called by people?
The entire period of wedding planning carried traces of that same confusion. I tried to assert myself where I could, while also constantly contradicting myself. I didn't want an engagement ring, but I wore a fancy white dress. I railed against wearing a veil and then I wore one anyway. I thought about including women in our traditional Jewish ceremony — which, besides the bride, is a thoroughly all-male affair — but I never followed through.
Every decision was made under pressure, against a deadline. I didn't understand how much any of this stuff actually meant. A veil is something to wear for a few hours; did I need to feel like it accurately represented me? People like to tell you that it's just a day. It's just a few hours, it's just a party, it's just a dress. The dress is a metaphor; I did not need to feel crushed beneath the weight of every decision I made.
They're right. I got over it. Of course I did. And I feel the same as I ever did. I feel like myself, obviously. I'm whoever I want to be, and it doesn't matter what my name is. And while I know this, and I really do know it, or at least I know it on an intellectual level, I also know that if had another chance, I wouldn't change my name.
When, months later, I recounted the confusion and anxiety I'd felt on the day of the name change, my husband felt awful. Which in turn, made me feel bad. But he actually remembers it differently: We decided, during that Gchat, that changing my name would be better for the green card application. He doesn't remember how I felt, because I actually wasn't able to articulate how I felt. I didn't understand it enough to explain it. And I didn't bring it up at City Hall later that day either, because for those few hours, my excitement eclipsed all of the name-related anxiety. A few weeks later, once things got quiet, I was able to revisit that rush of panic, and the subsequent regret that I'd felt.
Over a year later, I'm OK with what happened. There is no Best Choice, or the bad, life-ruining version of it. I could pay to change my name back, but I won't. Sometimes friends ask me what my name is now and I say that if they're the bank or the IRS or the TSA, it's Silverman. But my street name, I say, is still Esther C. Werdiger. Lots of people, mostly the older sort, assume that of course I changed my name, because why wouldn't I? I get mail addressed to both Esthers, but honestly, that would have happened anyway. People mail us stuff, and they just write our names out however they want, which is fine. My new, extra name suddenly feels like a keepsake, and not like the patriarchal relic I thought it would. And it reminds me, somehow, that really, I can be whoever I want.
Thumbnail image via Wavebreakmedia Ltd/ThinkStock.