Last Tuesday, the day after a vigil at Stonewall Inn for the victims of the Pulse nightclub massacre drew a crowd of thousands, a much smaller group gathered in front of Club Evolution, a gay club in New York's Jackson Heights neighborhood that caters to the queer Latino community.
Unlike most other events that had taken place in the city and throughout the country, this crowd was mostly Latino and Spanish-speaking. The popular transgender club performer Laura Martinez had organized the vigil, and she was holding court, resplendent in a snug rainbow-striped spandex bodysuit and a semi-sheer white fishtail skirt. People had traveled from all over the city and its suburbs to converge at the busy intersection of 77th Street and Roosevelt Avenue, leaving work early or taking the day off to be there. The mood was somber, looks of shock and resignation in equal measure on people's faces, and no one was talking much. Several people cried soundlessly.
Inside the club, as the lights on the ceiling flashed through all the colors of the rainbow and bachata blared from the speakers, Gabriel Gonzalez was sitting at the bar alone and nursing a beer. A bartender on one of the Circle Line boats that tour the Hudson River, he's lived in Jackson Heights for the past five years. The neighborhood is more than just where he lives — it's a place where, as a gay Latino man, he feels comfortable in a way that he doesn't in Manhattan's white-dominated scene. Jackson Heights is, as the owner of Club Evolution Eddie Valentin put it, "the gay Village for Latinos," where in a 10-block radius clustered around the Roosevelt Avenue subway station, you'll find several gay bars decked in rainbow flags, and if you step inside, you're more likely to hear Spanish than English.
Gonzales' voice cracked as he remembered the moment he saw the photos of the victims and he realized they looked like him. Gonzales took off his glasses to wipe his eyes, apologizing for crying. He's Puerto Rican, as were almost half of those who died. "We're a Latino community, that was a Latino community that got affected," he said, though he added, "I'm not hearing much that it was a hate crime towards gay people, specifically, it was Latino people."
For queer Latino immigrants in particular, the club plays a critical role.
If certain elected officials and media accounts have elided the fact that the majority of the victims and survivors were Latino and that many were immigrants and undocumented, the people gathered at the vigil were determined to highlight the names and faces of the victims and survivors.
"You start recognizing these faces as the faces you see in the bars here all the time," said Andrés Duque.
Duque is a filmmaker and advocate who immigrated to the U.S. from Colombia in 1990. He remembered the first time he found a gay bar in Jackson Heights, hearing a Donna Summer song streaming out into the street and following it into a bar where he was "just floored" when he saw that it was full of gay Colombian men, dancing and kissing each other. "I always remember that point when I walked into that door, a feeling of being home away from home, because there was this gay Colombian community," he said.
That club, the Love Boat, no longer exists, but a handful of gay bars and clubs still dot the neighborhood — Club Evolution; Bum-Bum Bar, known as a lesbian hangout; Friend's Tavern, the oldest gay bar in the neighborhood, opened by Valentin's partner in 1989; Hombres; True Colors; and a handful of others, all nestled on busy commercial streets and tucked in between Korean restaurants, South Asian threading salons, taco restaurants, panaderias, and Peruvian joints serving pollo a la brasa — visual reminders of why many call Jackson Heights a miniature United Nations. According to census data, more than half of the neighborhood is Latino and almost a quarter of the residents are Asian.
For queer Latino immigrants in particular, the club plays a critical role — for many, it becomes home, the first place they've found where they don't have to carve their identities into discrete pieces, the first place in the world where they feel a small measure of freedom to be their whole selves.
"We're a sanctuary for people who have no place to go," said Valentin, the longtime owner of Club Evolution. "There are a lot of people who come from other countries, and they leave primarily because of the fact that there's so much prejudice and homophobia in their countries. When they get to the U.S., the first thing they do is look for a business that's gay, more likely a bar or a club, where they can make their first friends."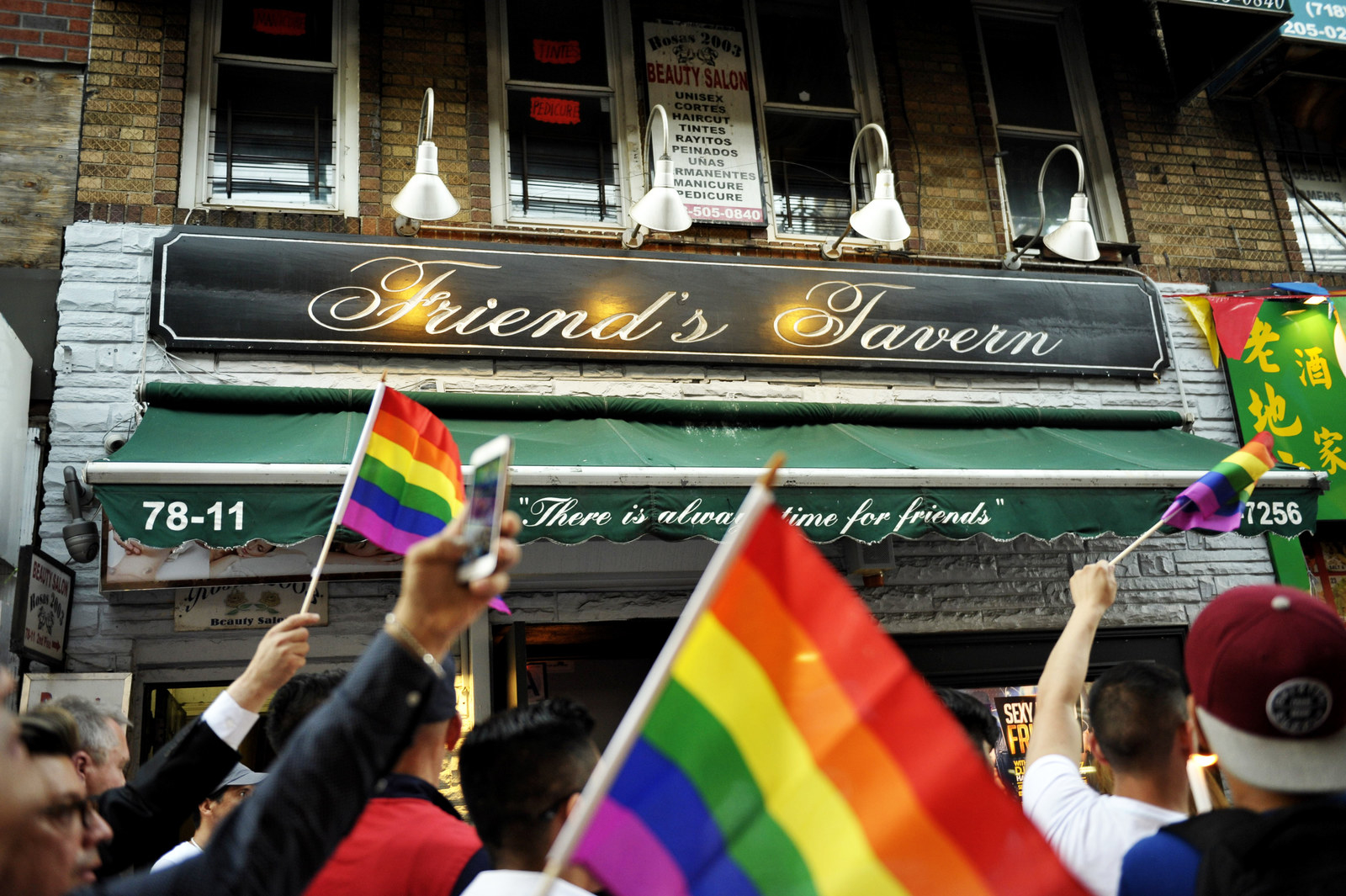 Jackson Heights was a gay neighborhood decades before it became a Latino one — its proximity to La Guardia airport as well as its easy access to Times Square had long made it a bedroom community for many of the white gay New Yorkers who worked for the airlines and in Manhattan's theater community. As white flight accelerated in the late 1960s in the wake of the passage of the Fair Housing Act and as more immigrants flocked to the neighborhood from countries throughout Latin America as well as Asia, slowly its gay bars changed hands to new, and mostly Latino, owners.
Some still remember the days when 37th Road was called Vaseline Alley, a stretch of the neighborhood known as a place where gay men could go cruising late at night. While a few gay bars operated publicly, many more were clandestine operations where you'd need a password or an invitation from someone in the neighborhood to slip through its doors. It was the 1990 murder of Julio Rivera, a bartender who was beaten to death in the neighborhood by three white men who were prowling the streets looking for a gay man to attack, that first catalyzed the LGBT community in Jackson Heights. Following his death, activists in the neighborhood held the first Queens Pride Parade and founded the borough's first LGBT center, Queens Pride House.
"I thought I'd be safer here in the U.S."
Council Member Danny Dromm, one of the city's first openly gay elected officials and a longtime resident of the neighborhood, was involved in the earlier organizing work and recalled how difficult it was to generate outrage about the murder of Rivera. He compared the response to Rivera's murder to the outcry over the death of Matthew Shepard in 1998.
"I always look back on that and think, perhaps it was because Julio, even in the minds of white LGBT activists, was, you know, a Latino guy [who] lived in the outer boroughs," Dromm said.
"Oftentimes they're overlooked," he said of the queer Latino community. "In the minds of many people of color, the movement has been a white male Chelsea/Greenwich Village-led movement," a sentiment that is, he noted, rooted in reality.
For Mauro Julca, Orlando was a wake-up call for the queer Latino community, which is, as he put it, a "minority within a minority." "We've got to step up our game," he said, "because the truth of the matter is, these things might happen."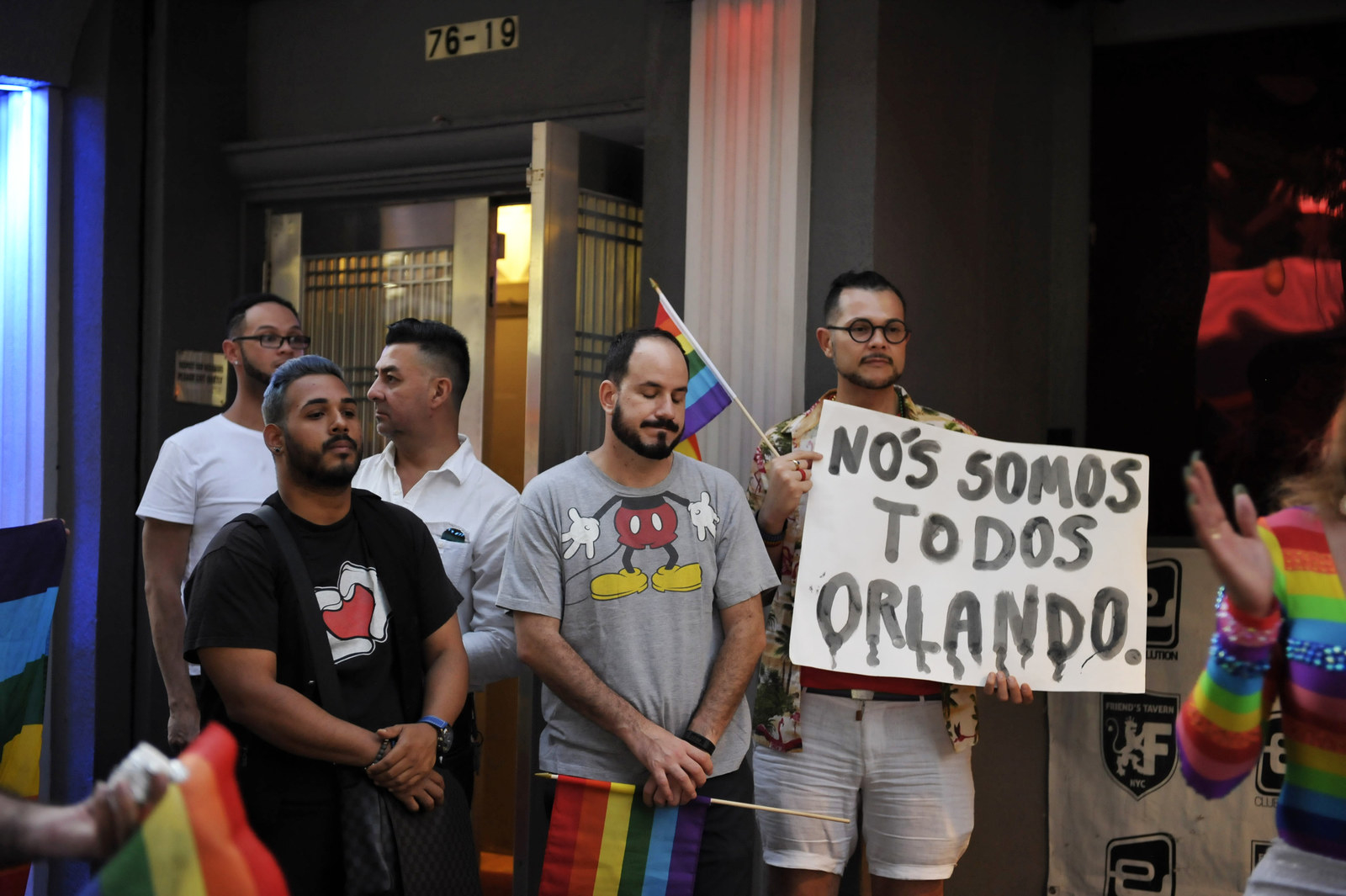 Julca immigrated to New York City from Peru when he was 20 years old. His mother, whom he came out to when he was 16, knew many gay and transgender Peruvians from the hair salon where she worked, so she knew that the LGBT community faced high levels of violence. In Peru, he said, hate crimes are "more like the norm." So they left, and came to New York.
"I thought I'd be safer here in the U.S.," he said.
Yet Julca, a community advocate with a group called Latinos Diferentes de Nueva York, recognizes that violence is a reality that many queer Latinos in the United States face every day. Last year, a friend of his was attacked and robbed as he left a gay bar in Jackson Heights. He collapsed in the stairwell of his apartment building, Julca told me, and wasn't found until the next morning by his roommate.
A New York Times analysis of FBI data recently found that of all groups in the U.S., LGBT people are the most likely targets of hate crimes, and the Anti-Violence Project, a group based in New York City that tracks and works with survivors of bias crimes, notes that within the LGBT community, transgender and gender-nonconforming people of color and undocumented immigrants are the most likely to experience physical violence.
"We know that LGBTQ folks are suffering tremendous amounts of violence, and this event just made it super visible to the world," said Natalia Aristizabal, a queer immigrant from Colombia who leads the LGBT organizing project at Make the Road New York.
Aristizabal stressed that for LGBT Latinos who live at the intersections of gender identity and race and immigration status, the fear of violence is always present. She listed two recent incidents in New York City from the past two weeks alone, one involving a gay man whose attacker beat him while shouting anti-gay slurs; the other a Latina trans woman who was stabbed.
For the past five years, Make the Road has organized a trans Latina march, and this year, it happened to be scheduled for the day after the shooting in Orlando. "We had planned for Monday's march to be saying 'Stop the hate violence,'" Aristizabal said. "We didn't even have to change the theme."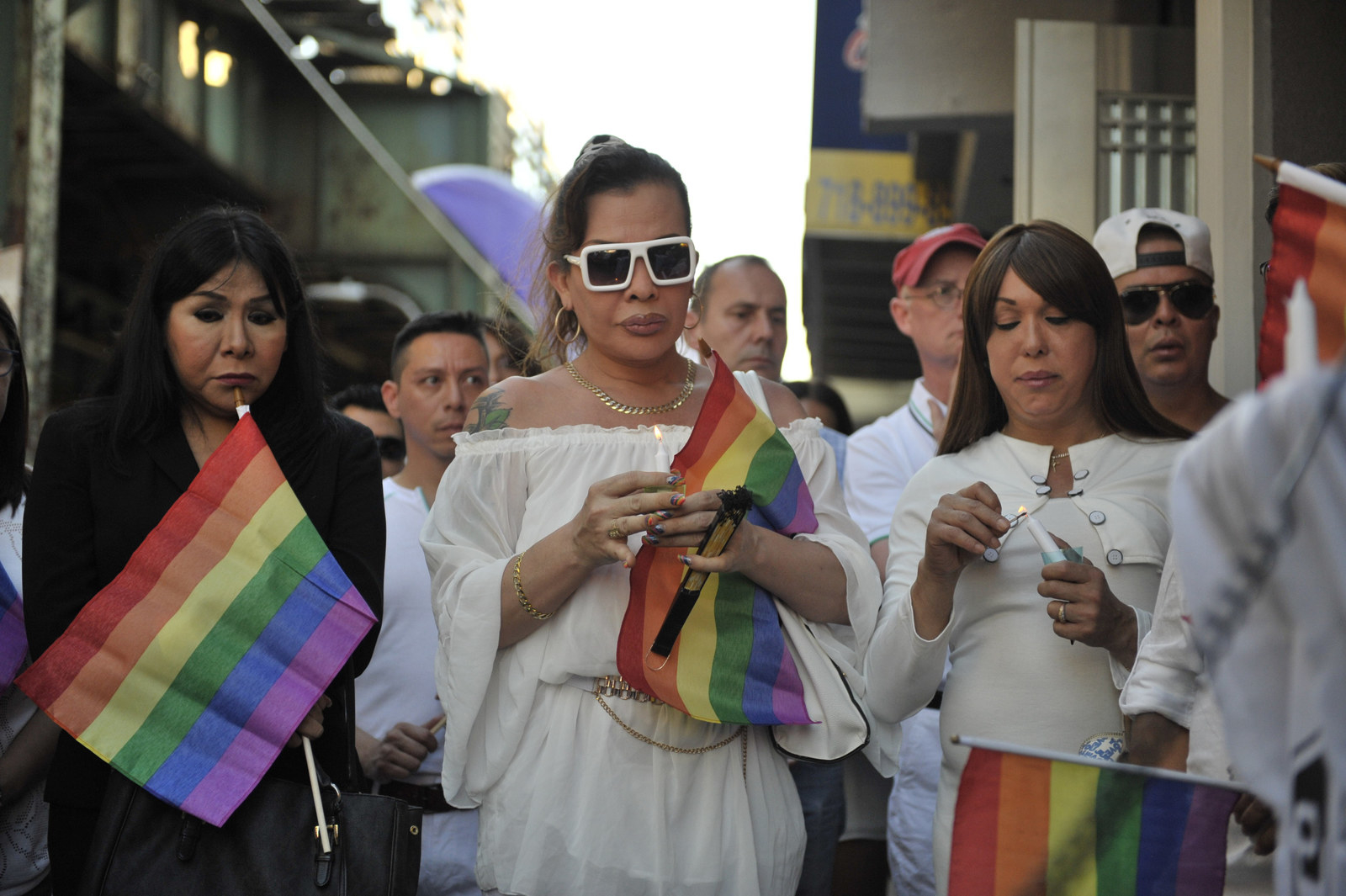 What will happen post-Orlando, in the coming weeks and months? Some of the contours of what is to come are already taking shape, with the dominant discussion centering on gun control. The Human Rights Campaign, the country's largest LGBT advocacy group, has pivoted to the issue, making it one of its legislative priorities. And while it appeared for a brief moment that Congress, after a 15-hour filibuster led by Sen. Chris Murphy of Connecticut, might vote to enact basic gun control provisions, those efforts failed on Monday night.
Yet for many, it's not enough if the debate around safety and violence focuses only on access to guns. Divisions along race (not to mention class and gender) have long existed in the LGBT community, and many are concerned that as in the past, LGBT Latinos, and especially trans and immigrant Latinos, will be left behind by the mainstream gay movement. Much like the recent Stonewall movie erased the actual leaders of the riot — black and Latina trans women, butch lesbians, drag queens — and whitewashed its history, will we forget that the victims and survivors of the Pulse shooting were Latino, were immigrants, were queer people of color?
This is a question on the minds of many queer Latino advocates.
"The white gay community, there's a lot of services, advocacy, but I think they're failing to look [at] minorities. There's a lot of crimes, there's a lot of acts of hate that are still happening," Julca said. "But sometimes, it's sad to say that because you're not white, because you don't speak the language, it doesn't get addressed."
"Right now, everybody's hurt and everybody's looking for unity and being one."
Duque, who works at Queens Pride House, expressed a similar sentiment. "Right now, everybody's hurt and everybody's looking for unity and being one. I'm not a pessimist, but I think it's [easier] said than done," he said. "Looking at the broader universe of LGBT community in the United States, I think there are real divisions in terms of access to power, access to money, to funding."
He's referring to groups like the Human Rights Campaign. "I don't know if there's a venue for an organization like HRC to do some of the groundwork in terms of the local Latino communities across the United States," Duque said.
For club owners like Eddie Valentin, safety is foremost on their minds in the aftermath of Orlando.
"We have to bring more security. We have to do more pat-downs, including our good customers, which is something we were trying to avoid," said Valentin. While not everyone is pleased with the additional security, he believes it's necessary, and he's also put in an order for handheld metal detectors. The owner of Hombres, another gay bar in the neighborhood, is planning to add another security guard and has already spoken to his staff about increased awareness of who is at the bar.
Days prior, New York City Mayor Bill de Blasio had announced that there would be increased police presence at the Manhattan pride parade, a move that has since been repeated by authorities from around the country, who are promising tighter security and more police officers on patrol at this month's parades and celebrations. In New Orleans, that has already prompted one organization whose membership is primarily queer youths of color to pull out of the pride parade this past weekend. The group wrote on Facebook: "[W]hat does it mean for the only LGBTQ youth organization made up of predominately youth of color with experiences of criminalization in New Orleans — the very youth who were targets of police in New York and Los Angeles and all over the country in 1969 when the Stonewall riots against police were kicked off — to feel unsafe at Pride 47 years later?"
Does more policing keep the LGBT community safe? The mass shooting in Orlando has reignited this heated and long-standing debate, one that is often fractured along racial lines, reflecting the reality that it is queer and trans people of color who often are the targets of police violence.
At last Monday's vigil at Stonewall Inn, NYPD Commissioner William Bratton was booed loudly as he spoke, people in the audience drowning him out with shouts of "You kill people" and chants of "Say their names." One young man even screamed from atop a bus pole, "Bill Bratton and his NYPD are gunning down gay, lesbian, and transgender black and brown youth."
There isn't unanimity in Jackson Heights on this question. "We need to have more police outside," said William Pena at last week's vigil outside of Club Evolution. Another bar patron, Steven Urrea, believes that the NYPD has made progress in its treatment of LGBT New Yorkers. "The police have been a great support in the community, and that has changed," Urrea said.
Not everyone agrees. "Hello, Stonewall, they came in and got us, right? It started with police brutality," said LaLa Zannell, a transgender black woman and community organizer with the Anti-Violence Project. Until police officers begin to treat queer people of color with respect, Zannell said, "there will forever be a disconnect between the LGBT people of color community and the NYPD."
"Having a cop in front of a club? That's never meant safety for us."
Aristizabal of Make the Road New York sided with Zannell. "Having a cop in front of a club? That's never meant safety for us," she said. "You don't understand how many police reports we get, and it's like, 'Man dressed in a woman's clothing gets stabbed.' And we're like, think about it. That's not a man dressed in women's clothing, that's a trans woman who was on their way home or on their way to work and then this happened to them."
But the tragedy in Orlando has galvanized the queer Latino community, and especially LGBT Latino immigrants, in a way that even the deadly beating of Julio Rivera in 1990, the murder of gay Colombian immigrant Edgar Garzon in 2001, and the killing of trans performer Lorena Escalera in 2012 did not.
"I see it happening on the streets. Four nights of marching, and tonight will be the fifth," Council Member Dromm said on the Thursday after the shooting. "I have not seen that in the history of Jackson Heights."
Equally as important, said Duque, is the way it has raised the visibility of LGBT Latinos within the broader Latino community. "This is the way the Latino community starts to own the LGBT Latino community as their own," Duque said.
"It took this," he said, "for people to realize that the Latino community is this beautiful, is this vibrant, is this amazing."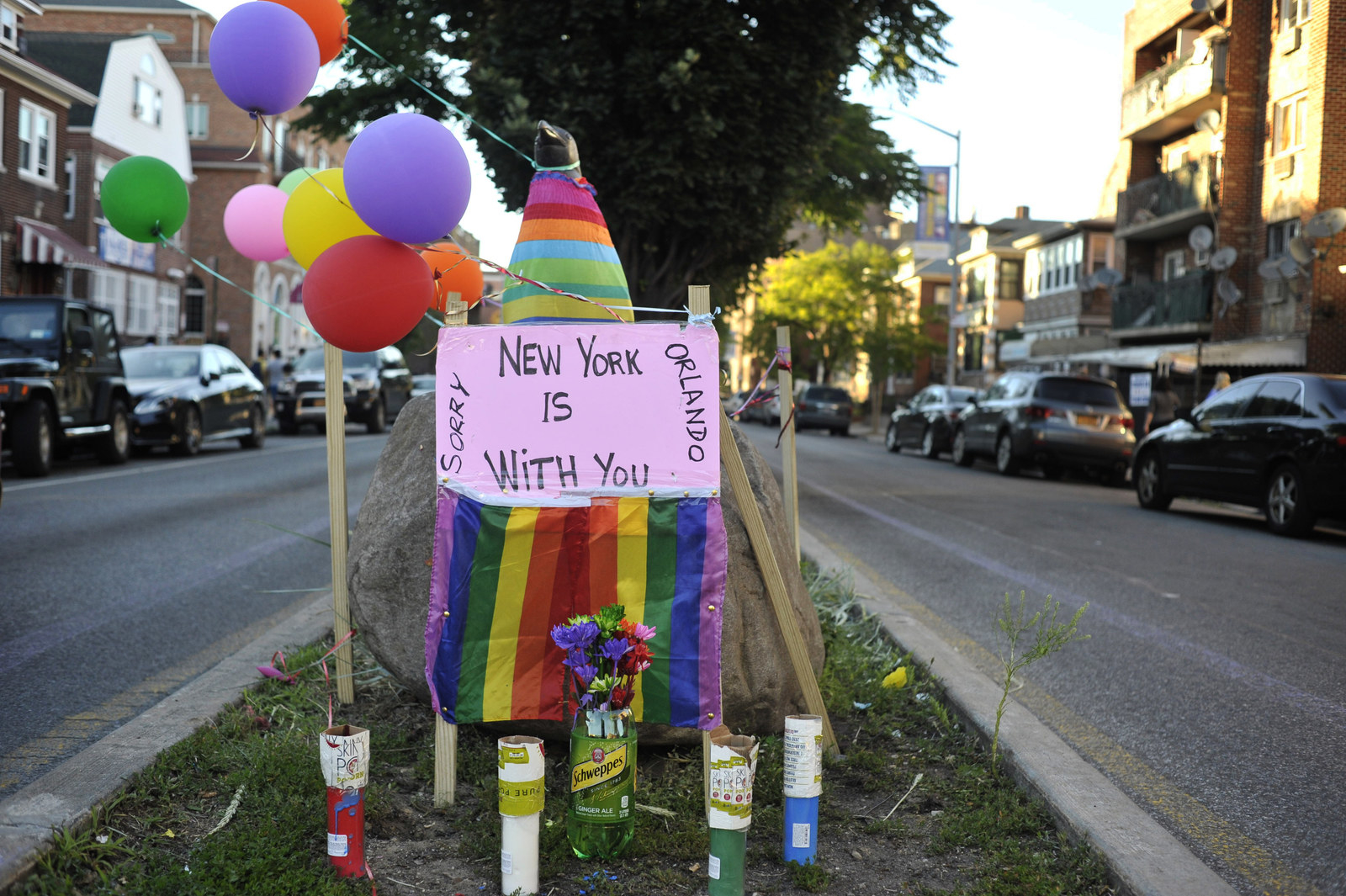 I went back to Club Evolution a few days after Tuesday's vigil and found a community that was still in mourning. A makeshift mural had sprung up on the wall of the bar, made up of pictures of the victims, their faces along with their names and ages taped together to form a public remembrance. Hung below the black-and-white portraits was a banner, covered with handwritten messages: "We love you." "I wish I was there to protect you." "Love is love is love is love." "Su muerte no sera en vano." Your death will not be in vain.
If, in the wake of the shooting in Orlando, people were afraid to go to the clubs and bars that they loved, on that night they hadn't let their fear stop them. And in Jackson Heights, at least for a few scant hours, questions of safety, of what change will occur after the tragedy in Orlando, were pushed to the back of people's minds. At Club Evolution, the TVs ringing the bar were all playing the USA vs. Ecuador Copa America soccer match, cheers erupting when either side scored a goal. Inside Friend's Tavern just down the street, as bachata and Rihanna and merengue and Michael Jackson spilled from the speakers, everyone was doing the things that most people do on a night out — taking selfies, smiles pasted to their faces; sitting alone at the bar, taking in the scene; shimmying as their favorite song started playing; scrolling through their Instagram feeds, their arms draped over one another — a scene both beautiful and mundane and uncelebrated by most until tragedy struck, the quotidian now turned into acts that feel like defiance, everyone happy to be alive. •