Michael Wang, 22, is as brash and confident as one would expect from a person willing to be one of the few outspoken Asian American faces against affirmative action. "I think everyone can agree with me that this policy is outdated and old, and things need to be changed," he told me one day this past May, at a dim sum parlor near the law firm where he works as a paralegal. Wang continued, "If you can't agree with that, then you have no idea what you're talking about."

Michael's father, Jeff, agrees. "It's time we should talk about it, right?" He believes that the ways colleges consider race hurts Chinese Americans like his son. "Supposedly Chinese is [a] minority, and in the history we have been mistreated," Jeff said. "We should be treated well, not punished."
An only child, Michael, who lives with his parents and cousin in Union City, California, just one hour south of San Francisco, had been groomed to become a top student by his father, an education professional trained as a teacher in China. Michael had his sights set on Harvard since he was 8, when he first started hearing his parents and their friends throwing the school's name around. "I already knew I had to do this; I had to build my résumé," Michael said. While his friends would play video games after school, he practiced the piano or was tutored in math by his father. When Michael was in elementary school, Jeff persuaded the school district to let his son take math classes at the local middle school. He picked Michael up every day to drive him to the middle school; he did the same when Michael was in the seventh grade, dropping him off daily at the local high school for more advanced classes. He went on to skip the eighth grade.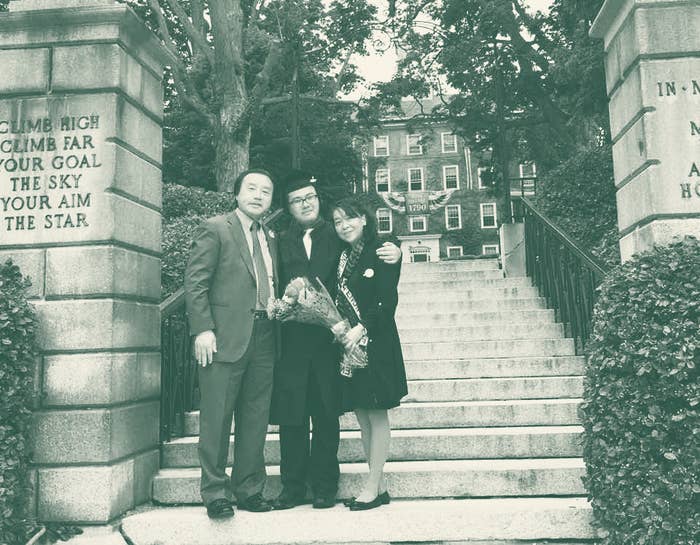 But in 2013, Michael was rejected from the most elite colleges in the nation. In response, he filed a civil rights complaint with the Department of Education (ED), alleging that Princeton, Yale, and Stanford had refused him admission solely on the basis of his race. (He was, however, accepted by the University of Pennsylvania, the University of California, Berkeley, and Williams College; Harvard as well as Columbia wait-listed him before ultimately rejecting him.) In his complaint, he rattled off his accomplishments: He was the salutatorian of his class at James Logan High School, with an outstanding GPA, a perfect score on the ACT, and an SAT score of 2230. But he wasn't just some stereotypical Chinese test-taking robot. He played the piano and founded his high school's math club. He was a member of his school's debate team and sang at Barack Obama's first inauguration ceremony as part of the San Francisco Boys Chorus. He wanted to major in international relations and hoped to become an ambassador one day. On paper, he looked great. The only logical explanation, he concluded, was that he was the victim of racial discrimination, an assertion he has made in interview after interview, most recently in the New Yorker.
In many ways, I fit the description of all of the high-achieving Chinese American students who claim they're the victims of discrimination. As a high school senior in San Antonio, I was also rejected from every single Ivy League college I had applied to, despite what some might consider a stellar application — I was the valedictorian of my class and had an SAT score that put me in the 99th percentile of everyone who took the test in my year. I'd worked as an editor at my high school paper (where I was the sports editor, no less) and been a member of my school's academic decathlon team. Yet I had never felt the need to interrogate whether my race had held me back, at least when it came to where I went to college. Maybe I was lucky; my parents put so little pressure on me to do well at school that for years, I had forged their signatures on my report cards. I had never felt that just because I possessed the completely useless ability to be good at taking equally useless tests meant that I deserved anything. I ended up attending a public university and spent four years figuring out what I cared about, and what kind of adult I wanted to be. If I had suffered some sort of theoretical injury by not attending an Ivy, I can find no proof of it.
If I had suffered some sort of theoretical injury by not attending an Ivy, I can find no proof of it.

Yet the Wangs are not alone in their disdain for affirmative action — they are part of a new generation of Chinese American activists who, much to the delight of conservatives who have long wished for Asian Americans to join them, have in recent years mobilized opposition against the policy. In 2014, tens of thousands of Chinese Americans in California rallied against a bill, commonly known as SCA 5, meant to reinstate affirmative action in the state; they succeeded in defeating it. Michael, by then a student at Williams College, had written a much-circulated op-ed in which he railed against the bill, instead promoting an argument for the "fairness of race-blindness." That year, after winning the battle against SCA 5, Jeff and other like-minded Chinese American immigrants around the country formed the Asian American Coalition for Education with the goal of crystallizing the nascent anger that emerged against the California bill into a national movement.
AACE was the brainchild of Yukong Zhao, a middle-aged immigrant from China who formerly worked as a director of global planning for a large multinational corporation in Florida and is now AACE's president, a volunteer position. Zhao worked feverishly to drum up opposition to SCA 5 (which he and others derided as the "skin color act"), writing op-eds for the World Journal, the leading Chinese-language newspaper in the United States, urging Chinese Americans to organize against a bill that he believed would, as he wrote, "transform the United States from a country that advocates equal opportunities to a third-rate country with equal outcomes." Seeing the fight against affirmative action as a battle against the growing numbers of Latinos in the state, he exhorted Chinese Americans to join forces with white people, who in his mind were equally the victims of reverse discrimination.
Asian Americans have long occupied an uneasy and contradictory place in our country's racial matrix, what the writer Jeff Chang in We Gon' Be Alright calls the "in-betweenness" of Asians in America — neither black nor white, but existing in a fraught tension between the two. Nowhere is this more clear than in the decadeslong debate over affirmative action. On Oct. 15, a long-awaited legal challenge to Harvard University's race-conscious admissions policy — and the first to center the alleged discrimination Asian American students like Michael face when applying to college — will go to trial. If the lawsuit succeeds, it could accomplish just what groups like AACE want — the dismantling of the use of race in college admissions.
If it is disquieting to see Chinese Americans in opposition to policies meant to benefit students of color who have historically been shut out of the promise of higher education, activists like the Wangs and Zhao firmly believe their work to undo one of the remaining legacies of the civil rights movement is actually a step toward real equality.
Where you stand on this debate ultimately depends, like many fraught issues, not so much on facts but on ideas and ideology, and how you think about race, about fairness, about meritocracy. Today, as Chinese Americans take center stage in the debate around affirmative action, and a growing number believe that their interests are far more aligned with white people than with other people of color, what does this illuminate about Asian Americans' complicated position in our country's racial order?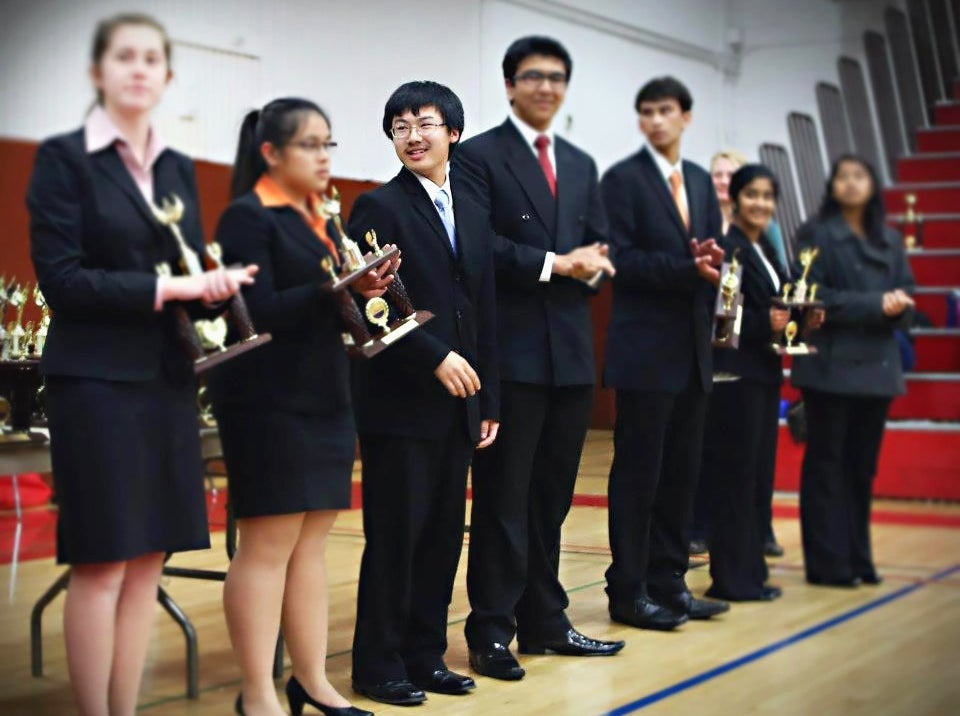 The emergence of a vocal new group of Chinese Americans committed to fighting race-based admissions policies came at the right time for the conservative activist Edward Blum. Blum, 66, has long fought against the use of race in everything from university admissions to government hiring, and was the architect of the 2013 Supreme Court case that gutted the heart of the 1965 Voting Rights Act. In 2014, he was on the hunt for more plaintiffs in his quest to dismantle affirmative action, which had begun in earnest in 2008 with the case of Abigail Fisher, a white student who claimed that she had been rejected from the University of Texas, Austin, because of her race. His stated goal, as he's put it, is "to end the use of race, period, in the admissions process." At the time, Fisher's case was still ongoing, having been sent by the Supreme Court back to the 5th Circuit Court of Appeals, which had previously sided with the university, for another review. (In 2016, the Supreme Court ruled against Fisher, upholding UT Austin's admissions policy.)
Fisher has been widely criticized and derided for her lackluster grades and an outsize sense of entitlement entirely at odds with her academic record — hardly the ideal plaintiff and figurehead of a challenge to affirmative action. As Blum once explained, for his next challenge, "I needed Asian plaintiffs."
In April 2014, Blum launched a series of websites calling for students to send him their stories of being rejected from Harvard, the University of North Carolina, and the University of Wisconsin, Madison. Each site featured a photo of a pensive-looking young East Asian, along with the question "Were you denied admission? It may be because you're the wrong race." (While he denies that his lawsuit against Harvard was inspired by the movement against SCA 5, it could not have escaped his notice that the most vocal protesters of the bill were Chinese Americans.)
Blum received submissions from hundreds of students who had been rejected from Harvard. "These kids were valedictorians," he described in a speech he gave to the Houston Chinese Alliance in 2015. "They had outstanding test scores, outstanding AP exposure, and course grades. They won science exams; they won debates; they won tennis tournaments; they played golf. They did everything you want kids to do when they're competing at the most competitive schools in the country."
"I needed Asian plaintiffs."

Students like the ones that Blum described would be familiar to anyone who grew up around a certain subset of Asian Americans — the children of immigrant parents with the resources to ensure their offspring could be trained and tutored to become yet another supposedly perfect candidate for the Ivy Leagues. One of the students who submitted his information was a Chinese American teenager living in California, who had heard about the websites Blum had created via his local NPR station. The valedictorian of his class, he had perfect test scores and had been the captain of his varsity tennis team, as well as a devoted volunteer for a variety of causes. He had also been rejected from Harvard. In him, Blum found his new plaintiff.
Shortly after, Blum called the family and flew to Sacramento to meet. Initially unsure whether they wanted to file a lawsuit against Harvard, they were convinced after Blum compared the plight of Asian Americans to that of Jewish students in previous decades. After meeting with potential lawyers for the case in DC, the family gave the green light, on one condition — that they be allowed to remain anonymous, in order to avoid the public scorn like the kind heaped upon Abigail Fisher and her family. Blum agreed.
In November 2014, Blum and the family filed their lawsuit against Harvard under the umbrella of an organization Blum had created earlier that year, Students for Fair Admissions (SFFA). Railing against Harvard's "remarkably low admission rate for high-achieving Asian American applicants," the complaint alleged that university officials had an unofficial quota that kept the numbers of Asian American students artificially low. Less than a year later, and inspired by SFFA's lawsuit, Zhao's AACE filed a similar complaint against Harvard with the departments of Education and Justice.
Now, nearly four years after it was first filed, SFFA's lawsuit is about to go to trial, kicking off the next phase of a legal challenge that is aimed squarely at reaching the Supreme Court. Given the recent appointment of conservative Justice Brett Kavanaugh to the already right-leaning court, the lawsuit has the potential to further chip away at affirmative action, if not eliminate the policy once and for all. Affirmative action policies, first enacted in the 1960s, were initially viewed as tools meant to address the continuing impacts of racial discrimination. A series of court challenges through the years has watered down the programs to their current incarnation, in which universities are limited to considering race in the pursuit of "diversity," and only in extremely limited circumstances. Even this weakened version is objectionable to its opponents. Earlier this summer, when I spoke to the father of the unnamed plaintiff, I asked him what he wanted the outcome of the lawsuit to be. He put it bluntly: "Very simple. Get rid of the race box."
To Nicole Ochi, an attorney at Asian Americans Advancing Justice – LA, Asian Americans are being used as rhetorical cover in Blum's efforts to dismantle the use of race in college admissions. Ochi is representing a group of Asian American students who have intervened in SFFA's lawsuit in support of Harvard University's admissions policy. She pointed out that most Asian Americans when polled are in favor of race-conscious admissions. She also believes that Harvard's policy — which is known as holistic review and takes into account a wide range of factors beyond a student's GPA or test scores, only one of which is an applicant's race — benefits a wide range of Asian American students. Harvard's current first-year undergraduate class is about 20% Asian American; if it were to strictly reflect the Asian American population in the US as a whole, that percentage would plummet to less than 6%.
"It's not unfathomable that there is bias against Asian Americans in the admissions process."

"It's not unfathomable that there is bias against Asian Americans in the admissions process," Ochi told me. "The remedy is not to get rid of race-conscious admissions. The remedy is to attack structural white supremacy and white selection advantage." One survey found that for the class of 2021, about 1 out of every 8 students had at least one parent who had also attended Harvard. Why, she asked, aren't opponents focusing on Ivy League legacy programs, which some have argued operate as a de facto affirmative action program for white students? "It's really about the whole pie — and why aren't we looking at the three-quarters of the pie that is white?" she said. (Harvard's undergraduate student body is closer to 50% white; in 2018, the university admitted slightly more students of color — 52.8% — than white students into its 2022 class.)
She questions the motivations of people like Blum. "What is our role as Asian Americans?" Ochi asked me. "We want to push back against the use of Asian Americans as a wedge in this debate."
Blum, for his part, denies that he is using Asian Americans in his quest to dismantle affirmative action. "You can't characterize Students for Fair Admissions as a membership organization whose litigation is focused on Asian Americans. It's just not the case," Blum told me. (Whether Students for Fair Admissions, which in 2015 reported only $430 in member dues but more than $800,000 in contributions from funders such as DonorsTrust, described by Mother Jones as the "dark-money ATM of the right," can be rightly characterized as a member-based organization is another question.)
His demurral aside, it's clear that Blum has lasered in on Chinese Americans in his quest to dismantle the use of race in university admissions. In the years since the Harvard lawsuit was filed, he has traveled around the country, speaking to Chinese American groups from New Jersey to Texas to California. In them, he has found a ready audience.
Blum is "an ally in this fight for equality," Michael Wang told me. He had initially reached out to Blum as he was researching Abigail Fisher's case, and they've stayed in touch. Some of his stances, like his gutting of the Voting Rights Act, give Michael pause. "But I think as long as the end goal is good, I don't mind it as much," he said.
Michael told me he recognizes the importance of racial diversity. "Being stuck on a [predominantly] white campus made me feel bad too," he said, recalling his time at Williams. Yet both he and his father seem comfortable with the prospect of having fewer black and Latino students on campus — the likely outcome if race-based affirmative action were eliminated — if it means that Asian students benefit.
"Are they really working hard like Asians?" Jeff posed. I asked him if the idea of a majority Asian American student body gave him pause. "What's wrong with that?" he said.
Ultimately, college admission is a zero-sum game, Michael said. As he put it, "Someone has to lose for someone else to win."
Seen as "outwhiting the whites," as Newsweek proclaimed in 1971, Chinese American students in particular have long been viewed as the embodiment of what could be achieved through hard work, even in the face of racial discrimination. This idea of (largely) East Asians as the "model minority" has long been wielded as a blunt rhetorical weapon, employed to prop up the idea we live in a color-blind meritocracy and to discount the realities of racist exclusion from the body politic. It was no coincidence that one year after the 1965 Watts riots the US News & World Report ran a story lauding the work ethic of Chinese Americans, writing: "At a time when it is being proposed that hundreds of billions be spent to uplift Negroes and other minorities, the nation's 300,000 Chinese Americans are moving ahead on their own, with no help from anyone else."
To Yukong Zhao, affirmative action is an affront to the bootstrapping idea that anyone who works hard should be able to make it in America, the very reason, after all, he came to the United States. While he recognizes the persistence of racial discrimination, he insists that "the only way to address that is to treat all the children based on the content of their character, based on merit, not by their skin color." He often points to a much-cited 2009 study by two Princeton sociologists that purports to show that Asian American students must score 140 points higher on the SAT than white students, and 270 points and 450 points higher than Latino and black students, respectively, to have the same chance of gaining entrance to selective universities. (He neglects to mention that one of its authors admitted that, as they didn't take into account few factors other than test scores, the study, as he put it, is no "smoking gun.")
Zhao's grievances match up almost beat for beat with a politics of resentment taken up by aggrieved white people who complain that people of color are benefiting at their expense, and that white people, contrary to all available evidence, are the true victims of racial discrimination. "We have in the inner cities many poor Chinese students. However, the black community also has privileged family, like president Obama's," Zhao said. "Do they deserve more preference than poor, working-class children [from] Chinatown? The answer is no."
"It offends me," Zhao continued, telling me he believes Chinese Americans have faced far more discrimination than Latinos. "Why [do] Hispanic Americans get higher preference than Chinese Americans, or Japanese Americans?"
"It's really about the whole pie — and why aren't we looking at the three-quarters of the pie that is white?"

The story of Asian Americans is typically told as one of a struggle against oppression and discrimination, if it is told at all. This is not a false narrative, as any cursory reading of history will show. Yet it is a limited one, whose pat framing too often elides the ways that calls for equality have often been, at their heart, a desire for a closer relationship to whiteness, and portrays the interests of Chinese Americans and others of Asian descent in this country as naturally aligned with other people of color, when a deeper examination shows otherwise.
What else can explain why tens of thousands of Chinese Americans flooded the streets in 2016 to protest the conviction of New York police officer Peter Liang in the killing of Akai Gurley, an unarmed black man, believing he should have received the same treatment as white police officers who had killed black Americans with nary a slap on the wrist?
History is littered with such reminders. In the 1870s, Ah Yup, an immigrant merchant from China who had settled in San Francisco, argued that he was white by law in his bid to become a citizen. Citizenship at the time was a right restricted to "free whites" and people "of African nativity or descent." While he was denied, this did not prevent other Asian immigrants from trying to assert that they too were white. Decades later, Takao Ozawa, a California resident born in Japan, unsuccessfully petitioned for citizenship, arguing, "White persons, as construed by the Supreme Court of the United States, means a person without Negro blood."
Consider, too, the story of Jeu Gong and Katherine Lum, a Chinese immigrant couple living in Mississippi who sued a school district in their home state in 1924 after their two daughters Martha and Berda were barred from attending the white school in their town. They were, the school board had decided, "colored."
In the ensuing court battle, the Lums pushed back against this categorization — far from being "colored," they argued, they were "nearer to the white race" and as such, deserved to enjoy the privileges offered to white people. That argument failed, as did their subsequent appeal to the Supreme Court. Instead, they were presented with two options: attend the schools meant for black students or go to a private school. Defeated, the Lums ended up leaving Mississippi.
The most generous reading of the Lums' case would portray them as bravely defending their children's right to an education. Yet it is worth examining the motivation of the Lums in pursuing this case. "I did not want my children to attend the colored schools," Katherine explained years later. "If they had, the community would have classified us as Negroes." The daughters, Martha and Berda Lum, ended up settling in Texas. I could find no record of any interviews they had conducted, but in a photo of Berda that I found tucked away in a book on the history of Chinese Americans in Mississippi, a caption reads: "She bitterly resents the discrimination she has suffered from whites, first from Mississippi schools, and later in a Houston neighborhood. However, she dislikes the civil rights movement" — the gains from which she, as well as all Chinese Americans, surely benefited from — "and does not want to see her children marry black."
How should we perceive the actions of the Lums, Ah Yup, and Takao Ozawa? Given the limited menu of options presented to them, can we blame them for their choices generated by a structure that tipped power toward white people? "[T]he move into mainstream America always means buying into the notion of American blacks as the real aliens," wrote Toni Morrison in 1993. "Whatever the ethnicity or nationality of the immigrant, his nemesis is understood to be African American." They made a deliberate choice, based on this understanding: that if one occupies a racial position outside of whiteness, to get ahead in America requires stepping on the backs of black people.
"I think this is a me-only movement and it's very disheartening to me."

In the late 1970s and early 1980s, as the children of Asian immigrants who moved to the US after the passage of the 1965 Immigration Act came of age, they began applying to college in record numbers. But despite a rapid increase in the number of Asian American applicants, the actual number of students admitted at many of the nation's top schools declined or stayed the same year to year. While Asian Americans were initially included in affirmative action programs in the 1960s, a decade later, that largely was no longer the case. "Asian Americans weren't considered a minority group," the filmmaker Renee Tajima-Peña told me. A former student activist at Harvard, she described how she had gone to an orientation for students of color at the beginning of her freshman year in 1976, and been turned away. "We weren't regarded as being a protected class or a group that experienced institutional racism." Yet, she pointed out, "numerically and anecdotally we were clearly underrepresented when I was there."
In the summer of 1983, two Ivy League Chinese American students, Margaret Chin and David Ho, issued a report, "Admissions Impossible," that charged elite universities around the country with deliberately limiting the numbers of Asian American students on campus. Asian American students and professors around the country — from elite East Coast institutions to their West Coast counterparts — soon began calling out their universities for allegedly instituting quotas against Asian American students.
These activists were careful to proclaim that they supported affirmative action policies for other students of color, and that their main complaint was discrimination they faced when compared to white applicants. But entering the national debate at a time when affirmative action was already being widely criticized as a form of reverse discrimination, mostly by white Americans, conservative pundits quickly seized on the complaints of these students to attack what they called "unfair racial preferences." Discrimination against Asian Americans, as the head of the DOJ's Civil Rights Division at the time put it, "appears to be driven by the universities' affirmative action policies aimed at favoring other, preferred racial minorities." It was a narrative readily embraced by the news media, and, much to the dismay of the Asian Americans who had initially raised the issue, it was this story — of a group of nonwhite students being hurt by policies meant to help other students of color — that took root in the popular imagination, where it has remained to this day.
Today, Ling-Chi Wang, a former UC Berkeley professor who was one of the most prominent activists in the 1980s, has no regrets about his work. He's retired and living in the Bay Area. I asked him if he still believes that universities discriminate against Asian American applicants. "To me, that issue was resolved in the '80s," he said. (The ED had investigated the alleged anti-Asian bias at Harvard, UCLA, and Berkeley. Its final reports ultimately absolved Harvard of discrimination and found one graduate program at UCLA in violation of civil rights laws. Berkeley's chancellor publicly apologized for entrance requirements that had reduced the number of Asian students on campus, vowing to change them.)
He questions the intentions of the Chinese American activists who are fighting to dismantle affirmative action today. "I think this is a me-only movement and it's very disheartening to me, because we seem to think only of our own children, and not about what is good for society and what is good for the United States."
Margaret Chin, one of the student activists from the '80s and the coauthor of the report "Admissions Impossible," believes we are in a different time, one in which underrepresentation is no longer the issue. She's dismayed that the report she helped write was cited by SFFA in its lawsuit against Harvard. "When I look back over all those years, it was a very different time. There were a lot fewer Asians at Harvard," she told me. "It was a matter of people just getting onto campus at that point. When I go back to reunion now, it's so…different. You go to your reunion activity room, and it's like, wow, you're one of a few Asians. You leave the room, and [the campus is] packed with Asians."
Chin, now a sociology professor at Hunter College in New York City, is part of a group of Harvard graduates calling itself the Coalition for a Diverse Harvard working to support their alma mater in the current lawsuit. She finds herself baffled by the motivations of the Yukong Zhaos and Michael Wangs of the world. "They'll say, 'I got perfect SAT scores and I was this and this, and I should've gotten in.' But you go to a great university," she said. "Harvard can't accept everybody. Why are you doing this? I don't understand." She started laughing.
"I'm like, 'Why are you really doing this?'"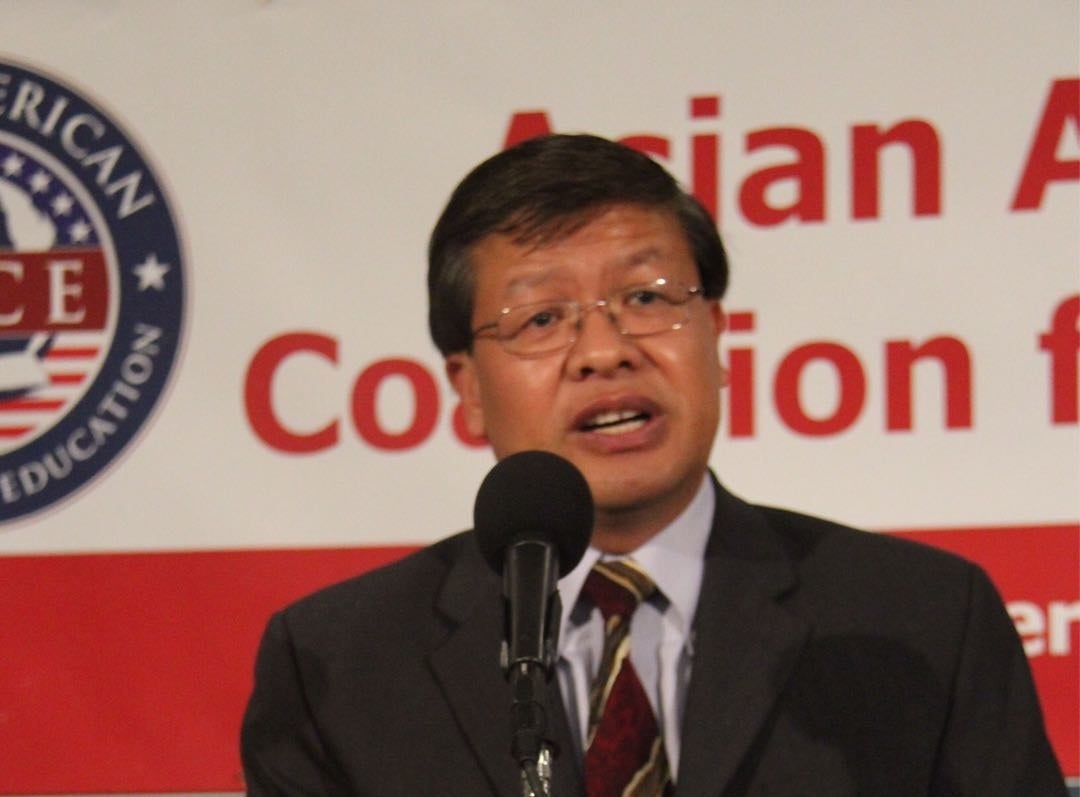 On an overcast day this past May, I met up with Yukong Zhao in Washington, DC, where he was to speak about Asian American admissions on a Federalist Society and Center for Equal Opportunity panel at the National Press Club. He had been busy, having just a few days earlier traveled to Salt Lake City, where he and other Chinese Americans had commemorated the building of the transcontinental railroad.
When we sit down to speak, he immediately brings up his son, Hubert. In 2016, Hubert was rejected by Columbia, Cornell, and Princeton, which Zhao described as a "tragedy." Hubert was the recipient of a National Merit scholarship, the captain of his school's debate and science bowl teams, and a member of his school's robotics team. He spent hours volunteering at a local cancer hospital. "They still reject my son, which does not make any sense with his credentials," Zhao said. This, in his mind, only confirmed his belief that students like his son were the victims of discrimination. A complaint the Zhaos filed with the ED in the summer of 2016 was, according to Zhao, rejected toward the end of the Obama administration. Hubert is now attending a large state university in Florida and studying engineering.
When it comes to the importance of racial diversity, Zhao is unconvinced. "I view number one priority is diversity of ideas," he told me. "You look at all the elite schools [and] they pretty much teach liberal ideas."
In 2016, Hubert was rejected by Columbia, Cornell, and Princeton, which Zhao described as a "tragedy."

Asian America has always been made and remade through immigration policy, causing each new generation to, in a sense, discover politics anew. The 1965 Immigration Act threw the doors that had largely been shut to Asian immigrants wide open; in 1990, immigration policy shifted once again by increasing the number of visas for skilled immigrants with college degrees. Zhao, who moved to the United States in 1992 from the southern Chinese province of Yunnan to attend graduate school at Virginia Tech and then business school at the University of South Carolina, is part of this new generation of highly educated immigrants, as are many of AACE's members. Zhao told me he initially paid little attention to politics, instead focusing on getting his master's in business administration and later on raising his young family. But the financial crisis of 2008 spurred him to take a closer interest in the politics of his adopted country. He soon began to think that the many problems plaguing America could be traced back to individual families' poor decisions and the worsening quality of America's school system.
In 2013, he self-published a book, The Chinese Secrets for Success, in which he promoted Confucian family values and hard work, a commitment to education, and self-reliance, which he believed would allow anyone to make it in America. In the years since, he has styled himself as a civil rights leader, an interest he traces partly to the end of 2013, when the talk show host Jimmy Kimmel featured a skit in which a young white child suggested that the United States "kill everyone in China." Chinese immigrants like Zhao were outraged by the segment, which kicked off nationwide protests calling on Kimmel to apologize. "That was the first civil rights movement I participated [in]," Zhao said. "We rarely speak up. We rarely fight for our rights," Zhao said of his fellow Chinese American immigrants. AACE, he said, is encouraging "people to speak out [and] to fight for the American dream."
His efforts appear to be working — Chinese Americans are the only Asian American ethnic group whose support for affirmative action has declined in recent years, from more than 75% in 2012 to only 41% in 2016, according to the group AAPI Data.
With federal agencies now stocked with long-standing opponents to affirmative action (from Ken Marcus, the head of the ED's Civil Rights Division, to Candice Jackson, also at the ED, who once wrote that affirmative action "promotes racial discrimination"), AACE has finally found a willing partner in its quest to dismantle race-based admissions policies. According to Zhao, AACE has met several times with officials from the White House Initiative on Asian Americans and Pacific Islanders as well as the Department of Education, who have proved far more willing to take up their claims. Last summer, they cheered when the DOJ announced that it was looking into AACE's complaint against Harvard, which had previously been dismissed by the ED; the DOJ and ED are now examining Yale's admissions policies as well. In July this year, officials in the Justice and Education departments rescinded Obama-era guidelines that promoted the importance of race in admissions. And at the end of August, the Justice Department formally intervened in SFFA's lawsuit against Harvard, writing in a statement of interest that "Harvard's race-based admissions process significantly disadvantages Asian-American applicants compared to applicants of other racial groups — including both white applicants and applicants from other racial minority groups."
When Zhao takes a seat onstage at the Press Club later, he faces a largely white and Chinese audience. The two conservative think tanks that organized the event had also invited Brenda Shum, the director of the Educational Opportunities Project at the Lawyers' Committee for Civil Rights Under Law, as the sole defender of affirmative action. She had a stony look on her face the entire time, as if girding herself for a tough battle.
When Zhao speaks in public, his natural combativeness comes through. He frequently interrupts others (in a recent interview with NPR, he had to be asked several times to let others speak), with a tendency to speak in bullet points to get his point across.
Chinese Americans are the only Asian American ethnic group whose support for affirmative action has declined in recent years.

Afterward, two Chinese American audience members who had traveled from nearby Maryland went up to Zhao. Shum's careful, thoughtful defense of affirmative action hadn't swayed them. Instead, they pressed a flyer into Zhao's hands; it detailed how the number of Asian American middle school students enrolled in their district's "gifted and talented" program had dropped in recent years, leading to "huge racial concern" among the Chinese American community.
I chatted with them in Mandarin. "This is totally unfair," one of them told me. "Why are our children facing such discrimination?"
When I caught up with Zhao weeks later, he was already looking toward the future. "We start with elite schools, but we're not stopping there," he said. At the end of August, Zhao and AACE turned their attention to the University of California, Berkeley, whose chancellor Carol Christ had recently reiterated the school's commitment to racial diversity. In the next decade, Berkeley aims to increase its Latino student body population to at least 25%, as well as admit more black and Native American students. In a letter sent to Christ and the ED's Civil Rights Division, Zhao expressed outrage over her statement, calling it a "racial quota" that would "hurt the admissions probabilities" of Asian American students. Zhao hinted at a possible legal challenge: "We reserve all our legal rights to take necessary steps against your institution, in order to protect Asian American children's constitutional rights to equal education."
What astonished me in talking with the immigrant parents of my fellow Ivy League rejects while reporting on this story is the degree to which they feel their children have truly suffered, despite any real evidence to the contrary. One parent expressed to me, anger suffusing his voice, how his stepdaughter, who went to Carnegie Mellon and then UCLA's medical school, had been slighted by not getting into a "top-20 university." Earlier this summer, I spoke with the father of the unnamed plaintiff in the SFFA lawsuit and asked him how his son has been impacted by his rejection from Harvard.
He's just graduated from one of the top public universities in California with an engineering degree, and has been accepted to almost every single PhD program he's applied to. He seems, by any reasonable metric, to be doing just fine. Yet, if his lawsuit succeeds, he will have played a pivotal role in gutting an imperfect policy that for all its weaknesses continues to assert — at a time when it feels increasingly important to do so — that race still matters.
I thought back to one of my conversations with Michael Wang back in May, as we had lunch in San Francisco's Chinatown. In between bites of crisp triangles of scallion pancake, I asked him why it mattered so much to him to go to an Ivy League school. His answer was immediate: "Connections," he said. If you want to join this country's elite, a degree from Harvard or Yale or Princeton is almost de rigueur. "They have an idea that if you're able to get in, there must be something about you that allowed Harvard to accept you." After graduating from Williams in 2017, Michael now is looking to go to law school, and spends his weekends studying for the LSAT. Despite the fact that Michael had secured his current job through connections he'd made at Williams — his boss was also an alumnus — his hope, yet again, is to go to Harvard. ●
UPDATE
This post has been updated to use "ED" as shorthand for the Department of Education.
Esther Wang is a writer based in New York City. A BuzzFeed Emerging Writers fellow in 2016, she is now a contributing writer at Jezebel.