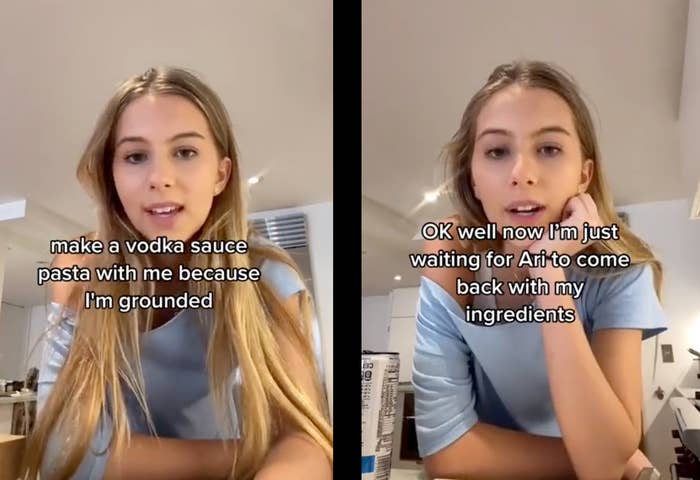 Celebrity offspring TikToks are my favorite social media genre. If you make a video of your mother, Laura Dern, dancing to Doja Cat, that is undeniably charming. When you dress up as your father, Kanye West, and lip-synch "Bound 2" with your mom, Kim Kardashian, that is obviously a work of genius. Last September, Gideon Grody-Patinkin quizzed his dad, Mandy Patinkin, on the purpose of TikTok, and I applauded despite being alone in my living room.
The scions of these A-listers give us a peek behind the curtain, relying on a mutual intimacy to reveal a sillier, less on-brand version of their high-wattage relative. It's a rarity in such a mediated digital world, which has habituated us to sanitized, strictly curated celebrity communiqués.
But even within such a delightful category, the work of Romy Mars — the daughter of Sofia Coppola and Phoenix lead singer Thomas Mars — stands out. In a now-deleted TikTok that went viral on Twitter (the video has 38 million views there and counting), Romy delivered a bravura performance.
"Make a vodka sauce pasta with me because I'm grounded," Romy says at the beginning of the video, her voice sped up so it sounds eerily frantic. Incredible. Why was she grounded? "Because I tried to charter a helicopter from New York to Maryland on my dad's credit card because I wanted to have dinner with my camp friend," she continues, a veritable roller coaster of facts. And despite the potential yuckiness in a rich kid's nonchalant money-flaunting, her rebellious teen spirit softens the Hollywood untouchability of that escapade.
Then, a sharp right turn: "I don't know the difference between a garlic and onion," she says, blonde hair cascading past her elbows. "I just had to Google images of onions on my phone." Some may say this speaks to stratospheric levels of privilege — these are basic ingredients — but honestly, it reminds me of the time I breezily suggested at the age of 15 that one needed fish to make risotto (I had never made it). "I'm embarrassed," she says. The video cuts to a frame of Romy cheesing at the camera, holding a chef's knife with the blade dangerously close to her face.
The TikTok culminates in a moment of pathos that highlights what it's like to grow up in a high-profile household. Romy muses that she'll probably get in trouble because her parents' "biggest rule" is that she's "not allowed to have any public social media accounts." "Here's why," she says, holding up what I presume is her father's Grammy. "They don't want me to be a nepotism kid." But the question must be asked: Does nepotism matter when verve and talent are so apparent?
Give HER a Grammy! Girl should EGOT for this. The video hits every narrative mark. Her comic timing is impeccable. "Is this an onion?" she asks, holding up a shallot. "This looks like the inner workings of a balls—" (the video cuts off abruptly here). Unsurprisingly, Romy displays a canny understanding of cinematography, incorporating a wider shot that encompasses a person Romy explains is Ari, her babysitter's boyfriend. Raising the emotional stakes, Romy describes her babysitter and Ari as "replacement parents." When Romy asks Ari what he thinks of the "helicopter fiasco," Ari's response is so gently digressive it rends the heart. "Oh, I like fiasca," he suggests, even though nobody asked. "It's, like, a feminine form of 'fiasco.'" Ari! A king of language and subtlety.
Romy agrees, and simultaneously proves that she is funnier than any comedian currently working. "It's Women's History Month, so."
On top of this genuinely diverting repartee, this TikTok is compelling because it both confirms how we think about celebrity (Romy doesn't have to cook for herself, and it's possible she has only been inside a supermarket one to three times), and yields to our loving understanding of what's important to a teenager (freedom, complaining, friendship, spontaneous air travel).
This video also proves that famous people are aware of the much-discussed concept of the nepo baby, and that they agree the optics are bad. Romy is not a recognizable face (though she does look like her mom!) — the Guardian described her mother in 2017 as someone who "keeps a determinedly low public profile, insistent that her daughters' lives go largely uninterrupted by her career and her travels." Coppola and Thomas Mars are, per her stated intentions, a low-key couple; they rarely appear in tabloids. The scarcity of information about them makes this TikTok an even more pleasurable encounter with their lives: We weren't ever supposed to have seen this. The otherwise sacrosanct private spaces of the wealthy, breached by one of their own — delicious!
In Coppola's Guardian interview, she affectionately complained about her daughters' lack of interest in old movies. "They have really bad taste!" she said. Look, I like Marie Antoinette. The Bling Ring is fun. But as far as incisive, well-executed slices of the high life go, I might like Romy Mars's version more. ●