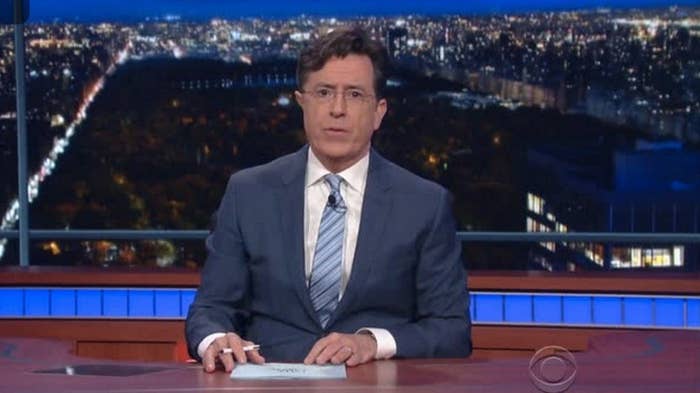 After an hour and a half of watching Stephen Colbert wear funny hats with John Cleese, pirouette around the stage to his house band during commercial breaks, and learn to step dance with Michael Flatley, Colbert emerged from backstage to ask us, the audience, if we had enjoyed the show. After we cheered, he nodded and admitted he had too, and then he rubbed his thumb into his palm. "That's why I hate to be the one to tell you this," he started.
Colbert told the 300 or so of us in the audience that during taping, terrorists had attacked the city of Paris. He told us "many are dead" and that the situation was still ongoing. The room sucked in its collective breath, a vacuum where laughter had just been. People were looking around, waiting for a punchline that never came. I kept wondering, How many? Five? Five hundred? Five thousand? And then hated myself for thinking that that mattered.
I reached for my cell phone in my coat pocket. We were instructed to turn off our mobile devices before entering the studio, but I so badly wanted to send a text to my sister who is currently studying abroad in England. Friends of hers in the program were likely in Paris for the weekend. Girls she shared a kitchen with in their tiny West London flat. I didn't dare turn it on.
Without ceremony, Colbert sat at his desk and informed us he'd have to tape a message acknowledging what had happened. The light had left his face. He was visibly shaken and sad. After a few awkward exchanges with producers about which camera to look into and where to sit, Colbert taped this off-the-cuff message:
"Folks, we end tonight's show with a heavy heart because we taped all of tonight's show and then we found out about the horrific attacks in Paris today. I know that not much is known right now," he said. "We do know there have been many deaths and the crisis is still ongoing. President Hollande declared a state of emergency, and President Obama has promised the United States will do whatever it takes to bring those terrorists to justice.
"We add our thoughts and prayers to everyone in Paris and now," he paused, trying to think of a sign-off.
"We'll see you on Monday," he said finally. Then there was an agitated tapping of his palm on the desk before he added, "Goodnight."
Colbert stood from his desk, held his hand up in a solemn goodbye, and walked off stage. There was a confused smattering of applause around the audience, then silence. An usher leaned into my row and told us we were allowed to leave. No one moved.
Outside I texted my sister. She was fine, and no one she knew was in Paris. I scrolled through Twitter and watched the death count rise as I caught up on the last two hours. Thirty confirmed dead. Then 40. By the time I made it to the subway, the number had reached 100.
Without knowing what else to do I sent this tweet:
Then I descended into the subway to go home and rewatch The Late Show on TV to see if I could pinpoint the exact break in filming that Colbert had found out.
I couldn't.