CARLSBAD, Calif. — The Koch Brothers have locked down a resort hotel in this breezy San Diego suburb for their annual conservative conference, a gathering that directs a funnel of money to their favored conservative causes with the goal of pulling both America and the Republican Party hard to the right.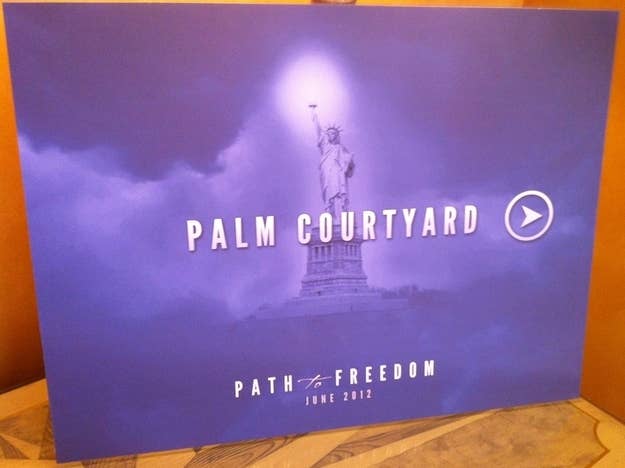 The intensely private conservative brothers, heirs to a Midwestern refining fortune, have been seeking an increasingly broad influence on public policy, and contributions attendees a their conferences have in the past financed everything from the anti-union campaigns of Americans for Prosperity to the 60-Plus Association's attacks on President Barack Obama's health care plan. This year, the group — many of them low-profile, old-line industrialist families like the Kochs — is expected to spend nearly $400 million on a range of causes, the core one defeating Obama's reelection campaign.
The gathering makes Mitt Romney's private donor retreat this weekend 700 miles away in Park City, Utah look almost laid back by comparison: The Romney retreat has been marked by occasional conversations with the press and snapshots of the candidate's family.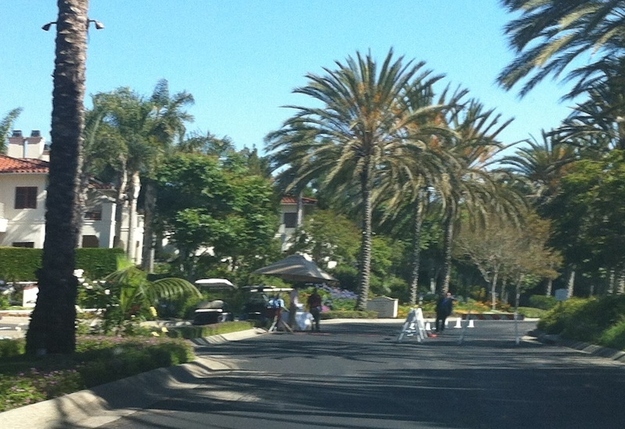 The Koch event, identified on signs around the Park Hyatt Aviara Resort as "Path to Freedom 2012," occupied the entire resort, which offers rooms beginning at $1,250 a night. Security began at the two entry points, where two security companies, one with staff clad in red parkas and another with guards wearing black suits and earbud radio sets, greeted visitors and checked identification.
The security detail at the front gate turned away your correspondent, who made his way back into the resort after an hour-long hike through a golf course and a fortuitous ride in a golf cart.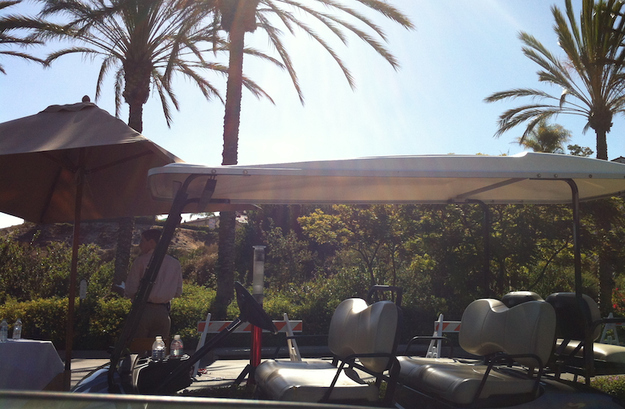 And the driveway and lobby of the hotel brimmed with staff and security. Once through the lobby, conference staff greeted guests with registration packets and programs. Though the entire resort rented for the Koch gathering, the family has always been intensely private about its political affairs, often concealing its spending and remaining opaque about which projects the Kochs fund. The privacy of their conclaves has occasionally been breeched in the past: ThinkProgress obtained details of the 2010 gathering and the 2011 even drew protest and reporters to a suburb of Palm Springs, Calif., where the Kochs' new public relations firm even sent some attendees, including future presidential candidate Herman Cain, to speak to POLITICO's Ken Vogel, who has pried free much of what's known about the group.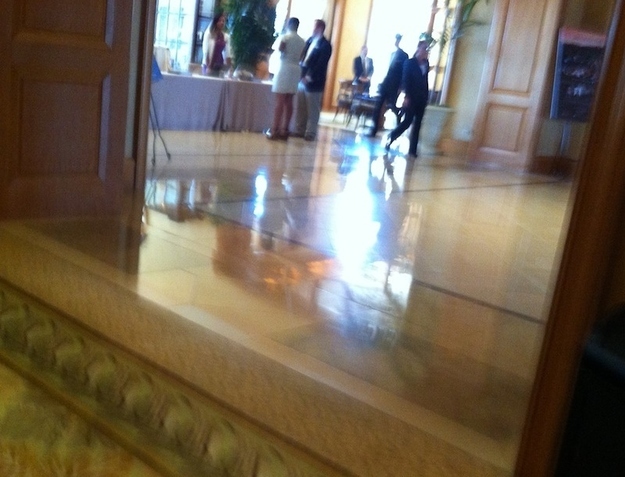 Another gathering this February in Indian Wells, Calif., was far lower-profile: "I thought they had stopped all leaks," a Koch deputy told the lone reporter, from the liberal Republic Report, to cover the event.
There was to be no repeat of Palm Springs here in Carlsbad: The conference's location was a closely guarded secret, obtained by BuzzFeed only late Friday, and there were no signs of protests. (Occupy organizers, deterred, reportedly staged their protests in downtown San Diego, while the San Diego County Democratic Party contented itself with a press release.)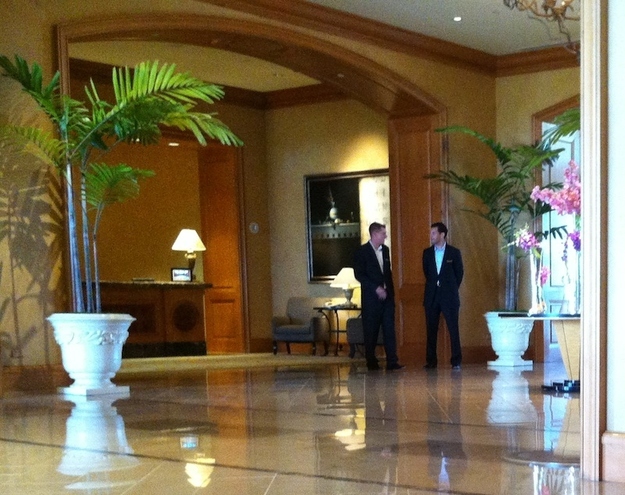 Still, security precautions were nearly overwhelming. Everyone was required to wear a name tag at all times: red for staff and gold for security. Well-heeled guests, meanwhile, were forcefully instructed to wear their black name tags.
Upon walking through the lobby, guests were greeted by cheerful conference staff behind a wide table laden with programs and necessary conference materials, including the all important identification badges. Some guests left their tags off while playing golf or engaging in other activities, but tags were checked rigorously at the doors to meetings.
The hotel itself left no need unmet: guests could refresh themselves with lime-water or iced tea, or visit the hotel bar for free cookies and tea. A game room downstairs offered video games, a Wii, a foosball table, and televisions showing ESPN and ESPN Classic. A few guests lounged at the pool, which itself took in an impressive view of the mountains. The resort sits in one of San Diego's more perfect microclimates, and on a Saturday: when the coast was warm and muggy, the atmosphere at the Park Hyatt Aviara was a comfy 78 degrees and dry.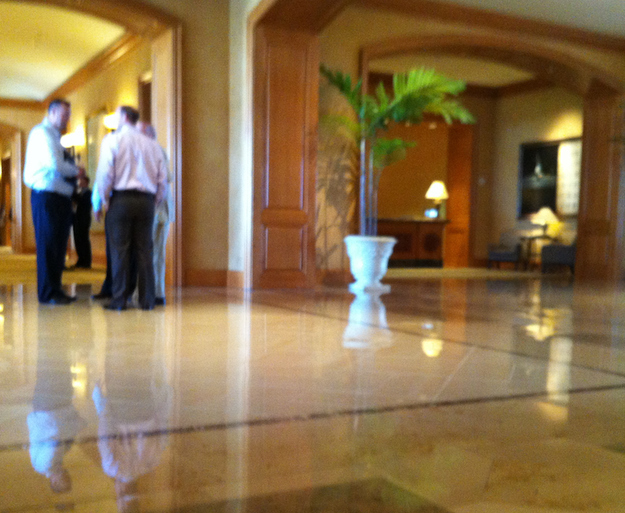 As guests arrived throughout Saturday afternoon, many greeted each other as old friends and acquaintances. Soon they clumped in knots of three or four to discuss the upcoming election cycle, discussing primary successes and disappointments, and contemplating strategy. One pair discussed a 3:15 speech by "CDK," which appeared to refer to the Koch brothers, Charles and David.
The hotel was set for relatively small meetings were generally small: A typical room featured a long table capable of seating 20 to 24 at each side, though a ballroom with a large screen was prepared for the welcome speech later Saturday evening.
BuzzFeed couldn't stay that long: Grilled by a security guard about his lack of a badge, your correspondent was escorted from the resort Saturday afternoon.