Area of Expertise is a column on niche interests, personal passions, and other things we might know or care a little too much about.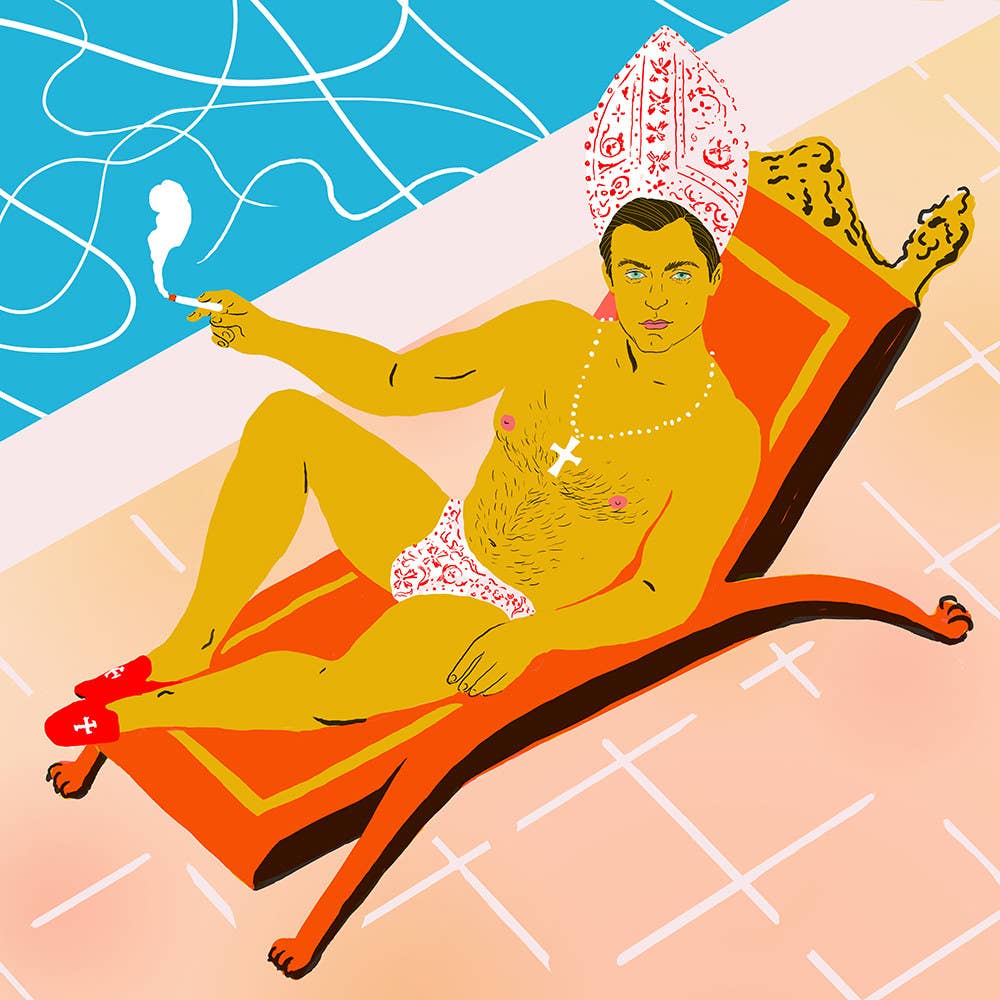 A series in which movie star Jude Law plays the pope — but he's young — sounds like a parody of the TV development process. Is it a period piece? An excuse for glossy production values? A vanity project relying solely on name recognition for Emmys? When the trailer for the joint Sky Atlantic/HBO production was first released in September 2016, the memes were ruthless: This pope fucked.
Except he doesn't; the young pope hates the idea of fucking — to the point where he responds to a woman's advances as if she were trying to sell him volcano insurance. And indeed, if you haven't actually seen The Young Pope, which first aired in Europe in October 2016, it's hard to capture just how weird it is, or why it actually makes sense to describe it as "Lynchian." The show follows Lenny Belardo, a little-known American cardinal played by exceedingly well-known British actor Jude Law, who shocks the world by being elected pope. He becomes Pius XIII, a reactionary, cruel, and unyielding pontiff with a bizarre American accent. He is also a literal saint — as in he can do miracles, ranging from healing the sick to killing sinners with the power of prayer.
The Young Pope is literally the best season of TV since the end of The Sopranos.

Here's the thing though: The Young Pope is literally the best season of TV since the end of The Sopranos. Beyond the technical artistry of the show's heavily stylized, occasionally dreamlike tone, there's the simple nature of the premise, a rich hypothetical question: What would it mean if someone were absolutely, undeniably imbued with divine power and authority — and they were a total asshole? The Young Pope explores this idea through both the character of Lenny and a cast of pitiable, wounded misfits who have all committed themselves to the church.
Of course, I didn't know any of that when I first decided I needed to watch The Young Pope, after stumbling upon Jude Law's Wikipedia page and discovering that his career was divided into "1980s–1990s," "2000s," "Hamlet," and "The Young Pope." An upcoming show that loomed so large in Law's filmography that it deserved the same amount of space as The Holiday and Sky Captain and the World of Tomorrow combined? Impossible. Still, exhausted, stoned, bleary with anticipation, my roommate and I watched the first episode in October 2016, after it aired in Europe, using a less-than-legal stream of the Sky Atlantic broadcast. It would be an understatement to say we were surprised when, in the opening scene of the show, Lenny literally crawled out from underneath a pile of sleeping babies. It would be an even bigger understatement to say we were hooked: Within a few days, we'd decided to make a podcast about The Young Pope. By the time the series premiered on HBO in January, we had already recorded all 10 episodes of Papal Bull.
During the intervening months I spent a lot of time attempting to explain The Young Pope to people, while simultaneously trying to answer the question: Is it possible to have a crush on a TV show? I was unable to talk about anything that wasn't Silvio Orlando's performance as the put-upon, manipulative Cardinal Voiello, the haunting, quiet pathos of abuse victim and eventual papal secretary Bernardo Gutierrez, the fact that Diane Keaton's Sister Mary wears a shirt that says "I'm a virgin but this is an old shirt." It was identical to the way I might have talked about an exciting new relationship. I brought up The Young Pope everywhere — on reporting trips, at New Year's parties, on dates that, unsurprisingly, did not end well. Earlier this year, I introduced myself to someone who said, "We actually met back in January, but you just talked about The Young Pope for a while."
Is it possible to have a crush on a TV show?

Queer theorist Eve Sedgwick once wrote that obsession is the most durable form of intellectual capital, and boy, did I ever get a lot of intellectual capital out of The Young Pope. In addition to the 30 pages of notes I had for the podcast, I wrote thousands of words about the show: episode recaps, full reviews, and brief interviews with director Paolo Sorrentino. A Sky Atlantic press release quoted me twice in a row without realizing there was only one Eric Thurm writing about the show. Over a year later, I'm writing this essay. I'm Jewish, but I arguably know more about the history of Catholicism at this point than I do my own religion.
Occasionally, someone will congratulate me on "committing to the bit," as if it's inconceivable that I could love something this much. In some respects, I'm flattered; it'd be pretty impressive for me to maintain this degree of obsession and intellectual production, almost two years after watching the first episode of the show. But, like the Holy Spirit, some things just get an intangible hold on your soul and refuse to let go. In one maybe-infamous scene, Lenny tries on different outfits while preparing to deliver a speech to the college of cardinals, a sequence set to LMFAO's classic single "Sexy and I Know It." It is, to my mind, one of the best things ever presented using the moving image.
The New Pope, Sorrentino's follow-up to The Young Pope, is set to begin filming in November. It doesn't quite appear to be a second season; it has a new name, after all, and though Law, Orlando, and other members of the cast are set to return, John Malkovich is apparently playing the new pope. It's unlikely that The New Pope will be quite the same experience, but I'm sure it will be a divine surprise. ●
Eric Thurm is the founder, host, and overall doofus behind Drunk Education, which started as a party at his house that several people had to be tricked into attending. He is also a writer whose work has appeared in GQ, Esquire, Rolling Stone, the A.V. Club, and other publications, and the author of a book on board games forthcoming from NYU Press in 2019.