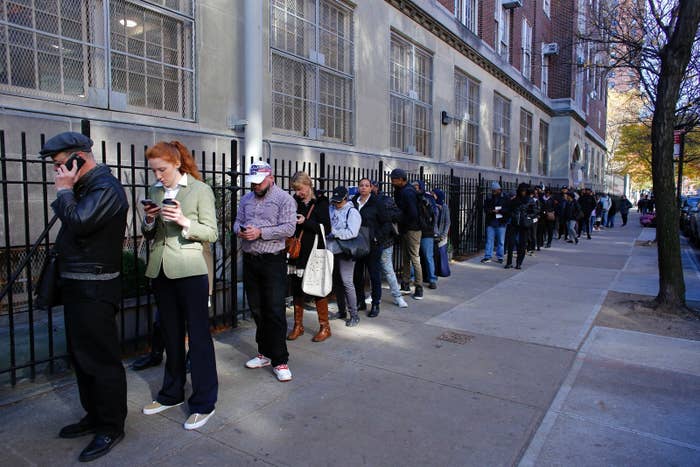 Hackers and propagandists attacked our electoral system in 2016. We're still learning about the consequences of that attack, but one result is clear: At the very moment when we need to move our democracy into the 21st century, confidence in the system — and our ability to improve it — has been undermined.
The weaknesses of our electoral system should push us forward to voting technology that's more secure and easier to use. But the digital chaos of 2016 means many are now more inclined to take our country deeper into the ways of the past — back to hanging chads, never-ending lines at polling stations, even ballot stuffing.
That would be an overcorrection that rewards those who strive to undermine us. Instead, we should look to the future. And we now know what the future looks like: Yesterday, West Virginia completed the first primary election in US history to allow mobile voting.
We should build a way for all Americans to vote securely online, including on the smartphones that have become so central to our lives. This wouldn't just help address the threat of electoral manipulation. It would also massively increase voter participation and reduce the hyperpartisanship that comes with low-turnout elections.
Every national election sees too many Americans waiting interminably to exercise their right to vote, with complaints abounding of broken machines, late-opening polling places, endless lines, and incomplete voter rolls. And too many people believe their votes really don't matter anyway.
If it's easier to vote — without taking time from work, without standing in line, without fear of manipulation — far more people will do it. And this broader voter base would force politicians to stop pandering to ideological extremes and instead satisfy a wider cross section of a more diverse electorate.
Every time an American wants to vote but instead gives up and goes home, our republic's pulse grows fainter. Putting the vote in every American's pocket would send that pulse racing anew.
Security is a challenge, but not an impenetrable obstacle. Our society uses smartphones all day, every day — to move money, buy goods and services, share our innermost thoughts, and participate in public life. It's pure cognitive dissonance to believe we can do anything this way except participate in the most important part of our democracy.
Is there a risk? Sure. We must test, retest, and constantly monitor any voting system for interference or abuses, with oversight by nonpartisan cybersecurity experts. The system must be auditable. But it's increasingly evident with each passing year that our painfully outdated systems are susceptible to tampering too. We can and must do better.
Our nation pioneered the internet, among many other world-changing technologies of the last century. To say we can't develop a secure online voting system is to turn our back on that legacy and to consign tomorrow's democracy to yesterday's devices.
Young people know it. Future Forum — the group of young House Democrats founded by Eric to engage with the US's largest, most diverse, and best-educated generation — has visited with thousands of young Americans in more than 45 cities across the nation, and one question that comes up time and again is why we can't vote online.
And our troops know it. Why do those who put their lives on the line to protect and defend our right to vote often end up seeing their own absentee votes uncounted? But this already is starting to change. Thanks to West Virginia's innovative secretary of state, Mac Warner, deployed military members from that state were able to take part in this year's primary via their phones using a blockchain-based system. This remote voting began on March 23 — the first mobile votes ever cast in US history.
Remote electronic voting with proper security protocols will require close oversight. The US Election Assistance Commission — an independent, bipartisan-appointed body established by the Help America Vote Act of 2002 — will play a key role in inspecting and certifying mobile voting systems. This or another body can be empowered to nurture this innovation with studies and pilot projects overseen by top cybersecurity and elections experts. They could certify that online elections are free of tampering or hacks, while still leaving the administration of elections to the states.
We can take a page from Estonia, which built out its public cyberinfrastructure after gaining independence from the Soviet Union in 1991. When Russia conducted a wide-ranging cyberattack on Estonia in 2007, it only strengthened the smaller nation's resolve to fortify its technology. Today in "E-Stonia," citizens vote online — and conduct much of their economy, health care, education, and more — without having to fear sharing personal data across public and private institutions.
Russia interfered with our elections in 2016, but the ongoing failure of electoral participation might be just as insidious a degradation of our democracy. Modern technology presents a way to solve both problems. Secure, remote electronic voting presents a better way to run our elections and conduct our democracy — we just need the courage to pursue it.
Rep. Eric Swalwell represents California's 15th Congressional District and chairs the Future Forum, a group of young House Democrats focused on engaging the millennial generation.
Bradley Tusk is the founder and CEO of Tusk Ventures; his foundation, Tusk Montgomery Philanthropies, is working to make mobile voting happen across the United States.